Sera has just announced a suite of new aquarium foods that are not your usual fare. In addition to making the traditional flake and pellet foods for a wide range of foods, Sera also makes some very unique tabs that we don't believe enough people know about.
Sera is one of Europe's biggest manufacturers or aquarium fish foods and despite being an exotic import in America, it's actually one of the first food brands we ever used. We still remember the amazement when we stuck the Sera food tabs on the glass and all the fish came right to the front and grazed on it in full view.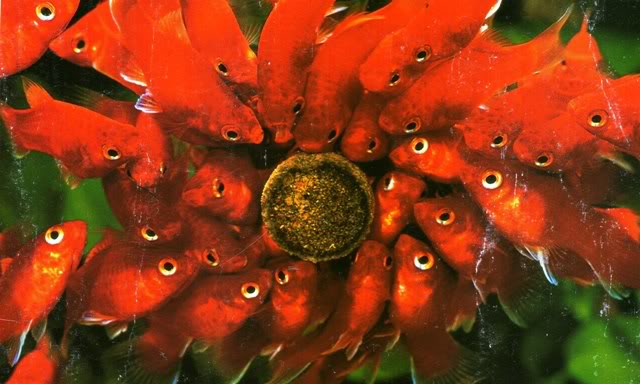 Sera is redefining its own product category by making more and bigger feeding tabs, which several formulas aimed squarely at marine fish. The new additions include a Marine Staple, Veggie Tablets and the Spirulina Grazer XL. This last one will be of high interest to the reef aquarists with a fondness for tangs, surgeonfish and other herbivores because it should represent a very good feeding tool for these species.
It's quite commonplace to clip nori into place to give tangs some roughage in their daily diet. You may also have heard of feeding rings that are attached to the glass via a suction cup. Well Sera's tabs stick to the glass without any tools, they take a long time to 'dissolve' giving fish plenty of grazing opportunities, and aquarists lots of up-close viewing time.
If you've never tried Sera's line of stick-on food tabs, either for fresh or saltwater tanks, then you're missing out on some fish-watching fun. The new larger sizes and marine specific formulas should really encourage more people to try this novel feeding technique that brings our pet fish close to the glass, and keeps them there for prime time viewing.