So you've decided to go scuba diving in Roatan, or perhaps you are still considering where to spend your holiday. This guide will give you an introduction to diving in Roatan for certified and non-certified divers.
Getting There
Fly
There is an international airport on the island of Roatan with direct flights from Atlanta, Houston, Toronto, and El Salvador. Delta, Continental, TACA, American and United Airlines fly directly from the U.S. to Roatan. [DiveSpotTeam]
You can also fly to Roatan from mainland Honduras on CM Airlines or Sosa Airlines.
Ferry
You can take a ferry from the mainland of Honduras leaving  La Ceiba to Roatan. We recommend paying the 100 Limperia ($4 USD) upgrade to first class.
From La Ceiba To Roatan: 9:30 AM & 4:30 PM
From Roatan To La Ceiba: 7:00 AM & 2:00 PM
There is also a ferry from Utila to Roatan with departures four days a week Friday-Monday.
From Utila To Roatan: 10:15 AM
From Roatan To Utila: 2:00 PM

Where To Stay
Once you arrive in Roatan you will need a place to stay. For scuba diving stick to the west side of the island as the conditions are usually more favorable. You can find a range of accommodation types in the west end from beach front rooms around $40 per nights to backpack hostels under $10. The only thing you won't find are big all-inclusive hotels (which are in west bay). If you are looking for something more luxurious or high end check out west bay.
Personally, we liked the west end for the vibrant central strip and accessibility to dive sites. If you plan on diving everyday west end will probably be your best choice just because there are so many dive shops nearby and you can walk everywhere you need to be.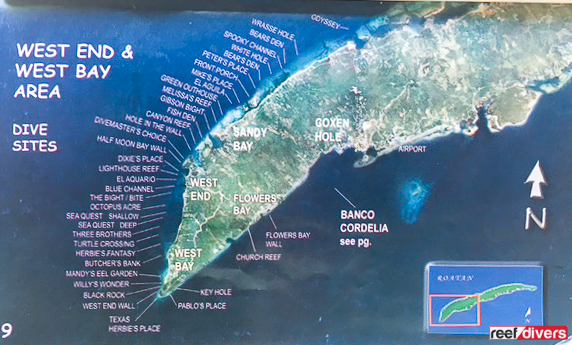 When To Go
You can dive year-round in Roatan. If there is swell or wind on one side of the island, the opposite side of the island is usually calm. November, December and January get the most rain, as the rainy season is mid-October to late February. However, those are also the coolest months; May through September can be quite hot.
Why Roatan
Diving in Roatan is the perfect combination of a nice healthy reef, calm crystal clear water, and super easy access. Dive sites are right off shore and most dive sites are within a 10-minute boat ride. The island is surrounded by deep channels so there is always a good chance for 20+ meter visibility.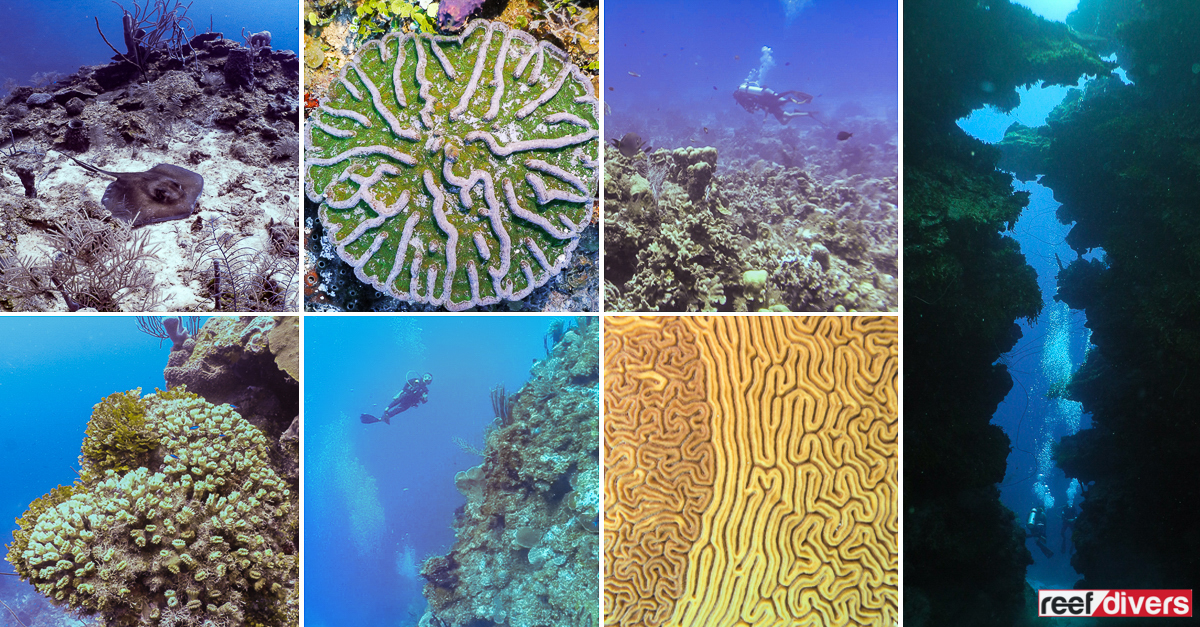 Choosing A Dive Shop
Choosing a dive center is a personal decision, but there are a few metrics you can use to compare your choices. You can either wait until you arrive in Roatan and visit all the dive centers until you find the right vibe, or google dive shops in Roatan west end and go from there.
If you would like to do a dive course, I would recommend emailing the dive shop ahead of your arrival to make sure they have an instructor on hand. In fact, I would recommend making your choice before arriving, but hey it's always up to you.
When you are first contacting a dive shop its good to recognize there are two types of dive shops. There are big dive shops/dive schools and smaller more personalized dive shop. We prefer diving with smaller dive centers for a few reasons.
Group size. If you are diving with a smaller center you and more likely to have smaller group size and more personalized experience. You might pay a little more for diving but I find smaller groups size translates into a better dive experience. When contacting a dive shop ask them about group size and their guide to diver ratio.
Boat Size. Personally, I am not affected by sea sickness, so I don't mind diving from a smaller boat. One thing to consider when choosing a dive shop is boat size. Bigger dive schools or dive shops often have bigger boats to accommodate more divers. If you think you might be sick, bigger boats might be the way to do. When contacting a dive shop ask about their dive boat, ask to see a picture or ask how many divers it can accommodate.
Class Size. If you're just looking to get certified, class size can be an important factor in your decision-making process. Ask about class size and how many instructors will be with each group.
We recently spent one-month diving in Roatan and were invited to the island by EcoDivers Roatan.