Parapercis altipinnis is a new species of sandperch which has the potential to become a popular aquarium fish. Unlike many sandperch species which are long bodied with capacious mouths, the new sandperch is short with a bright red eye and an attractive dorsal fin.
This species was first documented in photographs by Akira Ogawa in Gilimanuk, Bali, Indonesia in a shallow water estuary. But the holotype for P. altipinnis was 'discovered' in an aquarium store in Belgium with a provenance of Cebu Philippines.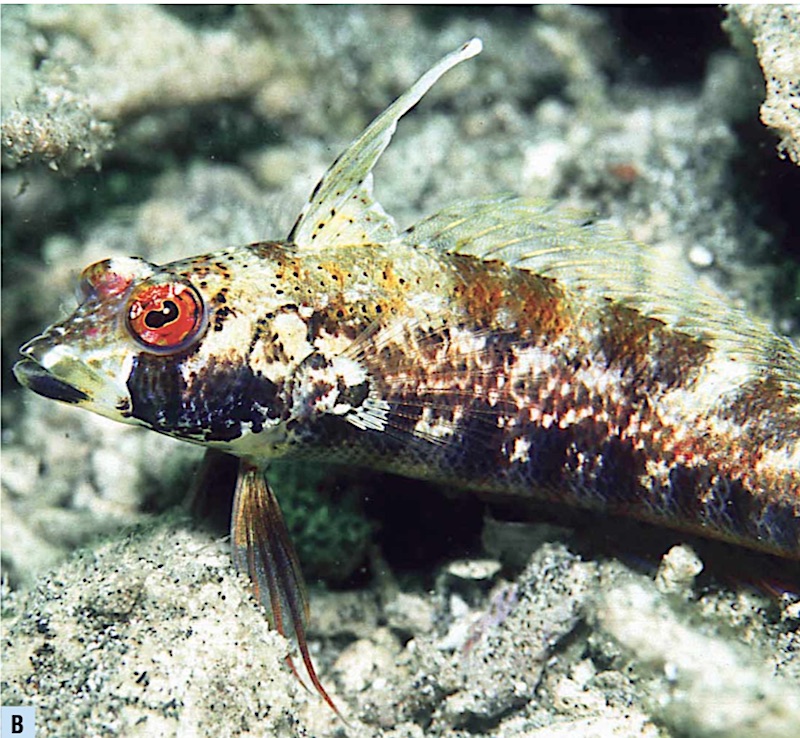 Sandperches are like gobies in having a very well defined first dorsal fin but Parapercis altipinnis is the first species to exhibit such a high dorsal fin ray. You might think that this high dorsal fin could be a sexual feature but the red colored holotype is believed to be a female while the darker black individual from Bali is thought to be a male.
Since we know that the highfin sandperch is already coming into the aquarium trade, and that the species are sexually dimorphic and remain small, this newly described sandperch seems primed to be bred in captivity. Parapercis altipinnis is described by Hsuan-Ching & Van Heden in the most recent issue of ZooKeys.