iBubble Drone
For two year, the iBubble autonomous drone has been lingering in the realm of futuristic crowdfunding project yet to see the light of day. But at this years DEMA show we got to see the final prototype, chat with the team, and see some real-life video taken from their first ocean ready device.
It's easy to dismiss a project like this a vaporware, great on paper, but extremely challenging to implement. However, the iBubble team has worked tirelessly to see their creation come to life, and we are confident you'll be seeing iBubbles popping up at your favorite dive sites by next year.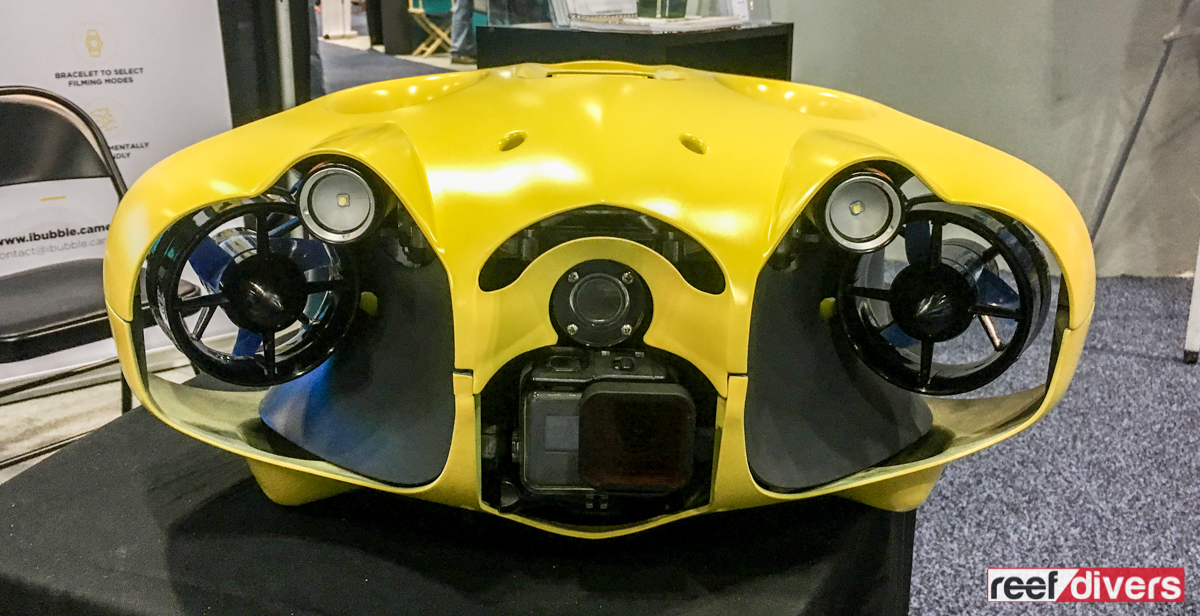 Follow Me!
The iBubble is an autonomous follow me drone that lets you film yourself and your surrounding while diving. The iBubble has several filming modes including follow behind 3rd person view or follow in front where the drone navigates in reverse keeping the camera pointed at the diver. You can also record from a distance to get group shots or have the iBubble orbit around you for a 360 view.
ibubble drones come with a GoPro attachment instead of an onboard camera. This allows users to continue to upgrade their capturing device independently from the drone. The onboard computer and control device sync with the GoPro software allowing users to activate the camera, video and other recording features.


The controller is pictured above with a blue cable and black sensor. The idea would be to have the sensor tuck in your BCD and rest on your shoulder. The drone is communicating with the sensor to locate you underwater. The handheld controller will activate the camera, and different drone functions. To sync the controller with the drone simply rest it onto of the drone in the sync dock.
iBubble is depth rated to an impressive 60m or 200ft with a maximum range of 25m or 80ft away from the dives. It comes with 7 brushless motors for stability even in strong currents and can reach top speeds of 1m/s or 3ft/s. The drone comes with rechargeable batteries with battery up to one hour of run time. In case of emergency, signal loss, or battery failure the drone with automatically resurface.
To learn more about iBubble and it's technical specification check out their website.