It's been a minute since we've encountered a nice xanthic angelfish to write about but an old classic has surfaced in the Japanese collector's market. The yellow regal angelfish, was one of the first xanthic angelfish to be documented and this species looks quite impressive in this particular form.
Xanthic regal angelfish are usually only of the recently recognized Indian Ocean supbspecies Pygoplites diacanthus flavescens. This well known form found from the Red Sea and Africa to Sri Lanka and Western Indonesia is more beloved in teh aquarium hobby for already having a greater degree of yellow coloration on the face and chest, and this is perhaps related to why this subspecies sometimes occurs in such a bright xanthic form.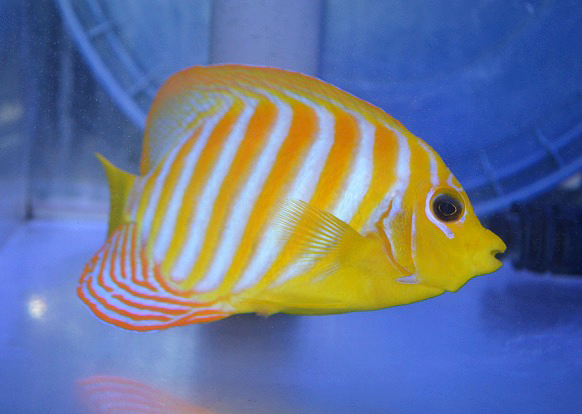 While striking, xanthic angelfish and especially xanthic regal angelfish have a near total track record of reverting back to normal coloration in captivity. No one knows why certain specimens of Indian Ocean regal angelfish are infrequently found with this striking coloration, or why it reverts back, but it certainly does not appear to be a genetic trait.
Perhaps there is a 'trick' to keeping these bright yellow regal angels from regaining their blue and black color pattern, but the cost of giving it a try is quite high. To obtain possession of this xanthic regal angelfish from Namamugi in Japan you'll have to fork over nearly ¥598,000 or about $5,400 but perhaps one day captive breeding can fix this golden trait, and make it much more common as well. One can only hope! [Namamugi]