The 'Little' is an interesting concept aquarium from Two Little Fishies which could only have been conceived by its founder Julian Sprung. Instead of appealing to the general demand for all in one aquarium designed to do it all, the Littles are elegant, shallow aquariums designed to do one thing, and one thing well; to showcase a limited community of reef life.
Two Little Fishies has been bringing this style of shallow aquarium resting on a very unique stand and usually populated with a large mangrove tree to reef shows for a couple of years now. It wasn't until MACNA last month that it was revealed these tanks would be coming to market and outfitted with just one basic thing, the combination return & drain called INOUT by XAqua.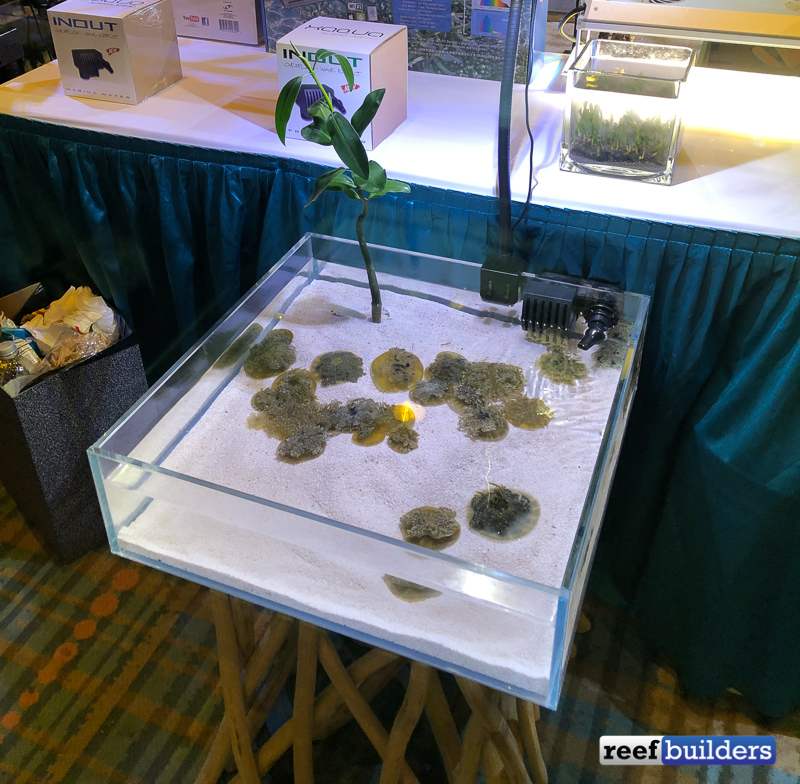 We've been covering and using the INOUT for years; this combination drain and return assembly is designed to allow water to exit the drain very quietly, while the return side has a unique geometry that creates a pulsing of the water flow. If you want to complete the 'trade show' look that Two Little Fishies has enjoyed at their booth, there will be options for the Little including that mangrove-root style stand (which we gotta have), as well as a hose kit Outsanding Selections Aragonite or Refugite sand, AccuraSea1 synthetic seawater mix, NanoMag etc.
Two Little Fishies will start with the smaller Little, and it will be called Little Julian and there will be other aquariums in the Little range, for example one sized like the larger one holding a mangrove at MACNA and other recent shows. There's no pricing or release date as of yet, but it sounds like Mr. Sprung has committed to providing this aquarium that promotes the appreciation of specific types of marine aquarium displays.
The idea is to focus on one suitable grouping, not everything that fits nor a hodgepodge of corals or fruit stand of frags. Besides mangroves there are so many other "creature features" that are perfectly suited to the Little Julian scale. The Christmas tree worm coral heads like our special display would work nicely, for example, perhaps combined with one or two Tridacna crocea, but nothing more. An expert could consider adding a Corythoichthys pipefish. Little is more!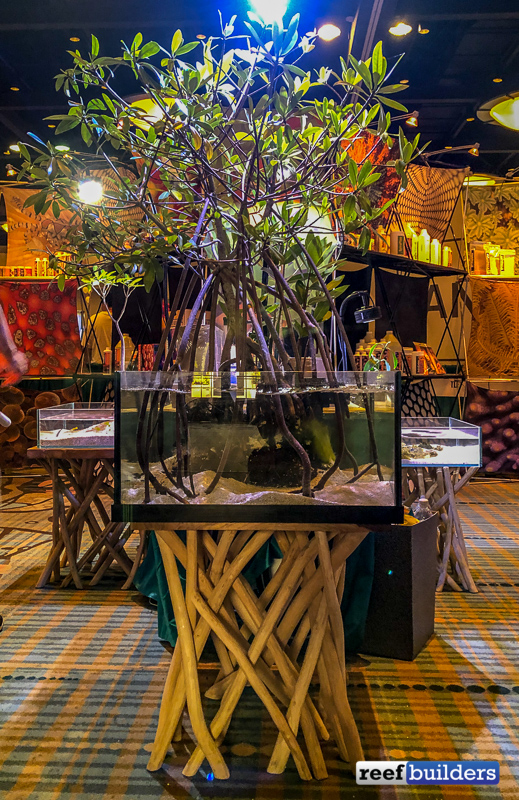 There's a bevy of nice small controllable LED spotlights and fixtures available on the market today and you could use the new Kessils or Red Sea spotlights, a small Hydra or Radion fixture, or even a basic PAR38 spotlight for lower light and lower cost. The Little Julian can also be used as a portable frag tank at frag swap events since Little Julian comes pre-drilled for the INOUT, and the price will include the INOUT of your choice.
We don't know how much this interesting shallow square tank called the Little Julian will cost, or when it will be available, but you can rest assured we'll come up with something fun to do with it in the studio, and it's gotta have that Mangrove root style stand. Stay tuned!