Maxspect has been known in global aquarium industry for its innovation and their creations are always accompanied with modern and daring design. Recurve LED, which was launched in late 2017, is no exception. This handsome LED fixture is packed with innovative features and its sleek metal chassis adds sophisticated look to any aquarium set-up.
Regrettably, Recurve comes with several shortcomings which may be due to the fact that it's the first generation of this product line. After extensive use of Recurve R6-120 on my personal aquarium since its launch, it's time to share my thoughts.
Recurve LED is available in 3 different sizes – R6-060, R6-090 and R6-120 which are 2 foot, 3 foot and 4 foots wide respectively. According to Maxspect, each fixture can be mounted on the aquarium with same width or up to a feet wider tanks.
Nearly the entire chassis is made from aluminium heat sink which helps reducing the reliance on active cooling by the fans on the upper side of its body. This construction allows incredibly silent operation even during warm summer in northern Queensland, Australia (in fact, I have never been made conscious about whether these fans were in operation or not).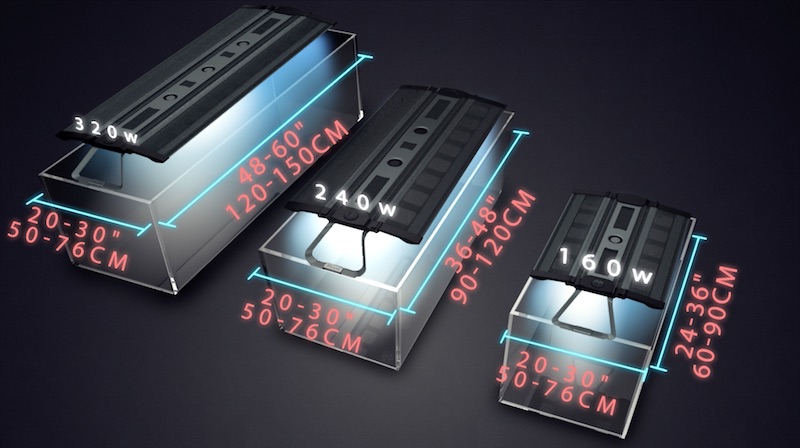 3 sizes to accommodate the aquarium in variety of dimension. An extra center cluster for every size upgrade.
One of the major features of Recurve is the unique arrangement of LED light source to allow users to flexibly adjust the coverage area. The main LED clusters are aligned in its main part of the body similarly to Razor series and two movable flaps contains numerous LED chips parallel to main clusters.
These flaps are movable up to 30 degrees to allow the adjustment of spread-penetration balance. On paper, this is a wonderful idea but it did not work as I hoped for two reasons. Firstly, the intensity of wing light is simply not enough to make real-life difference in coral colour.
On 4 foot Recurve, there are 360 LEDs in total on front and rear wings but they seem to be low-powered and covered by thick diffusers which reduces the intensity. Diffusers are highly effective to spread light over wider area and improve colour blending however, Recurve's numerous low-powered LEDs without focus optics will unlikely to have problem with spread and colour blending even in absence of diffusers.
The second issue with Recurve's wings is the spectrum – The spectrum assigned to wings are simply not very useful. Out of 360 wing LEDs, 72 are allocated to Green, another 72 to Red, and Blue with 72 LEDs which are not exactly "blue" but more like "Blue-Green" or "Cyan".
The rest of 144 are allocated to near-UV, Violet and Deep Blue having 48 LEDs for each sub-colour category. Majority of reefers will not be using intense Green and Red probably even Cyan. This makes large portion of wing LEDs less useful and the corals covered only by the accessory light will unlikely to have enough light to grow.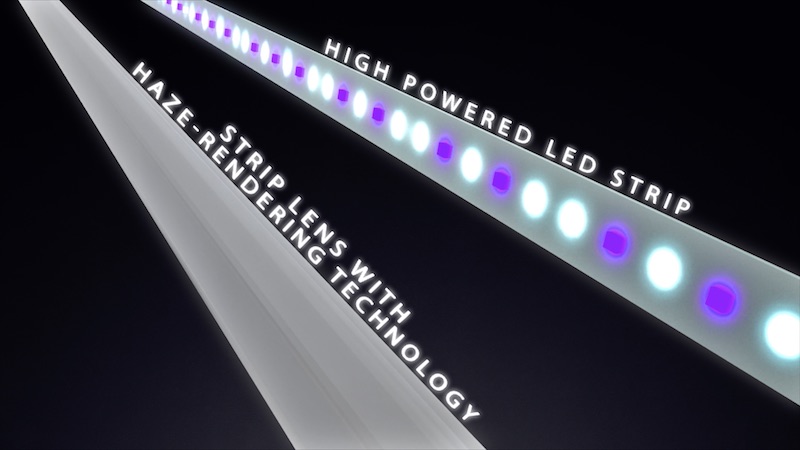 Having supplementaly LED strip on adjustable wing is a wonderful idea!
On the other hand, center LED clusters include orthodox spectrum – Blue and White. Warmer white colour temperature produces yellow-tint all over the tank and although this is a matter of personal preference, it could have been tweaked to have cooler white for more pleasant viewing experience.
Four pucks of LED consisting of 15 chips per puck are equipped with a reflector and an acrylic lens. Similarly to wing clusters, there is no focus optics offering truly amazing even spread of light. The tank mount included in the box installs the fixture at the height of 4 inch (10cm) above the tank that enables the full utilization of wide beam angle while preventing light spill.
This uniform light field without localized hotspot is the key strength of Recurve. Corals grown under Recurve display natural pastel colours with healthy polyp extension. This mounting bracket is made from clear plastic makes installation a breeze and had no issues after 2 years of continuous use.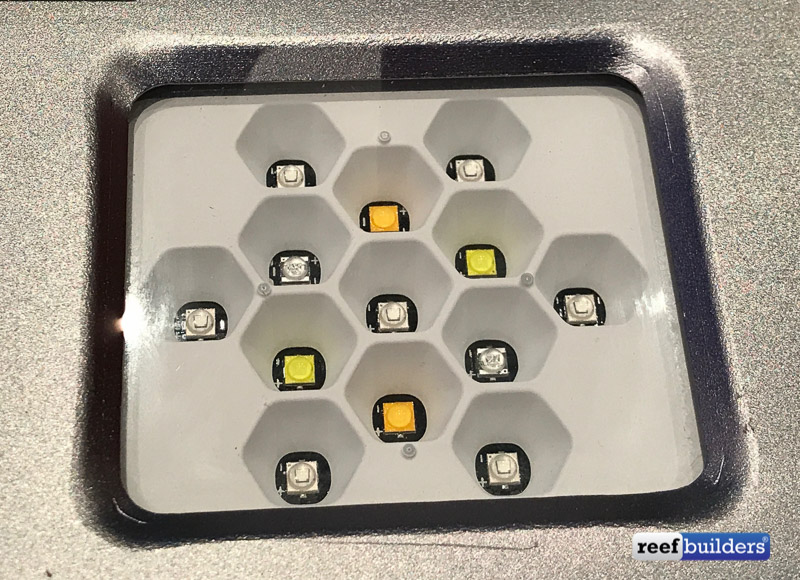 Blue & white LED chips are neatly organised in center cluster.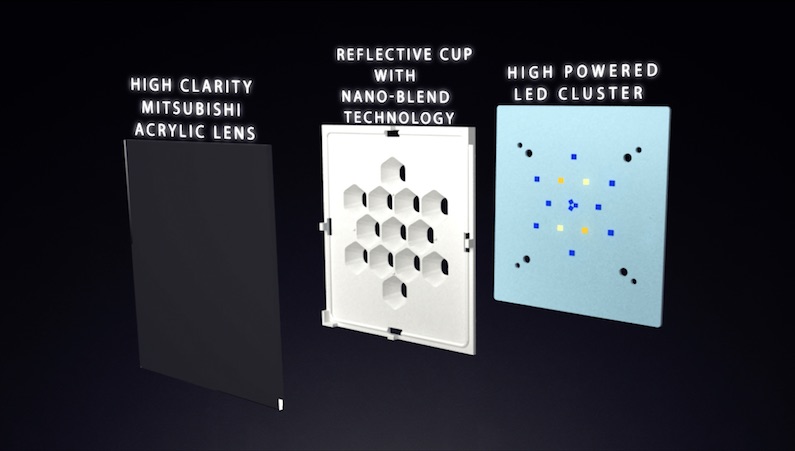 No focus optics = natural and even light field!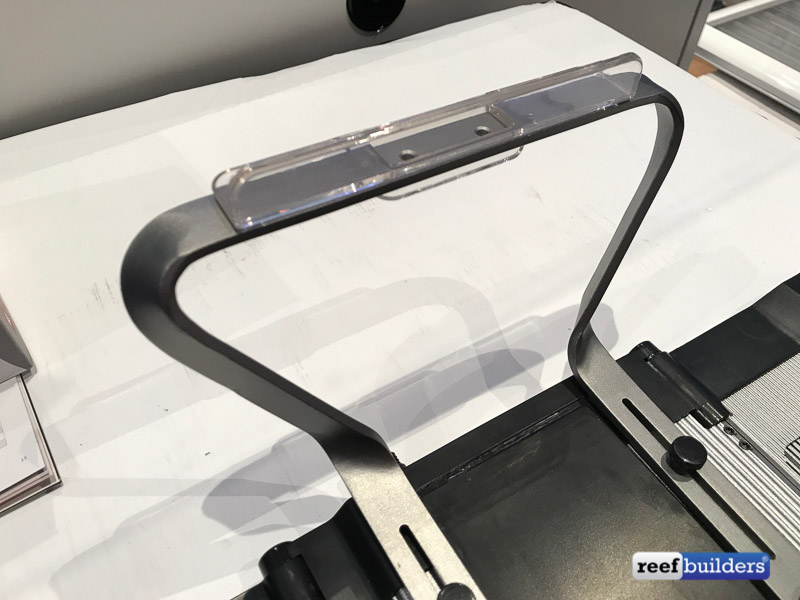 Plastic tank mount enables easy-installation.
Be wary though, there is more than 8 inch (21 cm) gap between the edge of the fixture to the first LED cluster from both left and right and this leaves both end of the tank unsuitable to grow light-demanding corals like Acropora species. This is true not only when Recurve is installed on the aquarium larger than Recurve width but matching width.
When aquascaping, it is recommended to keep the height of rockwork low at the back and front of the aquarium so that light from center clusters can reach these areas. It would have provided much more even light spread if the same number of LED chips are split into more of smaller clusters across the entire fixture width.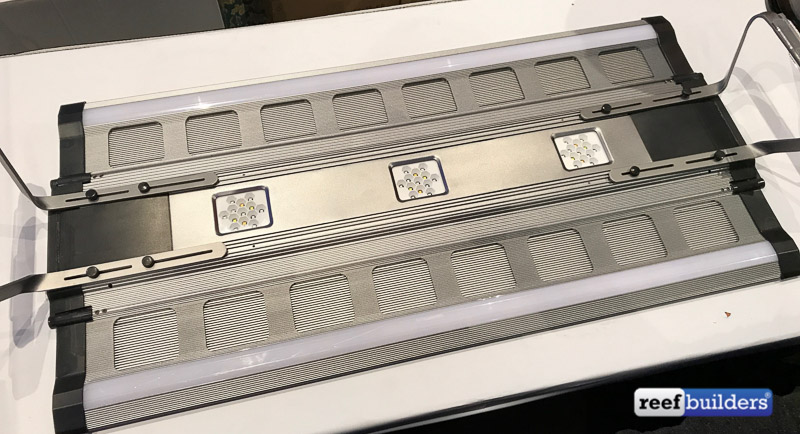 The large gap between the edge and center cluster may leave both side of the tank unsuitable for light-demanding corals.
Controllability is another area Recurve shines. In addition to controlling via Syna-G app (optional ICV6 Controller required), unlike many modern aquarium LED, Recurve is equipped with OLED display and jog-dial switch enabling full control without any wireless connection.
Wireless connectivity and the ability to control via app is useful and gives modern feeling but in reality it is quite often much quicker to make a minor tweak by simple press of buttons. In case of an emergency situation where wireless network is unavailable, it is much safer to have manual control option!
Recurve allows fine spectrum tuning by having 6 channel control – Blue/Royal Blue/Deep Blue (Ch A), White/Warm White (Ch B), Red (Ch C), Green/Cyan (Ch D), Blue (Ch E) and Violet/Deep Blue (Ch F).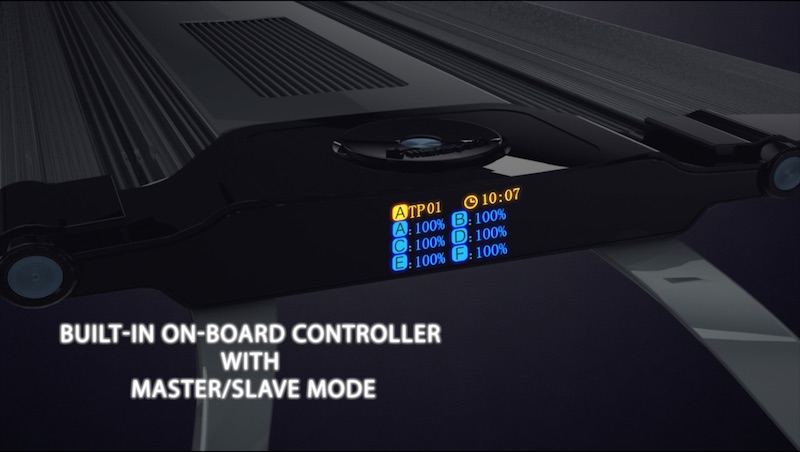 Built-in display & control is a luxury these days but it is an excellent fail-safe measure in case of network issue that we experience every now and then.
Recurve LED ticks many boxes and it distinguishes itself from competing products due to number of highly ambitious features. However, it is also true that these innovative features aren't fully baked yet to achieve the intended result especially with most demanding corals.Due to the brave decision not to use focus optics in both center clusters and wing strips, Recurve provides unsurpassed spread over wide area, however, in exchange, it produces much less light intensity.
I only wish that Maxspect substantially reduced the number of Red, Green/Cyan chips and replace them with more desired spectrum such as 420nm Violet and 450nm Royal Blue to minimize the amount of unused power to compensate the intrinsic lack of power. More eye-pleasing result could be achieved with the use of cooler white colour temperature and proper blue (470nm instead of 480nm).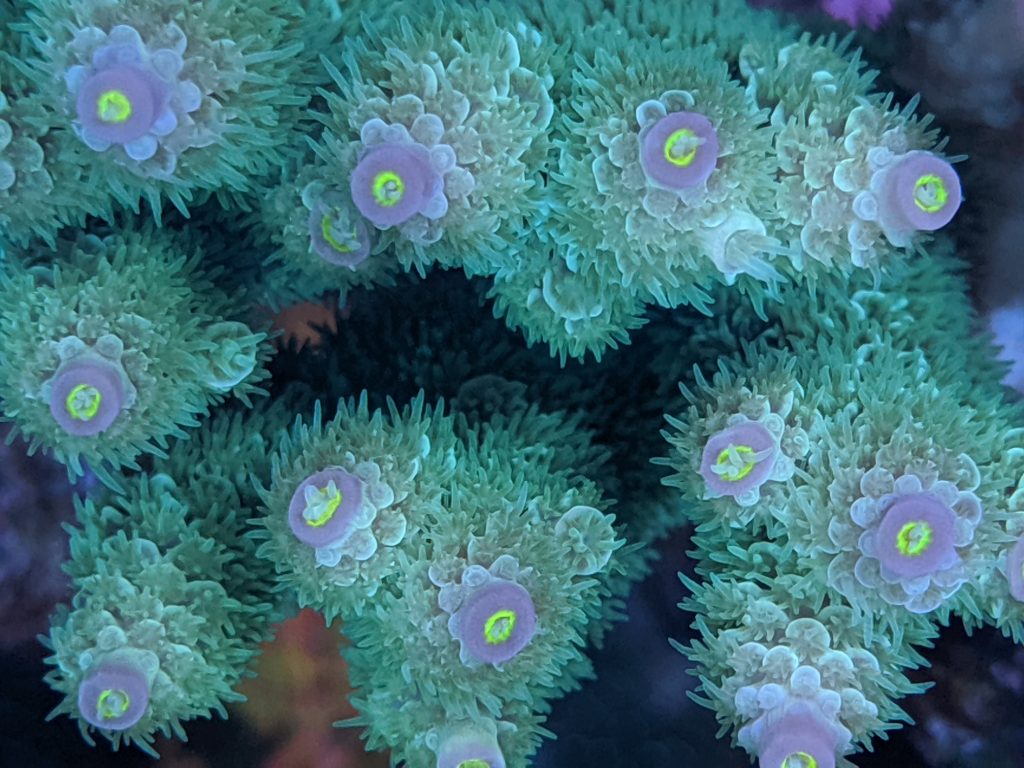 The issue was, this result could be achieved only within the limited area where adequate amount of light from both center and strip LEDs could reach. It is ironic that Recurve's main focus was the light spread but its design counteracted to achieve this goal. Having said that, let's remember that it was the first generation LED of Recurve line. With some improvements, Recurve will become a truly next generation reef LED capable of producing the result unlike any other.