The API AquaSpin is a new device to the reef aquarium hobby-industry that we first wrote about a couple weeks ago. Since then we've learned a whole lot more about the device, its origins, the original equipment manufacturer, and some feedback from stores that have begun evaluating the device in retail aquarium store environments.
First of all, the API AquaSpin is actually made by LaMotte as the WaterLink Spin Touch, and was targeted primarily at testing water for three broad categories – pools and spas, drinking water, and fish farming applications. The Spin Touch is capable of testing 16 different parameters and it is our understanding that API's role in all of this has been to optimize the tests to be more applicable to aquarium water parameters.
The aquarium-optimized API SpinTouch tests for calcium, magnesium, hardness (alkalinity), pH, ammonia, nitrate, phosphate, and perhaps one or two more that we're forgetting. The way the machine works, as you can see in the video above, is that a plastic cartridge is populated with a variety of wells that are preloaded with reagents for each parameter.
Users load a sample of water into the center of this disc-cartridge and the spinning action, coupled with small mixing pellets in each well activates each testing well in minutes, and the reading is performed by photometric optical sensors to take the actual measurement. Altogether these different functions are what LaMotte calls centrifugal fluidics technology – doesn't exactly roll off the tongue but it is a cool and apt name for what the AquaSpin/SpinTest does.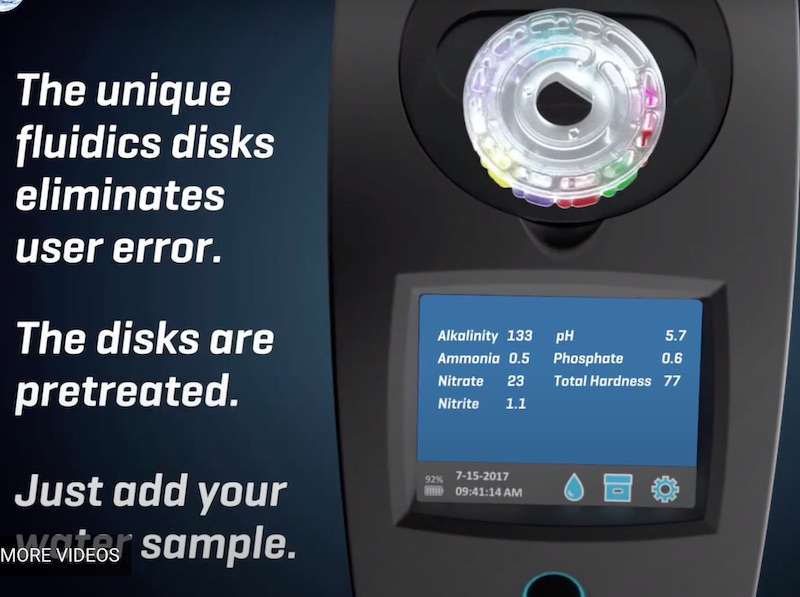 The testing procedure takes about two minutes, and can either be uploaded to a cloud service, or printed on the spot for a hard copy of the water chemistry. Just like any test kit, the reagents are not free and there is a fixed for each reagent disc, so it's up to stores whether they want to pass on that expense to their customers and for how much.
Clearly, the API AquaSpin is a very easy to use device and performs tests quickly and easily, but there are some compromises in the accuracy which is highly dependent on the method used. Water chemistry parameters such as calcium, magnesium, and to a lesser degree hardness (alkalinity) will always be more accurate when tested with a titration method, but the accurate photometric reading of the samples helps to resolve back some of that accuracy. it is estimated that the API AquaSpin is at least as accurate as an aquarist using a range of dropper and titration based chemical test kits, with comparable margin of error.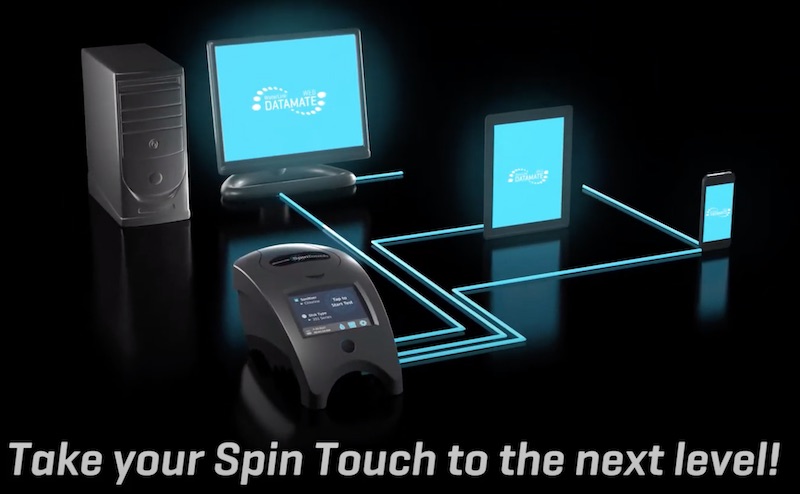 We've been in touch with several stores who have been using the API AquaSpin for a couple weeks and were very grateful to receive a lot more information about the device from our readers. Already it sounds like the new API testing machine has been a great tool for providing better service for their customers, especially on busy days when they may have waited a long time to get their water tested, they now can get these test performed quickly, and reliably.
We'll continue to keep our finger on the pulse of the API AquaSpin and a huge thanks to all the feedback we've already received; the device seems to be living up to expectations, we're eager to report back on more real life applications and hopefully to test out the machine and evaluate how well it performs in a multi-tank environment.