Light is one of the most important aspects to getting a reef tank to look good, and we can admit it's also a very sexy, and mysterious parameter that reefers love to tweak and play with. In the past when all of our lights were basically various shades of white, it was much easier to describe lighting needs of corals simply in terms of intensity and duration.
But now with the available control of the entire rainbow of lighting spectrum, things are not so cut and dry when it comes to instructing newer reef builders on how to set and program their lights. One of the most common questions we get in real life and in our video comments it what PAR value such-&-such a light is putting out. Usually we shy away from leaning on this metric too much but for our latest video we try to characterize a minimum PAR value for our low light Australian coral reef wall tank.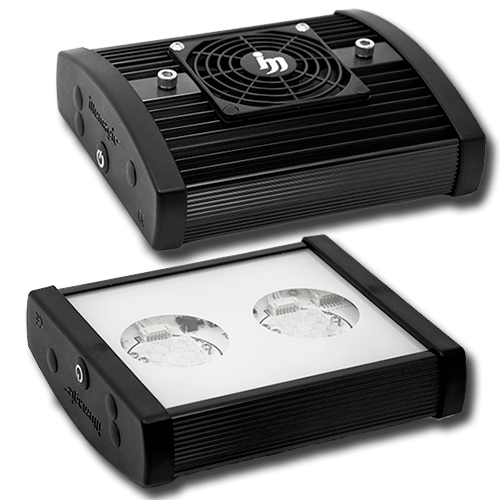 This tank is primarily designed to house and display familiar Australian coral favorites such as Lords, Scolies, Bankies, Duncans and related corals, these coral can take pretty average light levels but we are more interested in keeping these in a lower energy setting. The light we started with is a single Illumagic Blaze Mini which provides enough intensity on the tank but as we discovered with our PAR meter, it doesn't have the wide spread we need to cover this three foot wide aquarium.
This is completely understandable since the Blaze Mini maxes out at 50 watts and with the basic lens cluster we measured PAR values up to 100 umols/m2/s on the bottom, but the PAR fell way too much to 30 to 60 umols/m2/s on the sides. We could grow some corals in these low light sections but it is much easier to have a more predictable light field across the entire aquarium, so we added a second Blaze Mini to even things out.
By using our home made light bar, hanging the Blaze Minis at the corners, and angling them towards the aquascape we achieved a much more uniform PAR values that cluster around 80 to 120 umols throughout most of the Aussie coral display. Using two small fixtures instead of one larger model allowed us to further direct the light fixtures towards our vertically biased coral aquascape, encouraging light to fall on the face of the corals that are also pointed outwards for maximum viewing enjoyment.