There's been a lot of discussion around the role of ultraviolet light in reef tanks and the health of our corals, especially with the rise of LED lighting fixtures that are missing it. In the classical era of reef keeping the VHO & T5 fluorescents and metal halide lamps we used natively had UV rays as part of their overall spectrum – without any phosphors all fluorescent lamps are UV lights, hence their suitability for use in tanning beds, and metal halides lamps actually require extra shielding to prevent the harmful wavelengths of UV light from burning our corals and blinding our fish.
But now that the hobby is all-in on LEDs, our multicolor LED light fixtures don't have any 'broandband' ultraviolet light if it isn't specifically added, and then the best reef lights only have a small dash of the weakest near UVA spectrum which hardly registers under measurement. After many years of deliberating the topic of UV we are coming to the conclusion that while corals don't require UV light there seems to be a growing body of evidence that some wavelengths of UV-B light might have a beneficial disinfecting effect to prevent or reduce some unusual coral ailments that seem to be a modern phenomenon, coinciding with reef tanks that are lit exclusively with only LEDs.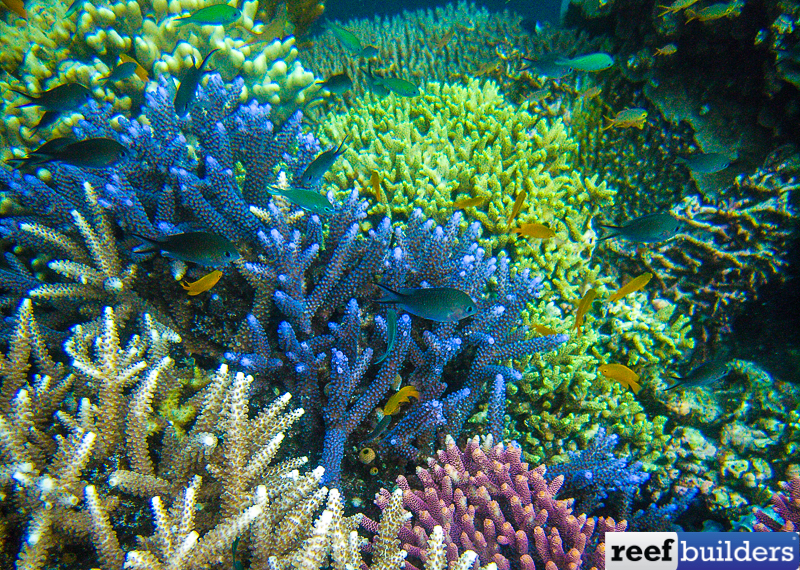 While researching the potential benefit of certain wavelengths of LEDs for helping to manage the microbial community living on our corals we've looked towards our old school VHO lights as well as reptile lighting technology since reptiles need UVB light for proper synthesis of vitamin D3 and bone development. A new company called Vivtech popped up in our research on a number of occasions for their new SurSun LED Bulbs and accompanying SurSun UVB Reader to verify the resulting ultraviolet rays reaching scaly pets.
Curiously, while we were looking towards the reptile industry to expand our lighting knowledge we came across an episode of the Animals At Home video podcast wherein they discuss turning to the aquarium hobby to raise their technological prowess. The segment starts off with come comparisons between reefing and reptiles but at around the one hour mark Vivtech goes deep into how their SurSun 3 watt UVA/UVB spotlights have the kind of ultraviolet light that we've never seen coming out of an LED powered light.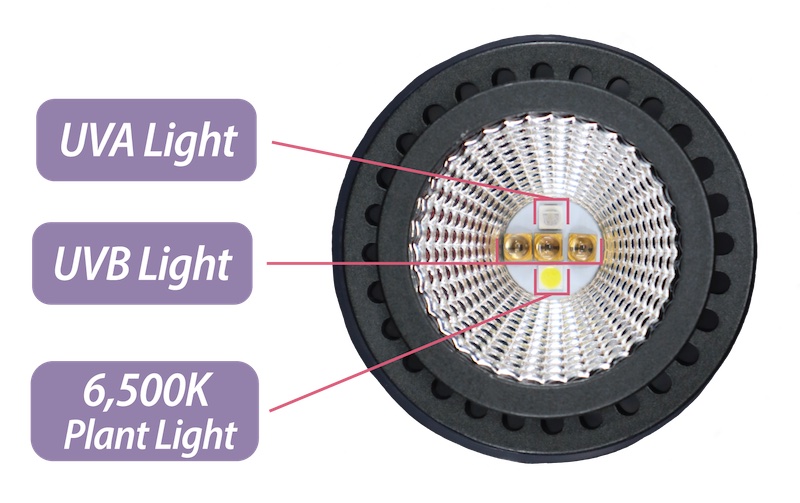 Vivtech is offering the SurSun UVA/UVB spotlight in three sizes but we're naturally drawn to the most powerful mid-day blaze which includes one diode dedicated for UVA light, one daylight 6,500K white diode for general illumination, and a full three diodes dedicated to the rarified UVB spectrum which is of particular interest. We're still not sure if the 'cleansing effect' of UVB light on corals is something that we once took for granted with our fluorescent and metal halide lighting, but the SurSun 3W UVA/UVB light looks like one of the best places to start testing the theory.