Product improvement company Adaptive Reef has worked some of its magic on two new protein skimmer models. Named the A6 DC 200 and A8 DC 300, the skimmers comprise fairly standard-looking cone-shaped bodies with pipe level adjustment, only several upgrades have been made to bring the skimmers to what Adaptive terms "enthusiast grade."
First, the body comprises an acrylic cone but is top and tailed with thicker, heavier PVC on the base, neck collar, and cup. The neck comprises a twist lock bayonet fitting and the body is fastened with rust-proof titanium screws throughout, and a hex key driver is supplied. Next is the pump, a Sicce PSK SDC 1200 featuring not only a DC motor, wired and Wi-Fi app control but third-party Neptune Apex control via IOTA, a five-year warranty, and even voice control. Sicce is the go-to reliable third-party skimmer pump manufacturer for many companies, but the PSK SDC 1200 is about as good, reliable, and capable as a skimmer pump gets.
The Sicce pump should be the stand-out feature of these skimmers but the upgrades keep coming, like the introduction of an LZM airflow gauge actually on the skimmer itself. Air flow meters are used to test the amount of air that devices like protein skimmers pull in, so fitting one to every working model is like having factory testing in your own home. The gauge will give you a visual, analog reading of actual airflow while also notifying you at a glance if airflow has dropped off and the skimmer's breathing apparatus needs cleaning. Furthermore, there is a dial on the gauge with which you can throttle the air back or open it up for further performance adjustment.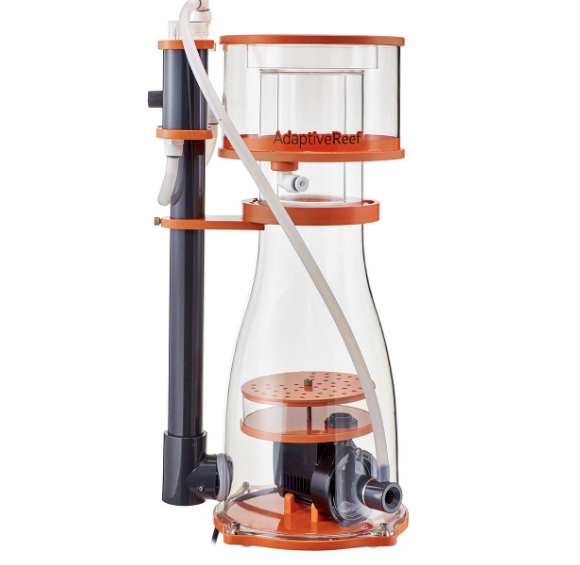 Neck inserts
We have seen skimmer neck extenders in the big Aqua Medic Turboflotors of old, but Adaptive Reef has reinvented their skimmer neck by also providing two unique inserts to narrow the neck diameter and increase tapering of skimmate for smaller tanks, new tanks or tanks with minimal load. This means that with just two models, sump space permitting, they can cater to a huge range of tank volumes and load situations, but can always be tuned for maximum nutrient export.
The stand-out feature of Adaptive Reef's DC protein skimmers should rightly be the Sicce PSK SDC pumps, but the neck inserts and airflow gauge combine with the adjustable pump and swivel standpipe to offer four points of adjustment and actual visual airflow readings for those who crave it. We have used airflow meters in our product development days, but not long-term in the confines of a sump and cabinet, so if the LZM can survive both salt and moisture, just like a par meter and light measurement, we may see these air volume measuring devices added more and more to reefkeeper's toolkits.
Adaptive Reef has done the equivalent of taking a family car and modifying it for race mode, and that sort of feature and performance enhancement in the name of enriching both water quality and user experience should be commended. These two new souped-up skimmers are available at a competitive $769.99 and $849.99 respectively.