Throughout our reefing lives, there are some issues that have a habit of repeating themselves, and one of those is a propensity for cabinet hinges to rust. The marine hobby has come a long way, but in order to get that cabinet furniture finishes and luxuries like soft close hinges, manufacturers reach outside our industry and instead have to buy from elsewhere, like the kitchen furniture industry. 
This has pros and cons, the pros being that there are hundreds of modern, on-trend finishes for aquatic companies to choose from and now lots of extras like drawers, shelves, and baskets, which are just as at-home housing dosing bottles as they are tins, jars, and spices, but the cons are that they are not, and never were, intended for use with salt water. And that's why we get rusty hinges.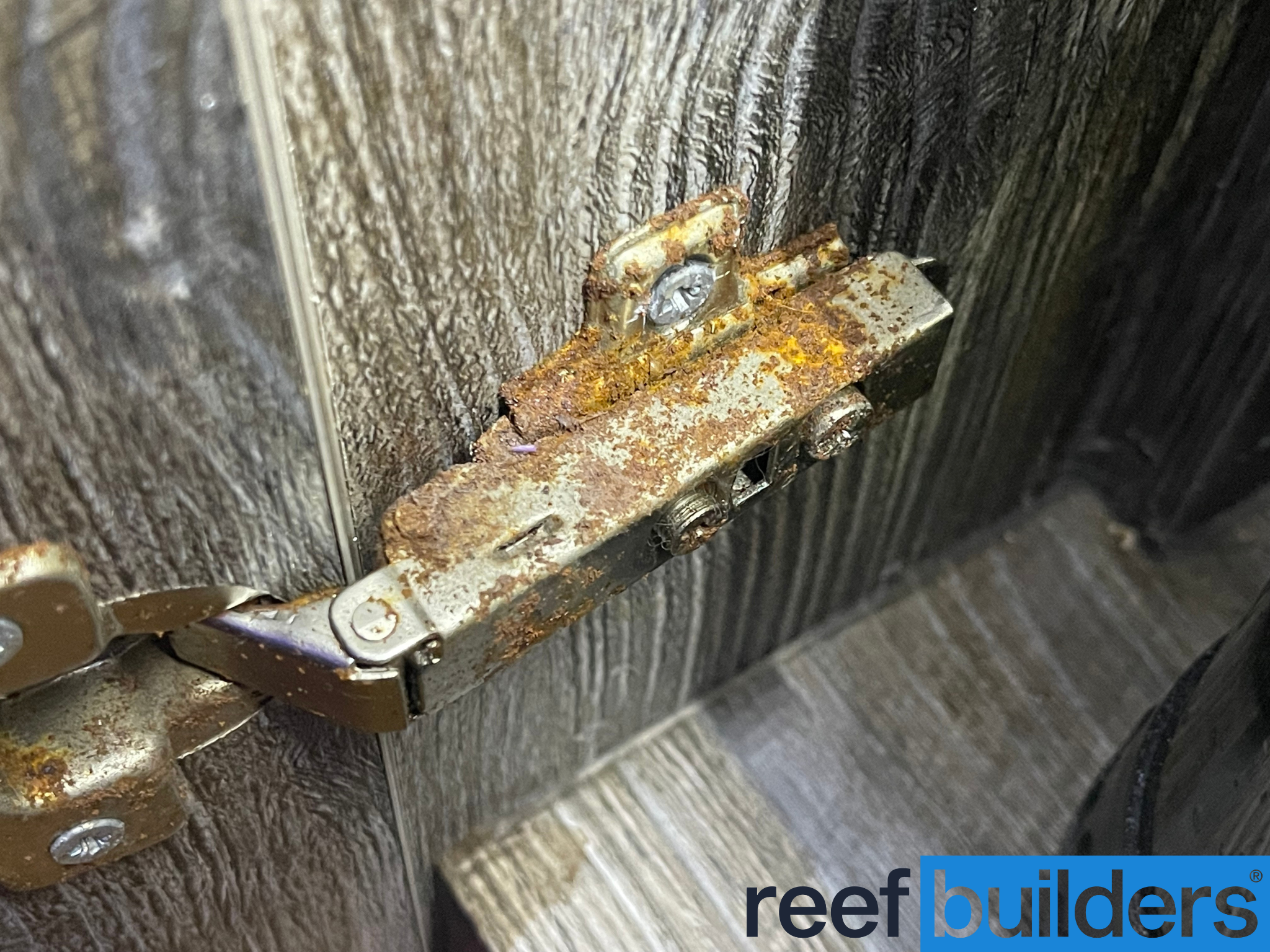 If we opted for a bog standard Butt Hinge, we could buy them from the boating industry and in marine grade materials, but seeing as we often want soft close hinges that recess into what is effectively a kitchen cabinet door, (and are invisible from the outside,) we get kitchen cabinet hinges.
Aquatic companies will buy stainless steel hinges in good faith that they won't rust, but all Stainless Steel is not the same, and in our experience, you can't buy marine grade, 316 Stainless steel (truly rust-proof,) soft close hinges, you can only buy 304 Stainless, which isn't rust resistant. It's not just the hinge itself that would have to be saltwater corrosion resistant either, it's the screws (for all those fine adjustments we take for granted,) and the spring which actually causes the door to close slowly.
Most new cabinets are fine for the first few weeks or months but if you have a sump, a skimmer, and standard kitchen soft close hinges, they inevitably rust. And after speaking to kitchen cabinet hinge manufacturers, there is no alternative. We must do what we can to protect them instead.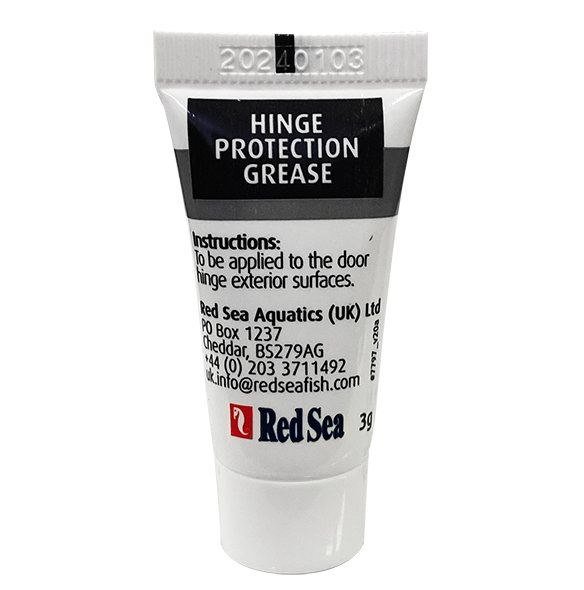 Silicone grease
Silicone grease is used to lubricate O rings in pumps, but can also be used to try and prevent rust from forming on hinges. It typically comes in two forms – a semi-solid mass in a tub or tube that you apply with your fingers, or as a spray. Silicone grease is marketed as being aquarium safe but if you want extra peace of mind several aquarium companies including Red Sea, JBL, Eheim, and Aqua One all provide silicone grease in either grease or spray form, and it can be applied to aquarium cabinet hinges.
Prevention
Prevention can also come by trying to prevent salt water spray as much as you can, although it usually serves to minimize and not totally prevent rust. Place your protein skimmer away from cabinet hinges and choose a cabinet with maximum ventilation at the rear. If you have an acrylic sump, lid sections may be possible, and fitting a Skimmer Guardian to sense when a skimmer cup overflows, cutting the skimmer pump power, will also help. Work tidy in your sump, mopping up any spills, and if the tank is open-topped and rimless, track and mop up those drips as they are a major cause of rusty hinges with modern tank and cabinet designs.
Are there any alternatives?
Custom tanks may allow for other cabinet designs including sliding, hingeless doors. Cade aquariums don't include kitchen hinges (forgoing the soft close too,) and Octo claims to have patented nylon hinges with treated stainless steel parts, but if it's push-open, soft close hinges you crave, it's not worth boycotting popular aquarium brands and missing out on all the other great features that their aquarium sets provide. Spare hinges are available from all major brands and if you're in it for the long haul with your current coral project and don't want to get caught short, it may be worth buying a set of spares.