A recent article by Michael Paletta which covered Vermetid snails came at a timely moment. I have been tinkering with these whelks at the coral farm for over a year and I feel it's time to finally share my observation and thoughts on these snails.
I discovered these whelks in a system three years ago after hitchhiking in on a wild coral. I never properly identified them. Instead, I used my favorite hitchhiker saying, "If in doubt, throw it out". After seeing their numbers staying quite stable despite removing a few each week I wondered if they were actually doing any harm since they were predominantly hanging out underneath coral mother colonies and the smaller individuals could be found under frags but no coral tissue was found damaged.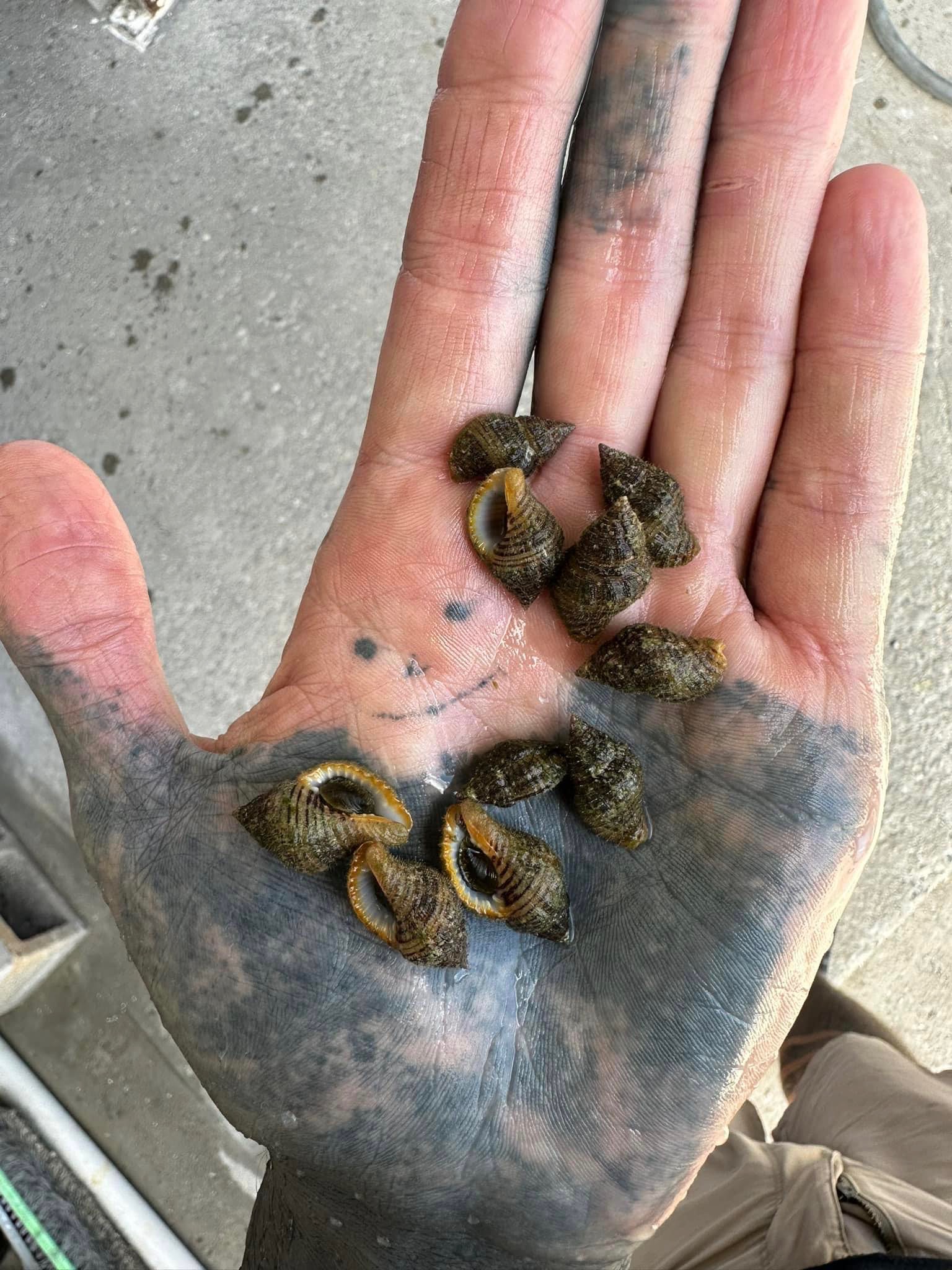 I also noticed that the smaller type Vermetid snails commonly growing under frags seemed to be less abundant and I made a connection that the Pollia snails were likely eating them.
In June 2022 I conducted a 'spring clean' of one of the two systems that housed these snails during which I managed to isolate a few dozen of them. Due to their habit of staying underneath corals and drably colored shell, they weren't easy to spot. Initially, I wasn't actively searching for them. Finding and removing them was a matter of chance when I had to move a coral that happened to have a Pollia snail under it.
These test candidates went into one of a series of 30L test tanks that are solely for conducting experiments at the farm. I added some corals with Vermetid snails on them and some corals without Vermetid and sure enough the Pollia ventured over to the corals with Vermetids using their chemoreceptors to locate the prey and began to consume the Vermetid while avoiding the corals with no Vermetid. It is important to note that no corals were harmed during this process, even when the Pollia were starved of all forms of snail prey options.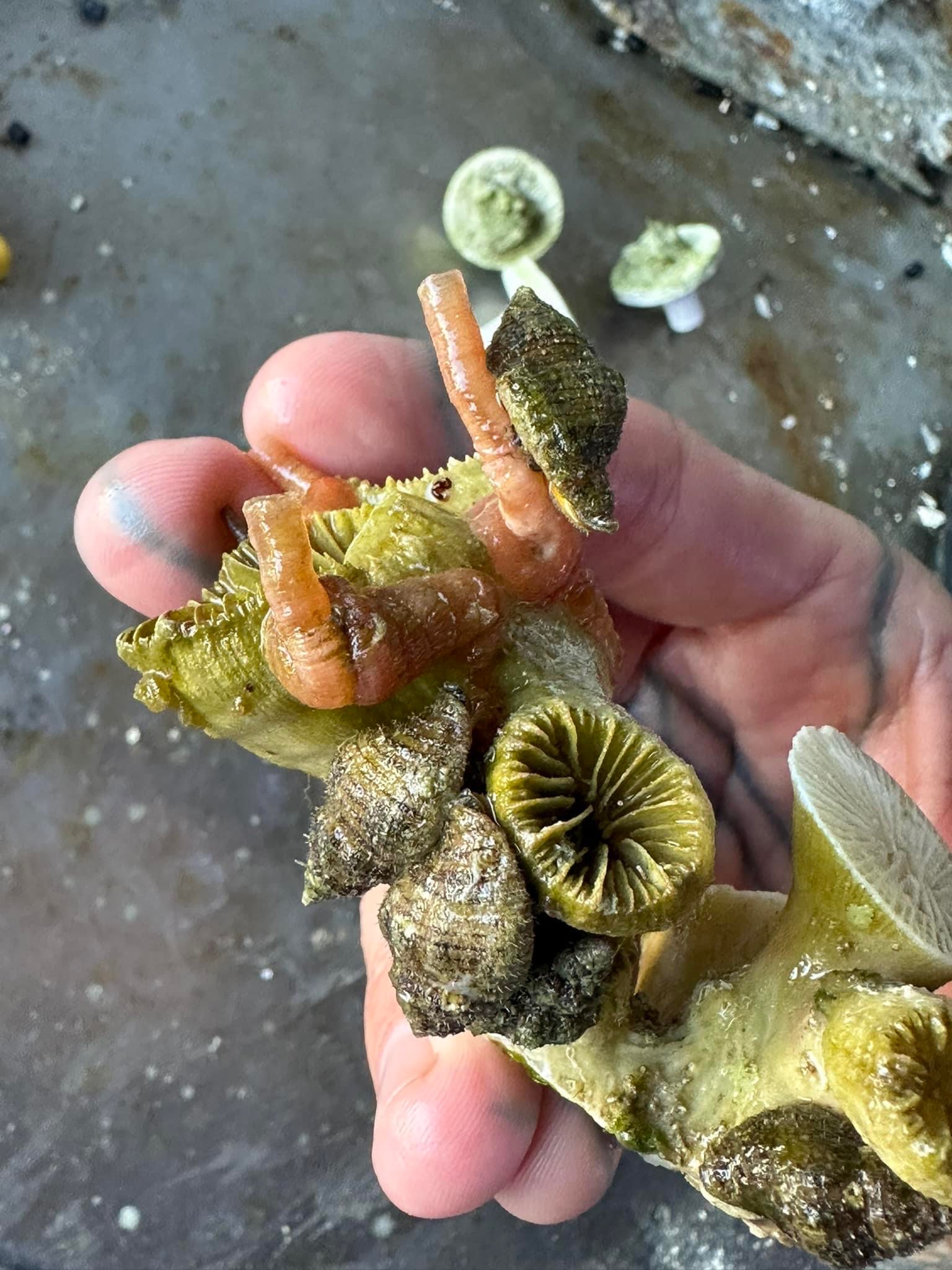 I was able to source some of the larger, tube-type Vermetid snails and added them to the experiment. As expected, the whelks consumed these larger snails as well. The results at this stage are looking very promising!
Afterward, I introduced Turbo snails and small to large trochus to the tank to see if the whelks were going to live up to their reputation or exclusively be vermetid slaying machines. Unfortunately, they did end up predating on the other snails except for the large trochus, with the Turbo snails being the first consumed.
The final stage which took this entire test period to almost a year-long was to identify the Pollia snails' preference in snail prey. It was a bittersweet revelation to discover that the small Vermetids certainly were their first choice, followed by Turbo and then larger Vermetids. The smaller Trochus were the least favored while large Trochus were again unscathed.
The grow-out tank that has a population of Pollia also has a large number of empty Turbo shells that we siphon out along with patches of detritus indicating that the whelks are regularly targeting the Turbos as well.
While Pollia fumosus could be an option for reefers in desperation, the drawback is that you will likely lose a lot of other beneficial snails in the process. The only snails tested were the ones mentioned so other common reef janitors like Nassarius could also potentially be on the menu. In terms of completely eradicating the target snails, the Pollia snails have not achieved that for us yet. It may require a larger population of Pollia snails to effectively finish the job, which should not take long considering their apparent ability to multiply easily, as evidenced by the presence of tiny specimens.
Bottoms of live rock tanks at LFS would be a good place to try to source them. Some Australian aquarium collectors have made them available recently. If I was considering them as an option for Vermetid control I'd start with a single snail to avoid any unwanted multiplication.