We've just about wrapped up our coverage of everything MACNA this year and although it only took two weeks, there was an incredible diversity of new products announced, launched and releases at this year's big event. If you need any indication that our hobby (and our economy) is growing and thriving, you need only look to how hugely successful this year's MACNA was for attendees, coral vendors and product manufacturers.
More than any other year, 2013 saw a surge of new products and developments. It was a hard pick to select some of the show's biggest products but here are the standouts of the marine aquarium hobby, products which we feel will have a short and long term impact on how we keep fish and corals alive in our aquariums.
MaxSpect Celestial LED – MaxSpect's Celestial LED spotlight was an intensely awesome surprise. Not only does it boast a sweet spot of LED power for the price, it has five channels of color control with an onboard controller for a very low price.
~
Hydra Fifty Two – If you didn't think LEDs were bright enough, solid state lighting leader AquaIllumination practically stole the show as far as new LED fixtures go with their super bright, 135 watt Hydra Fifty Two boasting half a hundred high quality diodes driven at peak efficiency – this light will be billed as "the brightest" for a long time to come.
~
Reef Link – It's not the size of your light, it's what you can do with it (we can imagine Ecotech Marine saying), and the ReefLink is an important foray into the living room which puts, for now, Ecotech Radions in the cloud, and the Vortechs will follow suit in the future.
~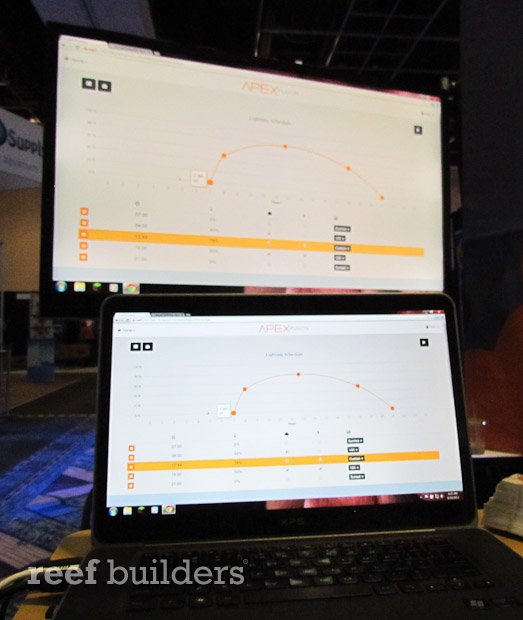 Apex Fusion – Like the ReefLink the Apex Fusion is not a device so much as it is a service. Besides all the ways that it simplifies getting your Apex online, and accessing it from any mobile device, Apex Fusion is a hoop dream for color mixing and programming three of the industry's best LED lights under one program. When one company releases cloud based control it's a curiosity, when three companies do it, ya'll better take notice.
~
Smart ATO – What is it about water level control that is all of a sudden getting a ton of attention? Whatever the case, the Smart ATO's innovative magnetic design and teeny tiny footprint with included feed pump is sure to be a hobbyist favorite when it becomes available.
~
Smart Level – Although first announced over a year ago, through an additional 18 months of refinement the Hydro Smart Level is arriving just in time for the Auto Top Off party that many companies are trying to win. Priced at a meager $89, if all goes well the Smart Level ATO will be the ATO controller to beat.
~
Nuvo SR – We know there are some doubts about building such a high end All in One aquarium with such a shallow profile but the Nuvo Shallow Series is a dream for the small fish keepers and coral growers. The ease of access to the tank and to the back filtration area will make this line of shallow tanks an exceptionally easy one to own and maintain.
~
Controllable Feeder – We're not exactly sure what we're going to do with the new Apex Fish Feeder, but that's because we've never seen or heard of one! Remote feeding fish, dose some coral food while you are away or even throw in some kind of granulated chemicals in there – who knows? Either way it's exciting to see this level of innovation and forward thinking from what is quickly becoming the hobby's most trusted aquarium controller.
~
Azurelite – We've seen and had flashlights before but something tells us Orphek is on to a hit with the Azurelite. A good price, strong power in a sturdy package that looks like it will hold up to the travails of the fish room and we can foresee the Azurelite having an extended life in the aquarium hobby, with generational improvements as technology improves with it.