The Red Sea MAX C series aquariums are an modest upgrade to the very popular MAX all in one aquariums. With two tanks in the lineup, the Red Sea MAX C130 and C250 build upon the 34 gallon and 65 gallon reef tanks in the series with more of what made these tanks popular, and one notable omission which will make you wonder why.
The basic gear like filtration, circulation and protein skimming are all more or less the same, with minor spec bumps in the performance department. The included power center which really defined the Red Sea MAX series with the gorgeous look of a single cord exiting the tank has been reworked. The new Red Sea MAX C power center has been expanded to seven outlets to accommodate the few accessories that reefers typically add-on, with a new designated outlet for the cooling fans.
The Red Sea MAX C130 now uses one pump with the capacity of the two that were used in the previous Red Sea MAX 130, although you lose a the redundancy that came with having two separate pumps. The Red Sea MAX C250 keeps the same two pumps, and both models get minor water flow and air draw increases to their respective skimmers and circulation pump.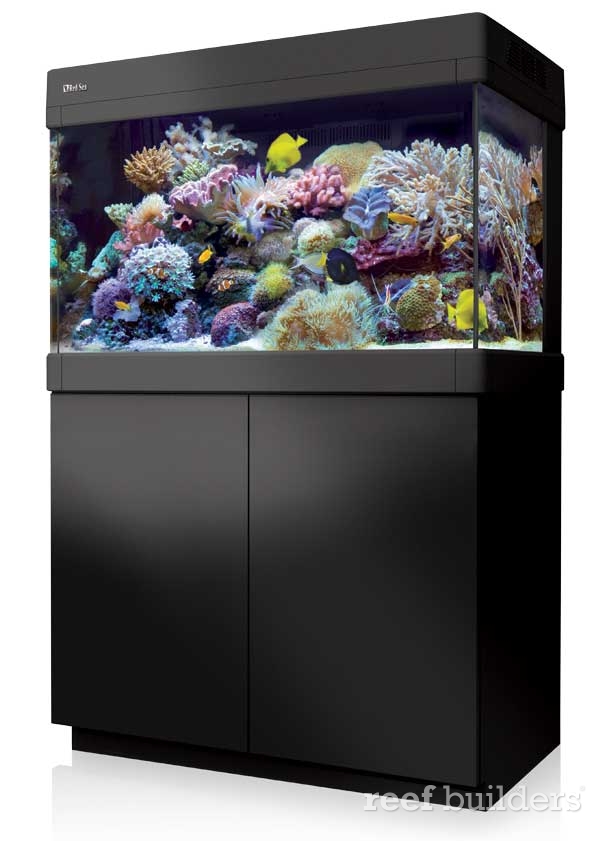 The most notable new addition is the specific use of low-iron glass for greater clarity, a great new feature for the Red Sea MAX C series which is targeted at the higher end of the AIO reef aquarium market. Moreover, the bent-glass design of the front and side panes is going away and being replaced with silicone sealed glass for sharper and more contemporary, modern look to the two aquariums.
When you're looking at the spec sheet for the Red Sea MAX C series aquariums, it's not all upgrades across the board. Red Sea's decision to stick it out with the exact same fluorescent lighting as they did four and five years ago is a real head scratcher. The Red Sea MAX C130 gets the same old 110 watts of power compacts and the C250 gets the same four T5 fluorescent tubes for a total of 234 watts.
We appreciate Red Sea's extreme caution in the lighting space but come on man! This is the end of 2013 and LEDs for aquarium use have been steadily getting better, brighter and cheaper for the last 5 years. But Red Sea is not deaf, and they are certainly not dumb, and we trust that they have a long term plan to get the future of solid state lighting into their aquariums in creative ways.
Full rundown of the Red Sea MAX C series' pricing and availability is slated to be revealed in December.