Special thanks to Patrick Sugent for taking the time to write and submit the following review of Paul "Paul B" Baldassano's The Avant-Garde Marine Aquarist: A 60-Year History of Fishkeeping. We couldn't have said it better ourselves!
"I first came across The Avant-Garde Marine Aquarist in an online forum which Paul Baldassano frequents. I gave the book a read not really quite sure what to expect. You see, I knew Paul has a great deal of saltwater knowledge as well as a witty style in online forums, but I also know that he is on a very different level than me in terms of saltwater aquarium experience. He's got a tank that is going on 45 years old, and I have a tank that is going on two years old, slightly less old than my twin children. He's also a big DIY (Do-It-Yourself) person when it comes to saltwater aquariums, and I once hired a professional electrician to change a lightbulb (a sad but true story).
So, I thought there was a lot of room for this to be a book that was really beyond my grasp and understanding and just generally over my head with lots of discussion about history I don't know about, devices I don't understand, and saltwater theory I can't follow. Fortunately, that turned out not to be remotely true.
Paul uses his engaging ability to tell a good story to get past all of those barriers. He goes over complex history and technical material like he's writing a funny children's book. The stories serve to both entertain and make us laugh, but also, and perhaps more importantly, to convey very difficult concepts in a simple, understandable format that teaches one the concepts behind his thinking without it even being obvious he's doing just that.
For example, when Paul is telling the story regarding the history of copper dosing, we find out not only interesting historical facts, like this used to be done by putting pennies in the tank on their side, but we also find out that the method for determining proper dosage involved checking for a dead fish—a dead fish either means too many copper pennies (if no parasites) or two few copper pennies (if a bunch of parasites). So, we get taught history of copper treatment, why copper treatment matters, and a really funny story all at the same time! That's pretty much Paul's writing style throughout the book.
Personally, I most liked Paul's section on the history of saltwater caretaking as viewed through his experience. I have very little knowledge of how things were done at the dawn of the hobby and it was highly interesting to learn.
The central part of Paul's book discusses issues such as how to buy and keep healthy fish, healthy water, and some facts and observations about fish biology. One of the things that makes this section interesting is that much of it is from the point of view of his extensive observation and experience. So, we don't just get dry, factual information, but we get detailed background of what he has observed and what conclusions it has lead him to, once again in a highly engaging, educational way.
Some of his observations are even controversial within the hobby. For example, his opinions on fish immunity and its implications for saltwater caretaking seem highly logical and well thought out, but run counter to much of the common wisdom in today's hobby. Naturally, Paul always gets to play the trump card that his philosophy has only worked for nearly 45 years in any debate on whether he is right or wrong. Not many people can claim that proven track record.
Paul's practical advice on how he runs his tanks is also surprisingly useful to me. I say surprisingly because, as mentioned, Paul is a very different person than me. He has immense Do-It-Yourself skills while I have none, and he applies those in a highly research-oriented fashion to running his tank. Many of the things he suggests doing are just flat out beyond what I am willing and able to do.
Yet, despite the fact that his expertise is beyond mine, his ability to explain why what he is doing works is highly educational and teaches me a lot about saltwater aquarium keeping. So, even if I'm not using exactly the DIY tools he employs, I am learning techniques that allow me to improve my tank. And, as usual, he does all of this with great humor and straightforward language that is both engaging and informative.
In conclusion, this book is absolutely a great read for anyone interested in the saltwater hobby. I don't expect that many of us are capable of keeping a tank like Paul's, but I suspect that almost all of us can learn a great deal from the book, improve our own saltwater aquariums, and be highly entertained and informed along the way."
– Patrick Sugent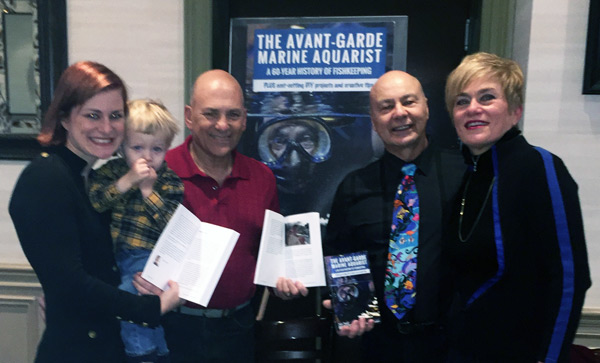 Editor's note: Paul's wife, Dale, and daughter, Jodi Lu Johnson (author of the foreword in The Avant-Garde Marine Aquarist and coiner of the book's title), recently threw a book-release party for Paul and 40 of their closest friends. CC and I regret we couldn't make the trip to New York to attend because word has it the event was tremendous fun for all!
Photo credit: Paul Baldassano