We love big showy pet fish, especially large adult surgeonfish that are in somebody else's aquarium so we don't have to go broke trying to feed them. Usually the place to go to see large resident marine aquarium fish is at a public aquarium, especially when it comes to full grown Acanthurus surgeonfish species.
But there's one very peculiar place in Nuremberg, Germany which is well known to aquarists visiting InterZoo, and it's called TANG's. Appropriately enough, Tang's Chinese Restaurant is filled with exceptionally large reef tanks, large enough to house and display some stunning surgeonfish to their fullest.
Calling these large marine aquariums 'reef tanks' is a little bit generous, as they are really more like large Fish Only With Live Rock and Coral aquariums, (FOWLR&C). We've been visiting Tang's great displays every two years since 2010 and over that time the aquariums have actually gotten nicer, cleaner, better aquascaped, and the fish populations have stayed steadily healthy.
Of course you'll find the usual fare of common aquarium fish in the many aquariums at Tang's, there's large shoals of pajama cardinalfish, a few different clownfish including one perfect yellow-finned melanopus, and the corals represent the spectrum of large hardy soft corals that are hard to kill as long as you're keeping them in seawater.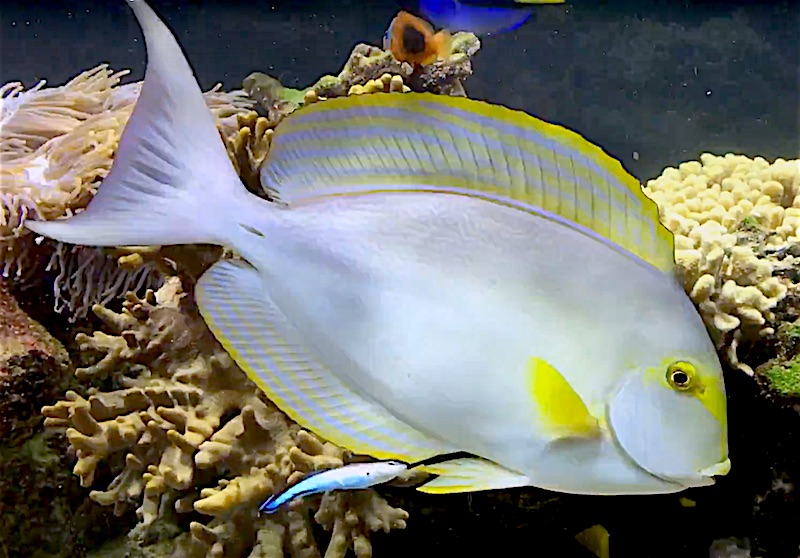 There's a great population of large surgeonfish in both of Tang's very long aquariums; did we mention that there are TWO aquariums, each about 12 to 18 feet long and visible on both sides? This massive amount of marine real estate houses show specimens of common tangs such as purples, yellows, regal blues, a few Nasos and a jumbo sohal tang.
But by far what made us take this video is three much less often encountered species that were looking in the prime of their life, and peak of health. The Acanthurus xanthopterus, A. bariene and A. leucocheilus surgeonfish are three species that are highly underrepresented in the aquarium hobby, but Tang's has killer specimens of each.
The architecture and interior of Tang's Restaurant can make for a very loud dining area, and we apologize if it's hard to hear our narration through some parts of the video. But if you're a fan of large showy fish, or surgeonfish in particular, we think that you'll agree that it was worth capturing this clip of the great populations of marine fish at Tang's Restaurant, and we look forward to visiting it again during the next InterZoo. [TANG's]