The market for reef aquarium salt has exploded in recent years with more new brands throwing their hat into the ring than ever before. It is not unusual for these companies to offer two or sometimes even three types of salt in an effort to edged out competition, but this is kind of odd to us as a trained marine scientist.
One of the first thing we were taught about marine seawater chemistry is how homogenous it is in the oceans of the world, never really changing in proportion and only slightly in salinity. This tenant is in opposition to 'enriched' aquarium sea salts which offer boosted levels of calcium, alkalinity, magnesium, extra trace elements or spiked with pro-biotics in an effort to edge out competitors products, but not actually giving consumers more value or better salt.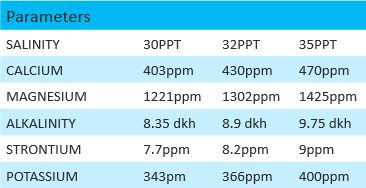 This is where the Fritz's salt mix philosophy starts resonating with our marine biology fundamentals, as they only make and sell one blend, the Reef Pro Mix, also known as Fritz RPM. Rather than offer a confusing cornucopia of salt mixes, Fritz makes one salt, they make it to the same proportions as natural seawater and if you want higher mineral levels, all you have to do is mix it to a higher salinity.
By making just one salt mix Fritz is not only able to keep stricter quality controls, but they can also make it really affordable. We are often asked what is our favorite salt, or what salt mix we use, and the cheeky answer is often 'free salt'. But in all seriousness, we really gravitate towards the salt that are clean, mixing up quickly and clear, and also without breaking the bank.
These guidelines disqualify just a few brands, but it still leaves us with quite a lot of selection at any decent reef aquarium store. However we had to go for the Fritz RPM a couple weeks ago when we saw that the 200 gallon box was significantly lower cost than many of the leading brands. We recently discussed the philosophy behind Fritz RPM with Shawn Hale of Fritz Aquatics at MACNA 2016, as well as a few of their complimentary aquarium products, and we think you'll see that there's good logic and reasoning behind offering just one sea salt formula.