The Octo CalReat is one of the most polished and refined traditional calcium reactors released on the market in a long while. The CalReact is basically identical to Octo's previous calcium reactor, with the very 2016 move of replacing the main pump with their own controllable DC pump, the Vario S which has until now mostly been powering protein skimmers.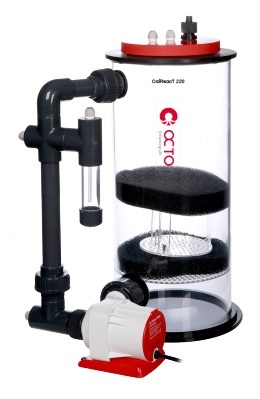 A DC pump is not enough to get our attention for a new product; although these new CalReact are virtually identical to their AC-pump equipped counterparts, they're still sporting some very useful features for a calcium reactor. The first great and useful design choice is the use of a twist-off lid to access the reactor media.
This is an uncommon feature for calcium reactors and even if you don't have to get into the thing that often, having easy access to service the calcium reactor media is a huge bonus to making sure you actually clean and maintain it. The other thing we really like about the CalReact is the inclusion of many options as standard, most of which are required for optimal reactor performance anyway.

Built in CO2 recirculating ports, a self-filling bubble counter are all standard on the new Octo CalReact, features that a calcium reactor should have anyway, but some budget models make you buy separately. The other nice thing about the Octo CalReact line is how few models there are, making it much easier to select the size you need.
Octo will be offering the CalReact in three sizes, a CalReact 140 rated for 200 gallons, Calreact 200 rated for just under 400 gallons, and a CalReact 220 which is only slightly larger and rated for 550 gallons. There's no word on release date and since these are so similar to their predecessors we expect them to be only a slight premium relative to comparable models in the current line of Reef Octopus calcium reactors. [LSS]