Deepblu Social Network For Scuba Divers
December 12, 2016, The Deepblu BETA, social platform is officially open to the public. Deepblu works like any modern social network, allowing you to create a profile, make friends, share dives and interact with other scuba divers around the world. Sign up now to the first social network built for the scuba diving community.
ReefDivers is excited for the official launch of Deepblu as we've already had the opportunity to test out the platform and create interactive groups during the beta phase. It only takes a few minutes to create a profile which includes your certification level and a handy digital dive log you can access anywhere your travels take you.
Deepblu users can choose their own level of engagement in the social network. Once you're signed up, you have the option of uploading your dive logs, browsing the homepage for trending stories or clicking the community section to create your own group. ReefDivers has created two groups, one for Coral Identification and one to connect Coral Restoration professionals and enthusiasts.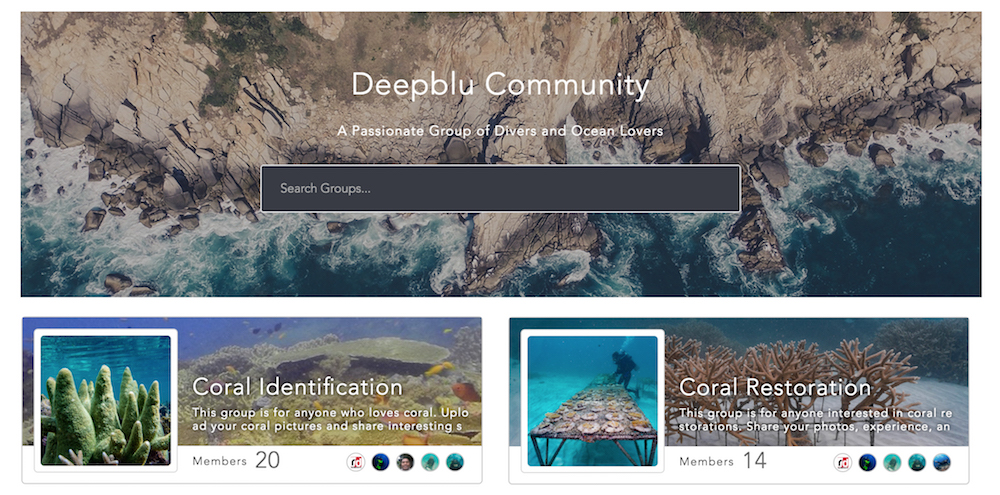 Digital Dive Logs
What's really cool about Deepblu is the integration of the COSMIQ dive computer to create seamless digital dive logs. Following a dive, the COSMIQ computer can easily sync up to the platform via Bluetooth to upload dive logs to your profile. These dive logs are visually orientated, and divers can make their dive log stand out by added underwater photos and videos to each corresponding dive.
Additionally, when you upload photos or videos the time stamp on the photo automatically syncs to the correct time during your dive to create a fun timeline of when and where you came across each critter. It is also possible to add stories and descriptions of gear, diving conditions, tag your diving buddies and have other divers or dive instructors digitally certify their dive logs.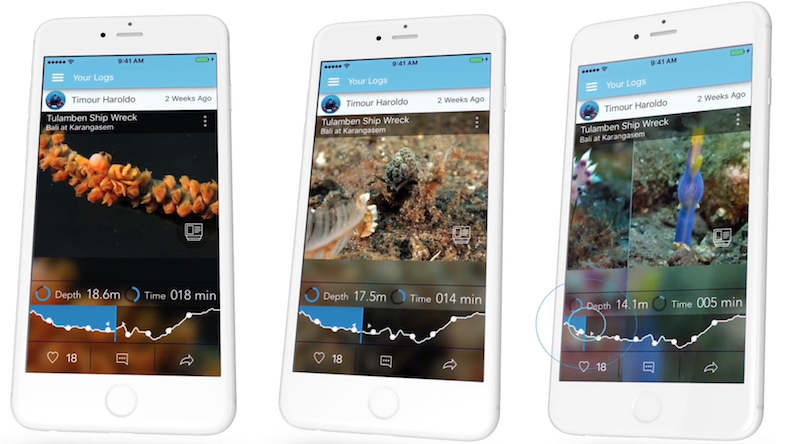 "Looking at the ways people currently interact in the diving industry and by extension the entire marine community, it's easy to see how fragmented it is," co-founder and CEO James Tsuei explains, "Our ultimate goal is to unite divers, dive businesses and conservationists alike around Deepblu and make diving more exciting for everyone with a passion for the ocean."
Deepblu is available through web browsers on the desktop or the fully redesigned mobile applications for Android and iOS.
Connecting Divers And Businesses Around Planet Deepblu
One of Deepblu's most exciting features is still in the testing phase and slated for release in January 2017. Aptly named Planet Deepblu, this interactive and quickly growing map of over 10.000 dive spots the world over aims to make it more convenient for divers and dive businesses, such as resorts, rental shops, instructors, liveaboards and conservationists to find each other.
Planning a dive trip used to be a tedious and cumbersome job, so divers will be relieved to find that Planet Deepblu's fluid user interface makes it a breeze to plan, while businesses large and small will have a much easier way to reach the community and advertise their services.
"We are really excited about what we are setting up with Planet Deepblu," Tsuei says. "Come January, our users will be able to pick their favorite destination, choose the accommodation with the best reviews and offerings, select the best place to rent their gear from and even the instructor they choose to learn from or dive with."
---
About Deepblu, Inc.: Deepblu, Inc. is a team of divers and technology enthusiasts whose goal is to use technology and the power of the internet to revolutionize the diving community and lifestyle.