In the mid-1990's I wrote an article about something I was experiencing in one of my tanks and which I had seen in a few other tanks and dubbed it "Old Tank Syndrome". This is actually kind of funny now, since as I write this, I realize that many of you now reading this were either quite young, or not even born when I wrote the original article – so now it is probably really old tank syndrome.
I have written about it a couple of times since and after having it happen to one of my tanks recently, I think it still is a relevant topic, at least it made me realize it can happen when I get a little lazy. It also confirmed that my friend Joe Yaiullo was at least partially right, when instead of calling it old tank syndrome he called it "Lazy Aquarist Syndrome".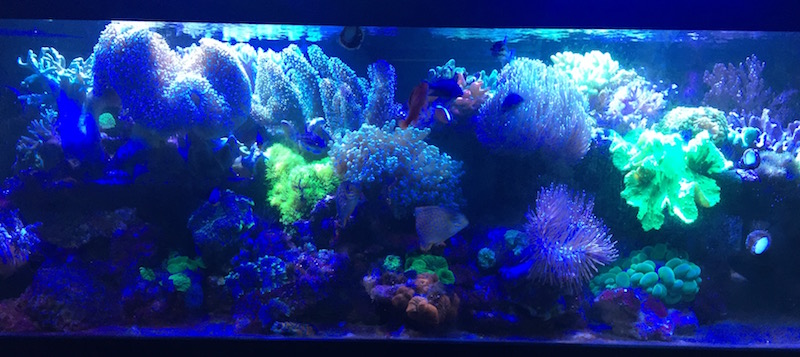 For those of you either not in the hobby very long or who have been lucky enough not to encounter it, this syndrome is when over time a successful tank starts to fail or simply does not have quite the luster and vibrancy that it once did. It can manifest in a variety of ways including having the corals not look as healthy or robust as they once did, or the fish not being as colorful or algae or other pests becoming more problematic.
In the worst case, which is what I encountered, some of the long-established corals die and different types of algae become problematic in seemingly sequential order. It is called old tank syndrome, as it occurs after a tank has been established and looked great and then starts to diminish.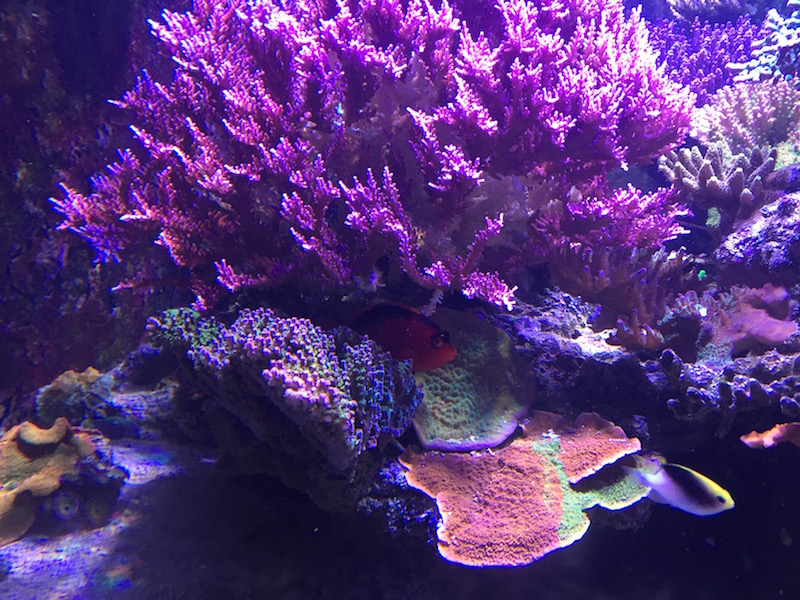 The time frame can vary, but in the case of my tanks it occurred after my tanks were at least five years old. I am going to speak in generalities about it in this article and will do a future article about all of the changes I made on my 300-gallon tank to combat and reverse it in a future article.
As I said, my first encounter with this "problem" occurred over 20 years ago and at the time it was kind of a mystery. I thought I was doing the same things I had done in my tank as did the others who were experiencing it and none of us could put our finger on what was going wrong.
Now looking back and analyzing what happens I am confident that human nature being what it is one of the first things that happens before this becomes a problem is that we, and especially me, tend to get complacent over time and as a result we, and again I mean me, start to take things for granted. As a result, we don't accept that over time things change in our tanks.
Much as we don't realize how much and how fast our children have grown, so too do we not see how quickly our tanks change and our corals grow. So we think that we can continue to do the same things we did in the past and expect the same outcome. It is kind of a reverse insanity in that things change yet we continue to do things the same way, or worse we do less of them or do not do them as obsessively and then when things do not go as well we are baffled as we expect the same results.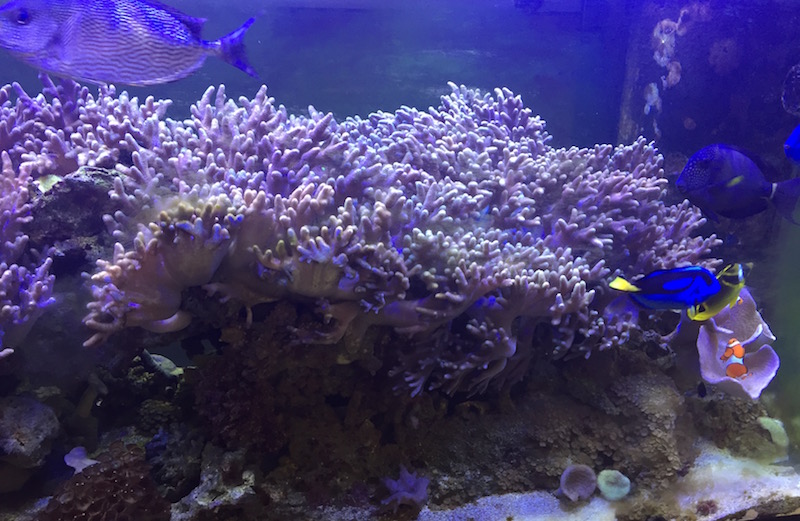 In this regard as it relates to our tanks, we tend to rely on our observational skills rather than testing to tell how our tank is doing. We get lazy and don't document things as meticulously as we once did so when things start to deteriorate ever so slightly we may not notice.
We cut corners in doing maintenance tasks because they are so much fun and because we have been successful we know that bad things can't happen to us. All of these things lead a once vibrant tank "suddenly" to suffer from old tank syndrome. So as much a I hate to admit it, Joe is at least partially right.
So how does old tank syndrome occur and more importantly how can we prevent it. Having gone through it a few times I am quite confident in saying that prevention is much better and significantly less expensive than having to reverse it.
While complacency, benign neglect and laziness do play a role, a tank's success in and of itself also plays a role. As I wrote in one of my earliest article on here a tank is not a small section of a reef, so it does not have the capacity to "cleanse" or "purify" itself as does a reef.
So in this regard, one of the main mechanisms for old tank syndrome occurring is the accumulation of material over time within its confines. Substrate, dead spaces, rock-rock interfaces, sumps and overflow boxes are all places where various kinds of material accumulate over time. And this accumulation of material is one of the first sources to cause a tank to suffer.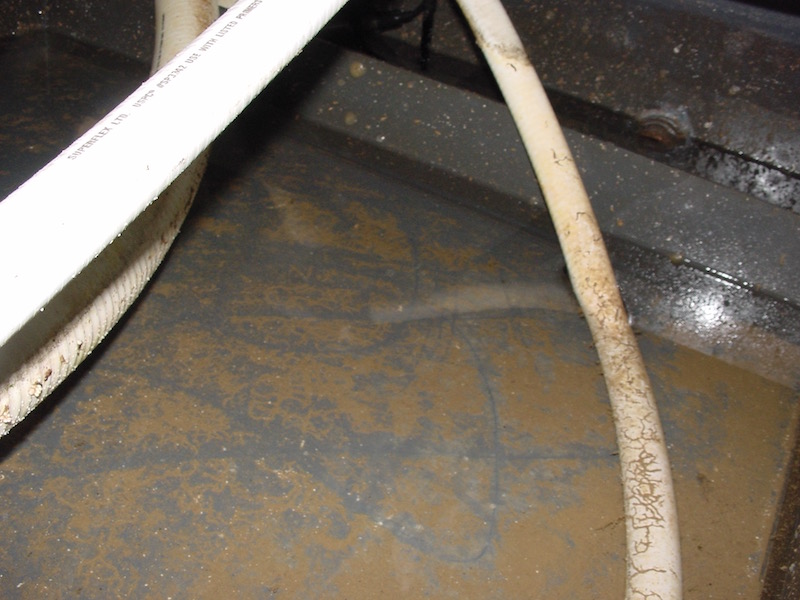 While most of us regularly test for phosphate and have tests that show tolerable levels are present, few of us test our substrate or live rock. Carbonate substrate is an excellent binder of phosphate, but it is not a one-way binder. That is, even though the phosphate may be bound for a while, bacteria, enzymes and even the rhizomes of some alga can get this phosphate from the substrate and convert it back into an active form.
So over time as more and more of this bound phosphate accumulates it eventually reaches a level where even though a test may show low numbers, and I'm not advocating zero, the actual usable amount available may be quite high and this may be why algae blooms of some type occur when a tank is suffering from old tank syndrome.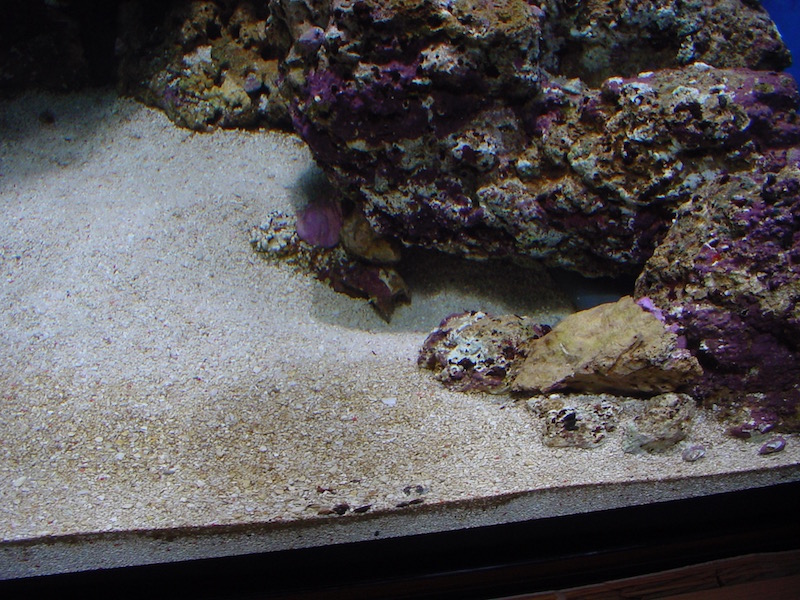 So in order to reduce this the substrate needs to be replaced and any dead areas or other areas where detritus has accumulated need to be vacuumed out, including the overflow boxes and sump. If you want to test this out you can simply take out some of your substrate and/or detritus, shake it up, let it set overnight and then test the water.
Every tie I do this I am amazed at how much more phosphate is present than when I just test the "clean" water. You can expand this even more by putting the water and substrate in the microwave for a few seconds to gently heat it up and then test it once it cools. Again you will probably get higher readings than you thought.
Lastly if your live rock is suddenly covered with algae, break off a piece, break it up into tiny pieces with your tank's water let it sit and then test it. Again there is often an unwanted surprise. So while a tank does not have to have zero phosphate, if the level gets high enough and enough phosphate has accumulated it can help promote this syndrome.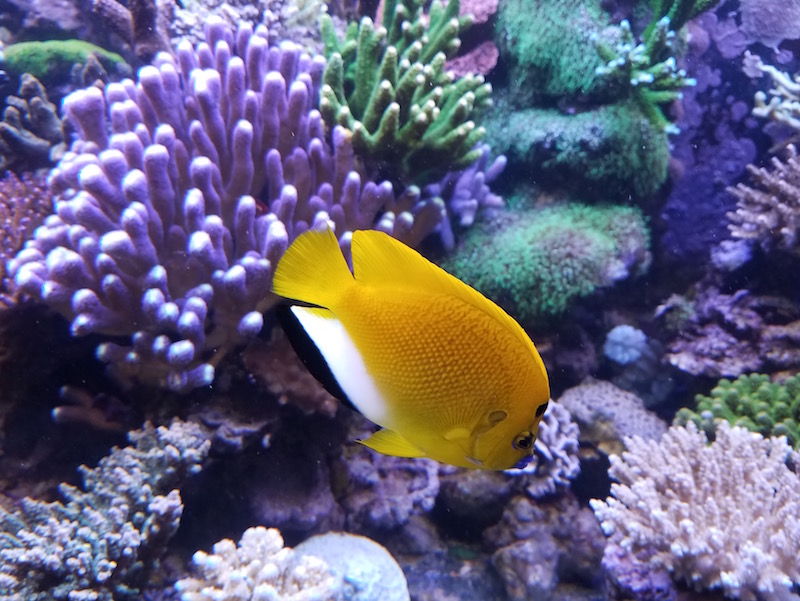 The other problematic nutrient, nitrate, also tends to accumulate in detritus so this is another reason all detritus needs to be removed regularly to reduce the likelihood of this happening. One of the earliest ways of detecting that old tank syndrome may be starting may be a gradual diminution in pH. This may be due to nitric acid forming from accumulated nitrate and other nitrogenous compounds and over time it overwhelms the buffering capacity of the tank.
Unlike phosphate nitrate does not adhere to carbonate, but rather it tends to build up in dead spaces and is produced in greater and greater quantities as the fish get bigger and consume more and more food and hence produce more and more waste. This needs to be understood in order to prevent it from becoming a problem.
Lowered or reduced alkalinity over time may also be an indicator that old tank syndrome is starting to creep in. Reduced alkalinity may be the result of this or simply due to the corals growing bigger over time, thus requiring more carbonate. Similarly, as corals grow they also require more calcium and magnesium, so these elements need to be added in increased amounts over time too.
As I stated above, lack of or reduced testing and documentation are one of the easiest ways to allow old tank syndrome to occur, because when this occurs the likelihood of adding the proper major elements as well as trace elements is reduced, which can lead to less than optimal conditions for our corals.
With most of us now using either a calcium reactor or dosing multipart calcium supplements readily seeing this increased demand for carbonate and calcium may not be as readily apparent as was the case in the past. But it should be noted at what rate things are added and increased so that comparisons can be made of when it is necessary to increase things slowly versus when there is a sudden rapid jump in demand.
A sudden need to ramp things up when no other things have changed could be indicative that something negative is occurring. I say this as typically most positive things occur gradually in a tank while sudden jumps usually mean something bad has or is about to occur.
While testing for major elements is quite easy and has been available for at least the last ten years, testing for trace elements has up until recently not been readily obtainable, so this was another potential source for why our corals might have started to fail over time.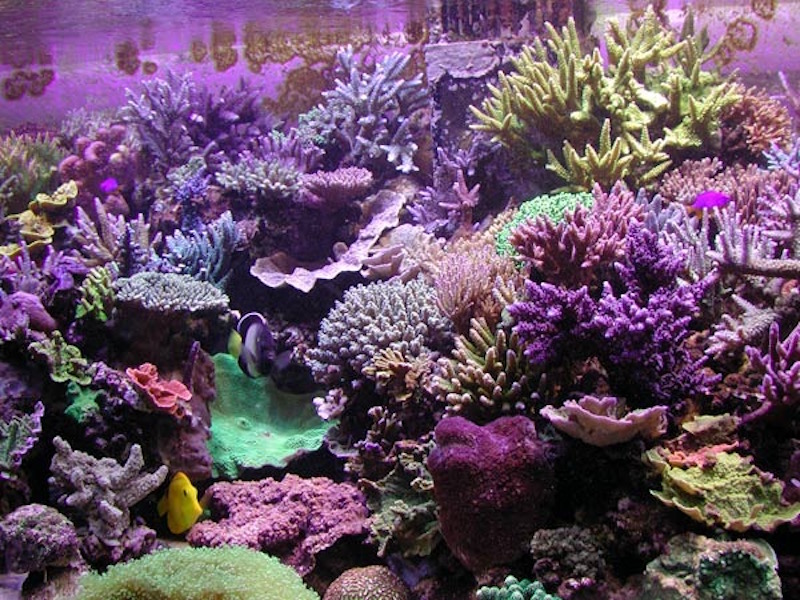 Fortunately, with ICP testing now readily available, we can now test for and adjust the levels for virtually all important trace elements as well. This hopefully will be another aspect of helping to reduce the likelihood of old tank syndrome from occurring.
The accumulation of nutrients and reduction of trace elements are just a couple of reasons why old tank syndrome may occur. Another reason in my experience is due to water flow being diminished over time in many of our tanks. Over time as corals grow, and this is not just limited to sps corals, they create drag on the water moving around them due to their increased mass.
In addition, as pumps and powerheads get older and as calcium and other clogging agents fill pipes the flow they produce gets reduced further. This results in several things happening: the flow around individual corals diminishes, the flow necessary to keep detritus in the water column where it can be removed diminishes and the amount of surface agitation that brings oxygen into the tank can also be diminished. None of these reductions in flow are good for the tank or its inhabitants.
So in order to prevent diminished from from being a cause of old tank syndrome, some steps can be tank. Pumps, pipes and powerheads need to be cleaned regularly. As per most manufacturers instructions as least every six months. And larger powerheads and possibly pumps should be added or exchanged for the old pumps every three to four years.
While the above suggested changes and recommendations are a good start to helping to prevent old tank syndrome from occurring, they are not an absolute surefire way of stopping it, there are other things that may be necessary. First among these is making sure that your filtration equipment still handles the bioload that an old tank has relative to what it did when you first set up the tank.
Typically when we set up a tank we purchase the equipment that is recommended for that tank and then never think of it again. When the tank is new and the corals and fish are small this is fine and the equipment works for all intents and purposes perfectly as advertised. However, after a few years the fish and corals are significantly bigger, not to mention that with success we all tend to overstock our tanks.
While this is going on the protein skimmer is aging, the pump feeding it and any other filtration equipment is becoming less efficient. And all of this equipment that was more than adequate may no longer be meeting the needs of our tank, but we do not look at or assess that possibility as when we got this equipment it was perfectly suited for our tank.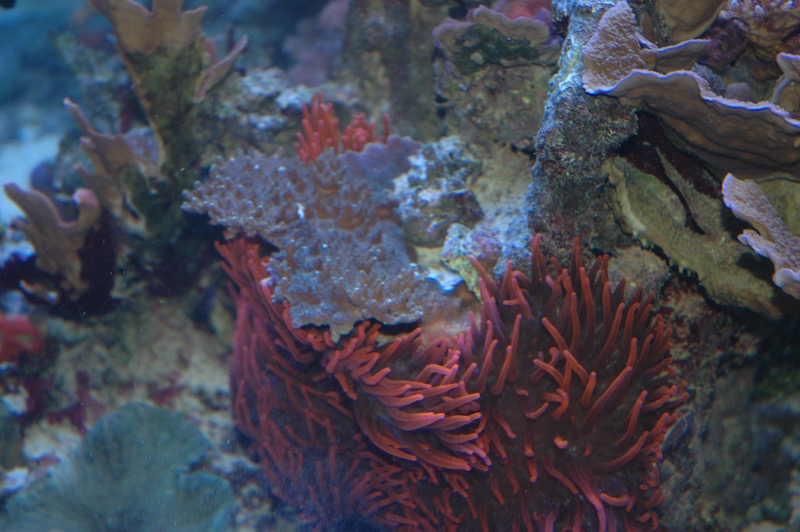 But when this equipment, which I consider the most vital to the long-term success of our tanks, no longer is adequate to remove the now larger amounts of waste being produced, this too can lead to old tank syndrome. So before this occurs and every three or four years I strongly urge you to assess the filtration equipment you are using and make sure that is is not only regularly cleaned and maintained, but also that it is adequate for the bio-load that is now present in your tank.
The last aspect of why old tank syndrome may occur is different from the others in that it is a result of the the success of the tank itself. Over time if left to their own devices speciation will occur. In addition, much of the diversity of the original live rock will diminish as well. Having both of these events occur is another possibility as to why old tank syndrome may occur.
Put simply speciation in a reef tank is when one coral, algae, or other invertebrate dominates the others and becomes the dominant organism in the tank. In this regard, I have seen anemones, both good (bubble tips) and bad (Aiptasia and Majano) dominate as tank as well as leather corals and Sinularias, table Acroporas and in the worst case algae.
No one I know typically intends to have one organism dominate their reef tank, but this can happen and to my mind produces one of the worst types of old tank syndrome. So before this occurs, and obviously with algae or the pest anemones, these inverts need to be culled back and diversity reintroduced.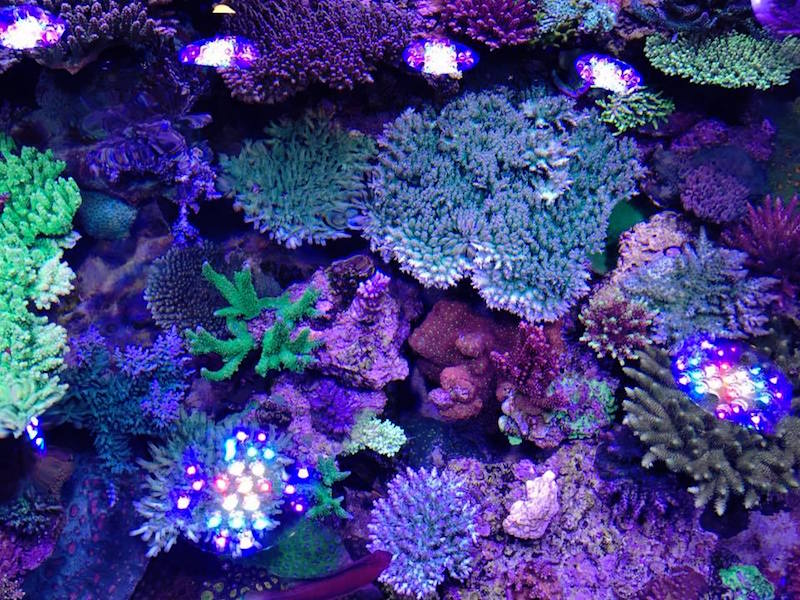 Conversely, as live rock becomes less "live" and the diversity of the animals and other organisms that live on and in it diminish this too may produce old tank syndrome. Also as corals grow and portions of them die the amount of "live rock" in the tank may actually increase.
But this live rock produced from the corals partially dying has little to no diversity on it and all it really does is help reduce the flow in the tank while at the same time increases the amount of dead zones. So over time this too can add to the likelihood of old tank syndrome occurring.
So in order to reduce the likelihood of this happening I suggest every two-three years some of the old live rock be removed, especially so as to open things up and reduce the dead spots in the tank and at the same time some "fresh" properly cured and quarantined live rock be added. By doing this diversity is restored and dead spots are removed, both of which could go a long way in reducing the likelihood old tank syndrome from occurring.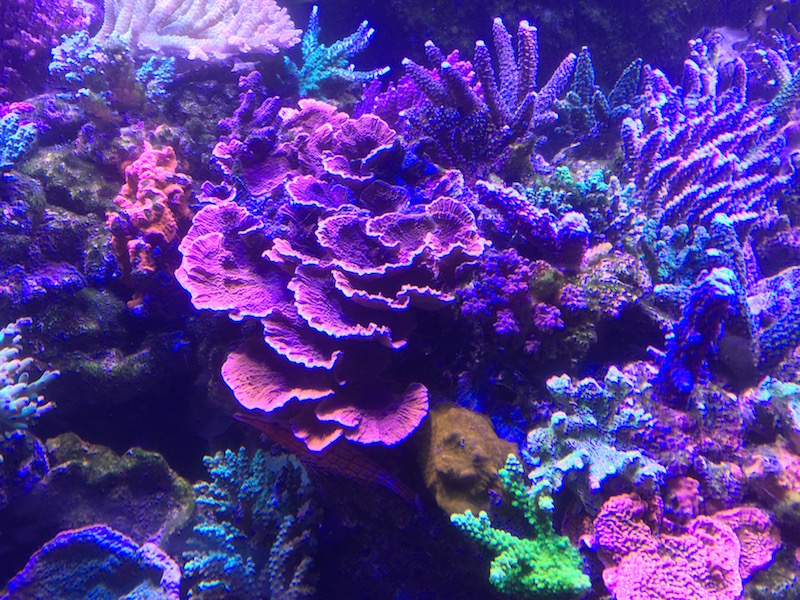 There are generally two types of sins: sins of commission and sins of omission. In regards to old tank syndrome, sins of omission are usually the culprit. As I said, experience has taught me that preventing this syndrome from arising is far easier and less costly than having to reverse it once it has occurred.
I know from my own experience that I do not always have the time or enthusiasm to do the maintenance tasks on my tank once is has been firmly established and is successful as I do when it is getting to that point.
However, I also now realize that unlike adding new corals or fish, doing the small things to keep my tanks at their peak pays off big dividends in the long run and saves a lot of heartache and expense. And since I hate it when Joe is right, I now work harder to keep all of my tanks from going through this unnecessary syndrome.