When it comes to hybrid reef fish, angelfish crosses are very stunning, but butterflyfish hybrids are more nuanced, and highly desirable. Some butterflyfish hybridize more often than others, but this is the first time we've reported on a hybrid of the iconic semilarvatus butterflyfish.
Chaetodon semilarvatus comes only from the Red Sea, and therefore has a smaller pool of other butterflyfish to cross with. However a recent specimen brought to light by Chinese marine fish dealer Red Heart King is among the first we've ever seen in the aquarium hobby.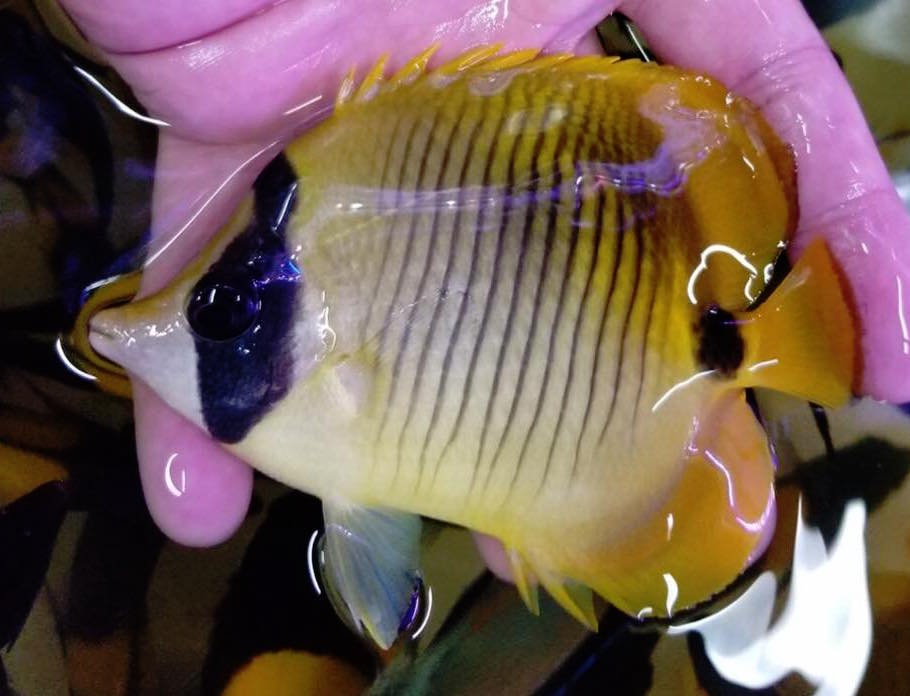 Interestingly, Chaetodon semilarvatus and C. lineolatus have a very complimentary color pattern consisting of thin vertical lines. 'Semis' are yellow with slightly orange lines while lined butterflyfish are white with thin black lines. The resulting cross is a light yellow fish with thin dark lines and an overall look that could easily be overlooked in a large school of pure semilarvatus butterflyfish.
The tell-tale feature that identifies this hybrid crossing is a patch of black color above the eyes which true Semis never show. Thanks to one photograph of a specimen in the wild, we don't have to imagine or wait to see what this fish will turn into, as this particular hybrid has been documented on a natural reef in Egypt before.