By Colby Johnson
While not commonly seen in the aquarium trade, the Triplefin blennies of the genera Enneanectes are gorgeous little gems that have captured our imagination with the recent description of a new species.
These beauties have been receiving some much-deserved attention lately, with the newly minted Enneanectes quadra n. sp. representing the eighth new species described from this genus in the last several years. The members of are small ( 3-4cm) blennies found exclusively in tropical New World oceans with representatives distributed throughout the western Atlantic and eastern Pacific.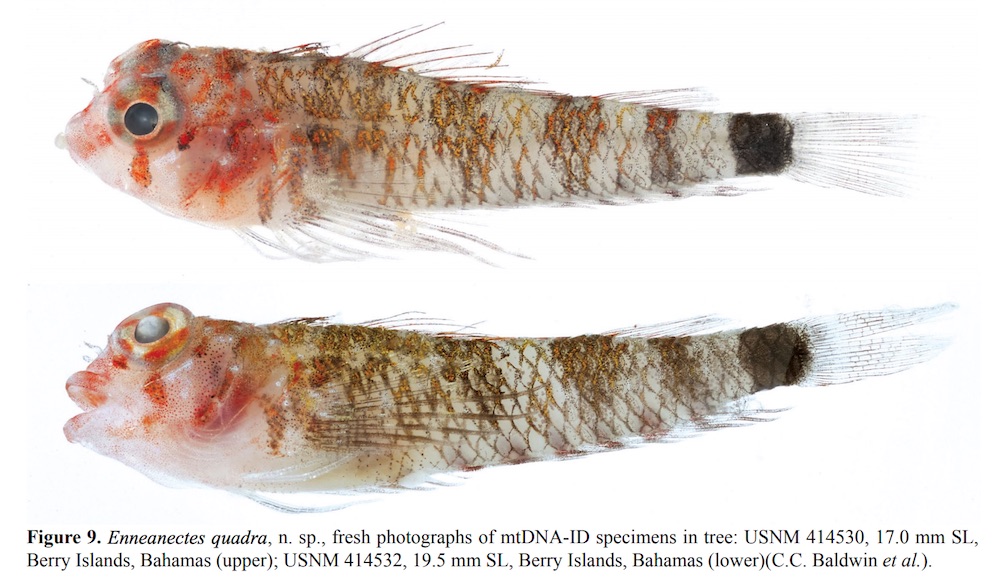 Enneanectes quadra n. sp has been described from collection specimens and is distinguished morphologically by a shorter first dorsal fin and it lacks scales on the preopercular. It also possesses a darkly colored square bar on the penducle and the head is more lightly colored than its sister species E. pectoralis.
Being fairly uncommon and endemic to a limited range in the Caribbean it is unlikely you will be stumbling across this little beauty in your local fish store, however, members of this genus are found in areas where collection for the trade occurs. No doubt these rubble dwellers would make a wonderful nano tank specimen packed with all the personality and spunk blennies are known for. Enneanectes quadra n. sp. is described by Benjamin Victor in the latest volume of the Journal of the Ocean Science Foundation.