Cirrhilabrus cyanogularis is the official name for a 'new species' of fairy wrasse that's actually been enjoyed in the aquarium hobby for quite some time now. With some similarities with other common species like Tonozuka's fairy wrasse and the redfin fairy wrasse, the blue throated fairy wrasse has finally gotten an official description.
Like its name implies, the males of Cirrhilabrus cyanogularis hav a large blue patch on the 'throat' below the eyes, gills and belly that reaches far up on the sides up to the pectoral fins. Males of C. rubripinnis also have a patch of blue on the throat but it is much smaller and less prominent than in C. cyanogularis.
One of the most interesting aspects of this original description paper for the blue throated fairy wrasse is how well they distinguished between the coloration of the males, especially in their nuptial display. The regular daytime coloration of related fairy wrasses can be very hard to distinguish but the spawning 'nuptial' colors of displaying male fairy wrasses can be very different from their 'resting' coloration, and they are very different from each other as you can see in the collages below.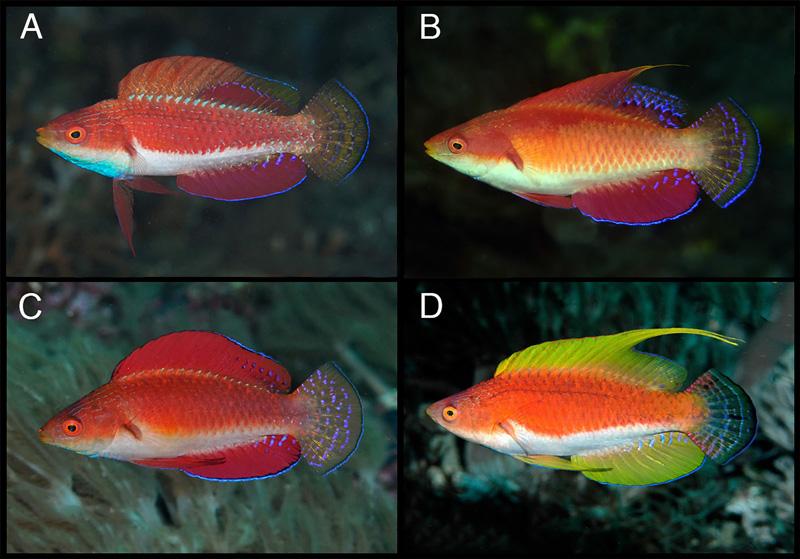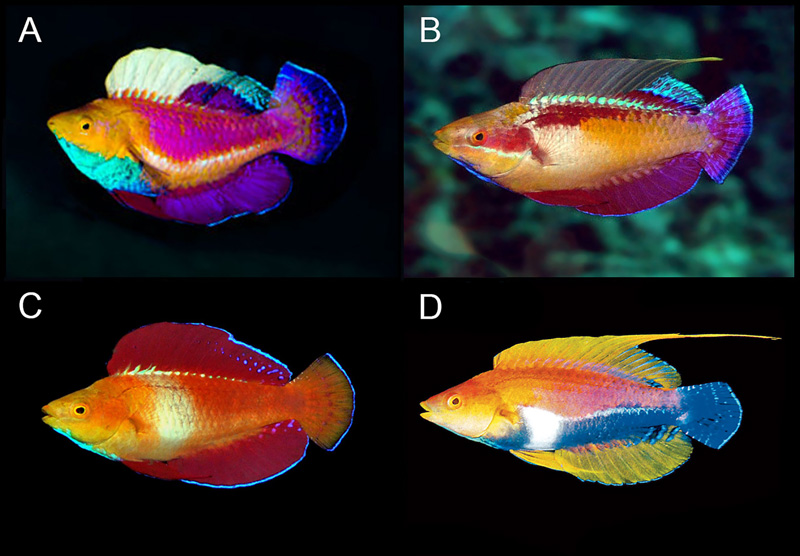 While the usual fin spine, fin rays and scale counts as well as genetic analysis were performed to help elucidate the boundaries of C. cyanogularis from closely related species, the 'deep dive' into the nuptial coloration is some very good ichthyological research on the authors of this paper. It's hard for the general public to follow along with the morphometric and genetic details that separate similar species but the male nuptial coloration of theses species is much more relatable, especially for divers seeing these fish at the right time.
The blue throated fairy wrasses ranges from Central to Northern Indonesia up into the southern Philippines and it was described as Cirrhilabrus cyanogularis by Tea, Frable & Gill in ZooTaxa.