The reef aquarium hobby has come a long way since the early days of reef keeping but it's hard to know where the 'modern' reef really laid down its roots. One great place to start would be Germany in the middle of the 1980s when pioneering aquarists took a deep dive into what would come to be known as Mini Reef Aquariums.
A recent crop of photographs shared by Svein Fosså is a treasured time capsule from a tank tour that took place in 1985 in West Berlin. Fosså is co-author of the Modern Coral Reef Aquarium, one of the best series of books that explains the broader German reef aquarium philosophy of the 1990s and the European equivalent of Sprung & Delbeek's the Reef Aquarium.
The reef tanks featured in this trove of historical images depict live coral displays that are vastly different from what we typically see today, each of them filled with a wide range of coral groups all coexisting in the same tank. Some popular corals in these 1985 miniature reef tanks include many different types of soft corals, old school favorites including bubble corals and Turbinaria are visible in many of them, and hardy zoanthids and Discosoma seem to play a supporting role filling in the rest of the reef scape.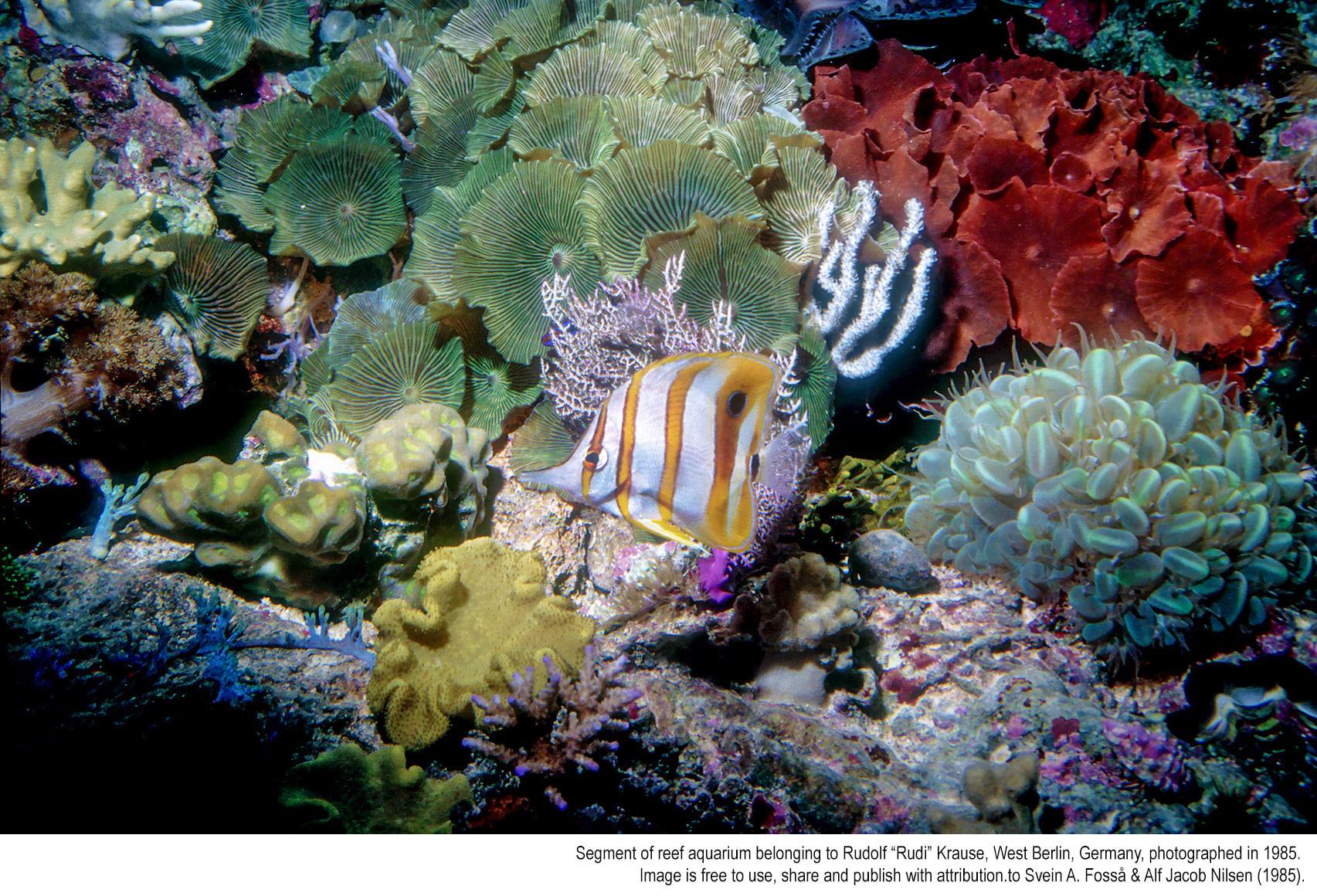 We can't see the equipment in great detail but we get some hints as to what types of pumps, lights and skimmers they used. The latter is the easiest to describe as we know that all these tanks are using air driven protein skimmers, with airline routed into the tall skimmer bodies and wooden air stones creating plumes of fine air bubbles. We presume that the primary filtration was driven by basic Eheim style water pumps that have been around for decades, but there certainly wasn't nearly as much understanding on the importance of water movement. There were no propeller pumps back then, but one of the back-room coral displays at Aquarium Berlin shows top-mounted powerheads, although these wouldn't be as practical for canopy-covered home reef tanks.
Obviously they didn't have LEDs back then but they also didn't have much in the way of fluorescent lights either; there might be some normal output fluorescent tubes on some of these tanks, but by and large most of these coral displays are illuminated with metal halide lamps as evidenced by the large reflectors, strong spotlights, and very natural, daylight spectrum of their corals. Some reefers might have started experimenting with using Actinic 03 lamps as a source of supplemental blue lighting, but for the most part we presume that these pioneers didn't really have the blue lighting to appreciate coral fluorescence, maybe not at all!
It's heart warming to imagine that the German reef aquarists featured in these photographs developed mini reef aquariums for the pure enjoyment of reef life with a natural appearance, and not nearly as much for the instagram-worthy fluorescent colors of contemporary reef tanks. Before the internet, before discussion groups, and with very little in the way of magazines, getting together for these reef tank tours and speaking to each other in person was probably one of the few ways to actually learn what other mini reefers were up to!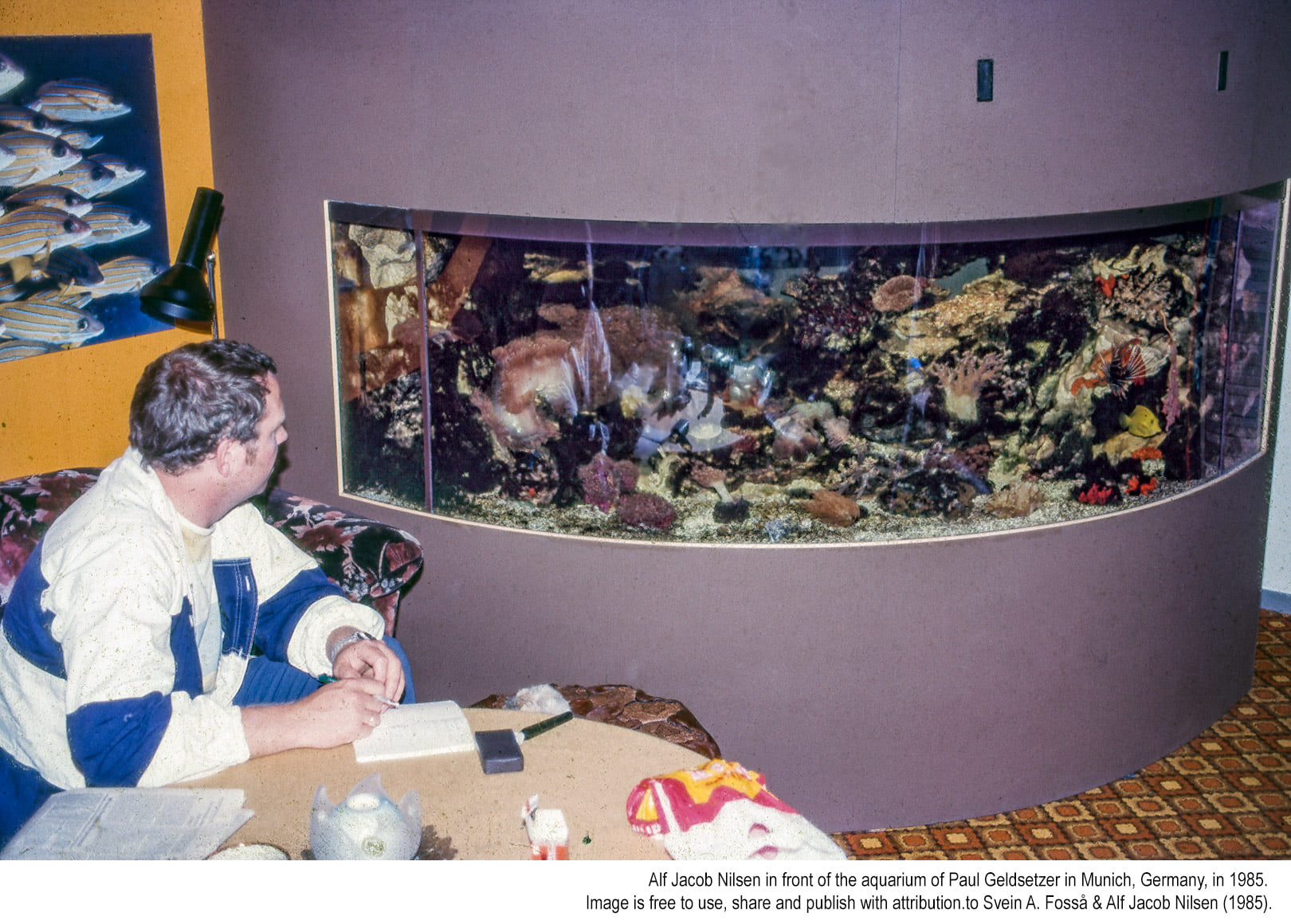 It's with this form of camaraderie that these German reefers were able to have success with stony corals like SPS, especially the Stuber Acro which is the oldest known strain of aquarium-grown Acropora, and pictured below in the photograph of Dietrich Stuber with his fabulous reef tank. Although we don't know what kind additives they were using, we can surmise that these reefers practiced setups in the style of the Berlin Method which relied heavily on kalkwasser additions, few fish, strong protein skimming, and regular water changes.
The Berlin Method is still the foundation of what we practice on our personal reef tanks with some modern flair and as you can see if it was successful enough for these early pioneers, it's still a great reefing philosophy today. We want to extend our sincere gratitude towards these early pioneers of mini reef aquariums for their efforts, and for sharing their experience with the world in order for so many people to enjoy live corals at home today, and thanks to Svein Fosså for this delightful trip down memory lane.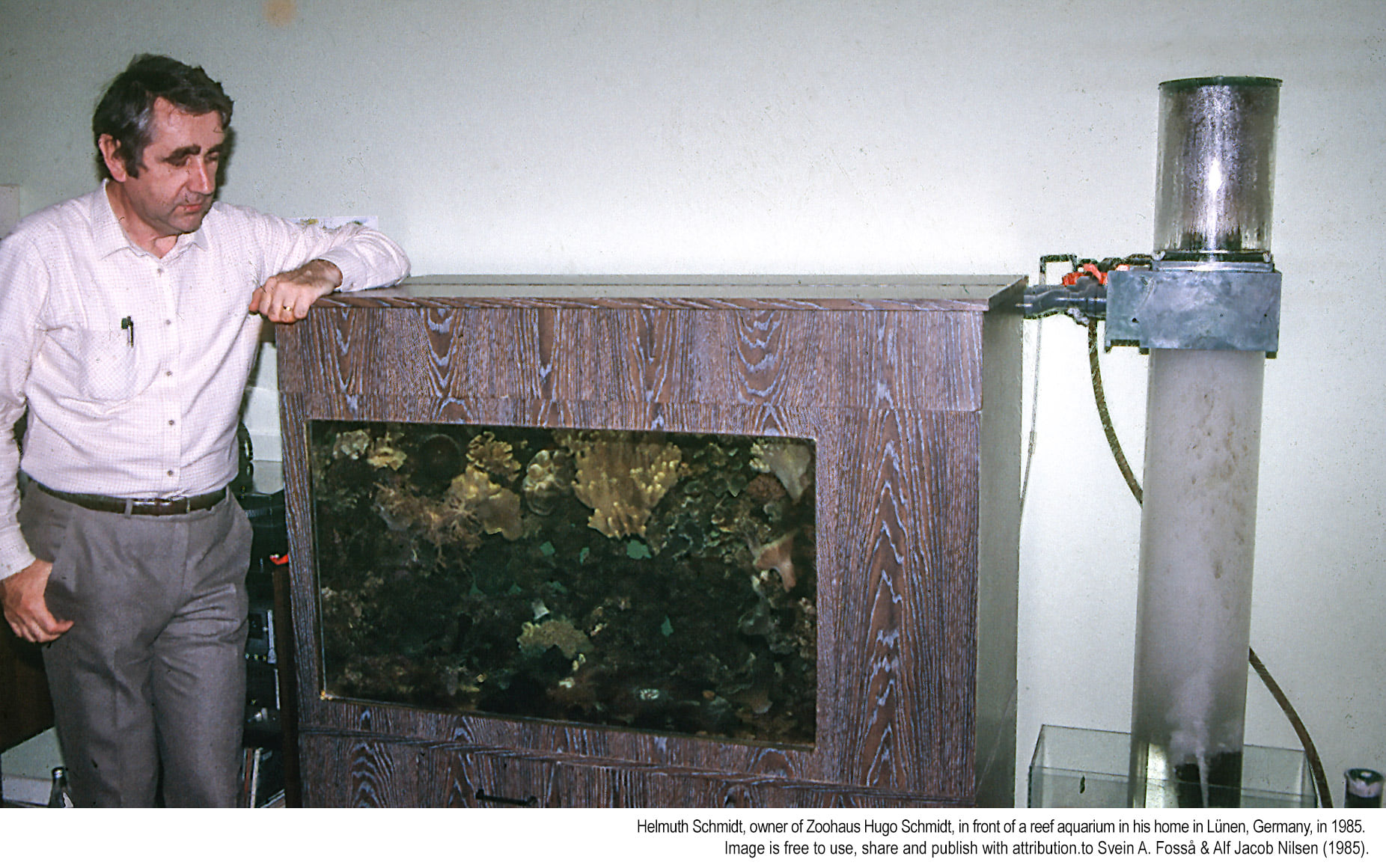 x