The Galaxxy S LED is a new commercial grade light fixture from the German lighting fanatics over at Giesemann. We didn't get a chance to catch up with them at InterZoo 2020 due to the show's cancellation where we certainly would have seen and learned all about this new light but Giesemann just shared some photos of a perfect use case for this powerful LED light.
Not to be confused with the Galaxxy E LED which is more of a spotlight form factor, the Galaxxy S is a broad panel of high powered, high efficiency LEDs with numerous diodes, each being driven at 1 watt for an output of 150 lumens per watt, resulting in up to 72,000 lumens in the smallest 480 watt model. Giesemann is offering the Galaxxy S LED in four different models including a 720, 960 and 1,440 watt version which are IP65 splash resistant, with substantial heatsinks with fan less, passive cooling for increased durability and silent operation.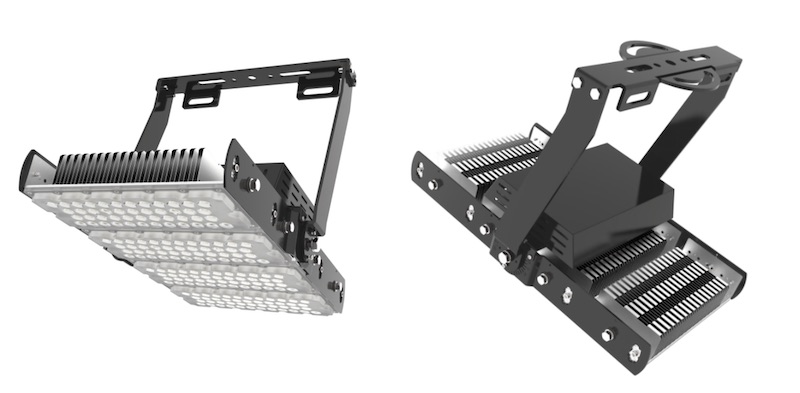 There are no separate color control channels but the drivers for the new Giesemann Galaxxy S LED can be dimmed with external 1-10v input and a thoughtful mounting bracket allows fine tuning of the height and direction of the 90 degree individual lenses. There are no specific color models of the Galaxxy S but presumably the commercial users for which these lights are intended can mix and match for a fixed spectrum ranging from warm white to very blue as well as a balanced spectrum as demonstrated in the 12,000 Kelvin spectrum of the lights on the reef display pictured below.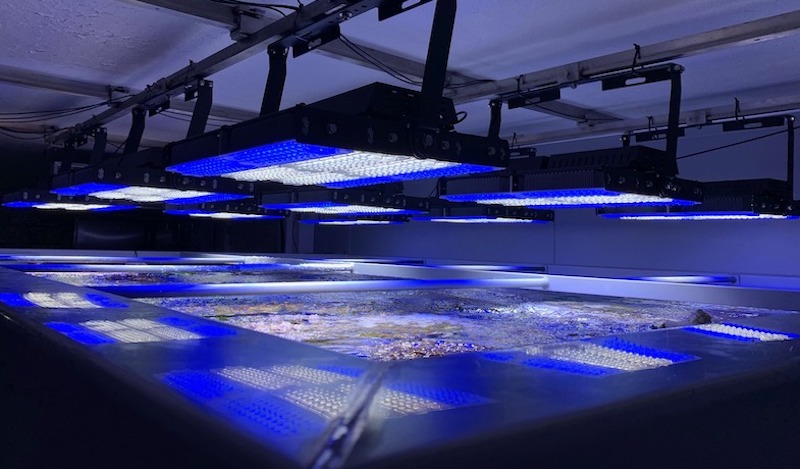 We don't have specifics on this particular reef display but judging from the size of the fish and the copious, mature stony coral colonies we estimate the working volume to be somewhere in the neighborhood of 10,000 gallons. Aside from a few overgrown leather corals the display is dominated by fast growing, light hungry stony corals so it's no surprise that the nine, 480 Watt Galaxxy S LED lights provide an astounding 648,000 lumens while using just under 4500 watts of power.
From the picture it's apparent that over half a million lumens is more than enough light for a tank of this size so expect the Giesemann Galaxxy S will be a popular option for reef aquariums of this size and scale, as well as fish displays at public aquariums. We don't have any estimates on pricing but we gather Giesemann would prefer to fine tune the spectrum and the specific uses directly with their commercial aquarium customers.