A clover nozzle is an old school trick which never really had a name but has been independently created for a wide range of applications, but not limited to aquariums. Water flow is one of the most paramount details of having a thriving aquarium of any kind, but especially more important in regards to keeping corals in a reef tank. Nowadays the majority of our water flow requirements are provided by a wide variety of propeller based aquarium flow pumps but it wasn't always this way.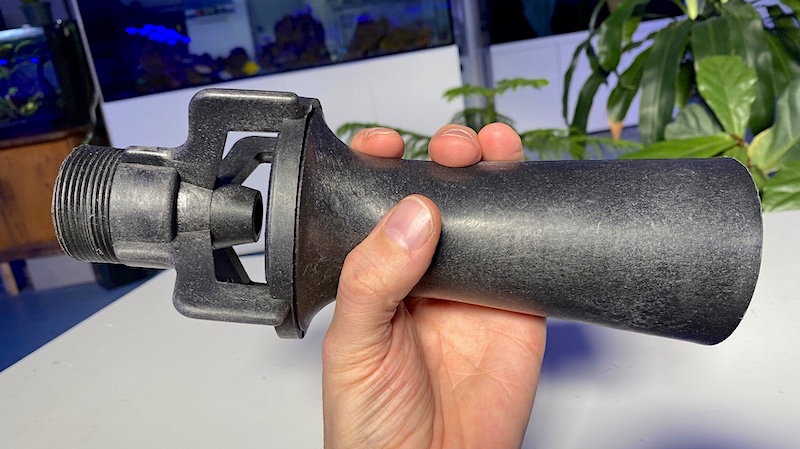 Long before the Tunze Stream and Ecotech Vortech pumps came out us primordial reefers relied only on higher pressure centrifugal pumps, either in the form of beefy external motors or smaller internal pumps AKA powerheads. It was a lack of propeller flow technology that led us to the development of gyre flow techniques to create mass water movement throughout the entire aquarium, but there's still some tricks to be applied to higher pressure centrifugal pumps.
For one thing, all of the flow returning to our aquariums from behind or underneath the tank is with the use of a higher pressure centrifugal pump which can be enhanced to create more water movement throughout the aquarium. There's a large number of different flow nozzles and accessories available for reef builders to modify this high pressure flow coming from the return pump and when properly used, can reduce the need for additional pumps to get the right kind and amount of water flow.
One of the easiest and cheapest ways to transform this high pressure flow is through the use of a 'Clover Nozzle' which is a simple modification literally anyone can do themselves. By applying heat to any kind of thin PVC or rigid plastic tubing, simply pressing in the tubing in two or three places creates a clover shaped outflow which resembles a clover leaf, hence the name.The shape of the clover nozzle creates several 'co-axial' streams of water flow which imparts momentum on a higher volume of water than is actually coming purely from the pump. Just like eductors or 'flow accelerators' the clover nozzle trades a little bit of inertia coming from a strong jet of water and turns it into momentum for a larger volume of water, thus creating more water movement inside the aquarium.
Where true eductors are large, expensive, and specially designed for the most efficient industrial mixing applications, the clover nozzle is small, short, and can be easily created using tubing, heat, and just a few minutes of time. We've used clover nozzles as a basic flow hack on our tanks for years reducing the need for additional pumps and in some cases, eliminating the need for internal propeller pumps altogether, mostly in small volume aquarium displays.