Killer Robots may be the trope of science fiction stories and movies and there are legitimate concerns that a superhuman artificial intelligence or 'singularity' might be a danger in the future but today we can use them to do our bidding to help protect coral reefs. The crown of thorns starfish, Acanthaster planci, is large species of starfish covered in sharp venomous spines with a voracious appetite for the reef building stony corals that are a keystone species of coral reefs, and one of the most celebrated groups of aquarium corals.
Normally the predation of the crown of thorns starfish would be a good thing on the reef, clearing fresh space for new corals and reef species to colonize and helping to maintain a high species diversity in these important ecosystems. However with all of the dangers corals reefs currently face, not the least of which is global climate change, coral bleaching and coal diseases, large outbreaks of COTS can wreak havoc on the reef as they consume huge swaths of living stony corals.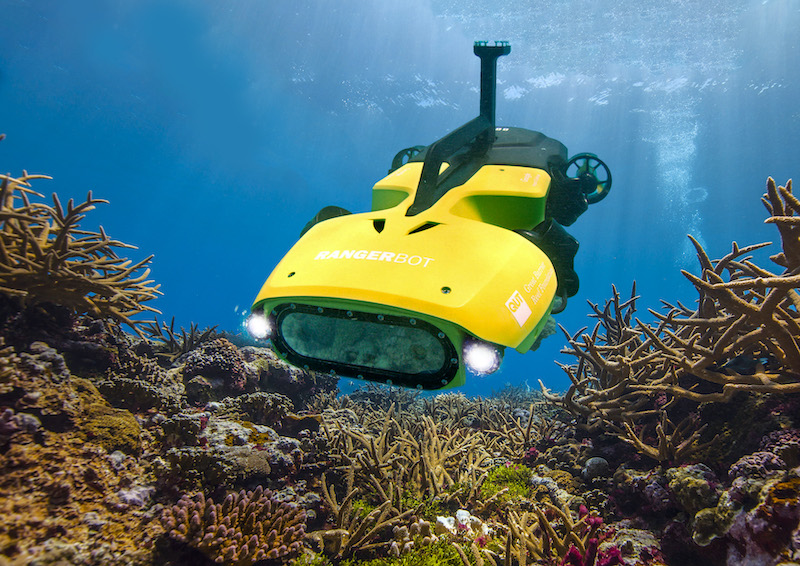 There has been a lot of research into understanding ways to keep the COTS numbers in check but until now even the most successful efforts have relied on individual people to actively seek out Acanthaster planci on the reef in order to inject them with starfish-killing bile, one at a time. This manual approach to controlling COTS populations is as tedious as it sounds but with the rise of many new technologies including autonomous underwater vehicles (UAVs) and computer vision, engineers have designed and built a new starfish killing robot called COTSBOT.
COTSBOT is a sophisticated UAV that can autonomously recognize crown of thorns starfish and inject them with bile and the guidance system of COTSBOT is apparently so effective that it will even ignore 3D printed models of crown of thorns starfish! The first COTSBOT has already become succeeded by a new machine called Rangerbot which is built from the ground up for this very important mission to be smaller, more effective and cheaper so that many of them can be built and deployed to protect coral reefs from this very destructive echinoderm.
Rangerbot can also operate at night when COTS are feeding most actively but it can also be outfitted to help disperse lab-cultured coral larvae which are ready to settle out on the reef making Rangerbot both a killer of starfish, and protector of the next generation of reef building corals. The bots can operate for up to 8 hours on a charge in shark and crocodile infested waters and with the cost of the newest models costing approximately $15,000 a piece we may someday have swarms of these versatile machines doing their part to give coral reefs a fighting chance against the dreaded crown of thorns starfish. [Rangerbot]