The SKY LED is the reef aquarium light from Neptune Systems that has been on the horizon since the trademark was officially filed (and subsequently suspended). We've been piecing together different features of the Neptune Systems SKY LED since its existence was made official and it turns out that our speculative post summarizing most of this fixtures details were pretty spot on.
Not to be confused with the LumenSKY by Illuminarium , CoralSky SL, or the AquaSky by Aqua Design Amano better known as ADA, the Neptune Systems SKY takes more than a little inspiration from the CoralCare LED light from the Dutch multinational conglomerate corporation Philips. However unlike that large, heavy and passively cooled light fixture the Neptune Systems SKY LED is actively cooled with a much more manageable weight that is practical to place over an average home aquarium.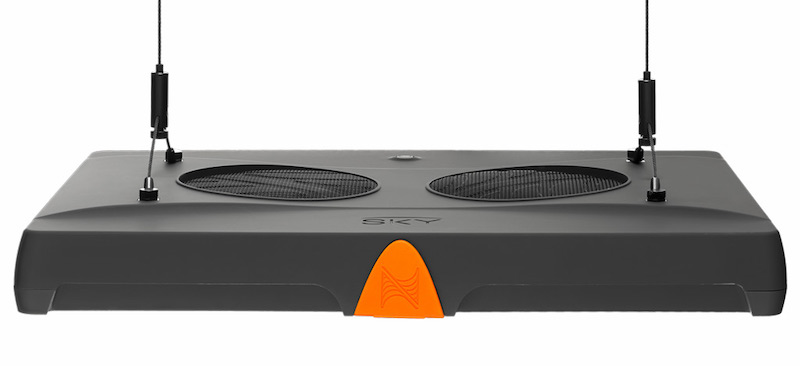 Neptune Systems designed the SKY LED to be a 200 watt reef aquarium fixture with 100 high output LEDs plus 4 dedicated moonlight LEDs in a form factor that falls between the size of the larger Philipps CoralCare and the smaller Ecotech Marine Radion. This power distribution of an average of two watts per LED is a good modern approach to having the most efficient light possible and mirrors the approach we've seen in the hobby's brightest LED lights like the Ecotech Marine Radion Gen 5 fixture and Kessil A500X spotlight.
However compared to those two lights which work very hard to cluster the LEDs for better color blending, the Neptune Systems SKY LED imitates the Philips CoralCare by having widely distributed LEDs over an area that is almost twice as broad as most other fixtures. Like the CoralCare the Neptune Systems SKY LED uses a diffuser to help blend the light output in an attempt to reduce the disco ball effect and strong shadows caused by more point source style lighting.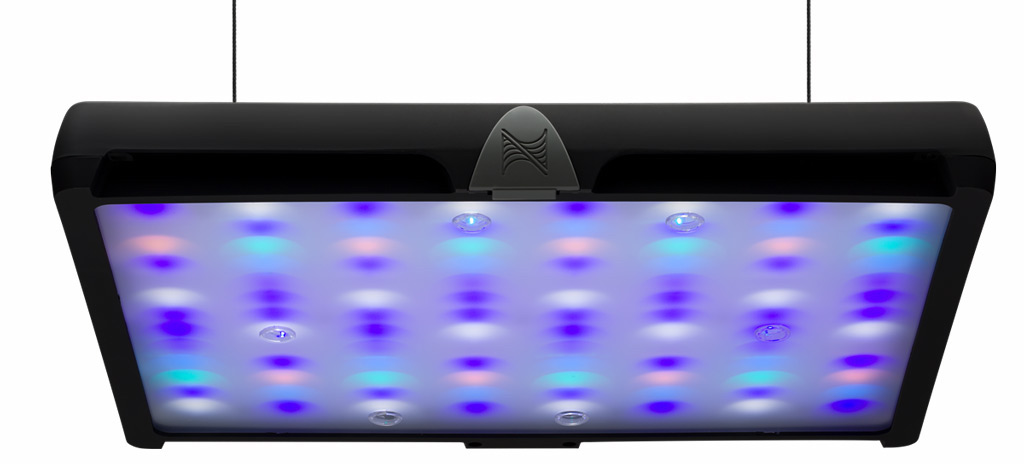 At full power output the Neptune Systems SKY LED has a strong, heavily blue biased spectrum which can be further tuned with four color channels – double that of the Philips CoralCare but around half of the controllability found in comparable light fixtures in this class for reef aquarium lights. We don't have any details of the exact distribution of LED colors included in the bank of 100 diodes but we can presume that the four color channels will roughly represent the white color, the accessory colors (red & green), a blue channel, and lastly the violet and UV color channel.
Additionally the Neptune Systems SKY LED has a dedicated 2-color moonlight channel for reproducing lunar cycles and the Philips CoralCare 'flattery' continues with a number of clear 'windows' in the diffuser for introducing some degree of shimmer effect. The Neptune Systems SKY LED takes this approach to optional shimmer one step further by introducing slightly frosted 'Shimz' lenses that can reduce the shimmering effect so you can really control the degree to which you get that sunshine feel, and where you want it over your tank.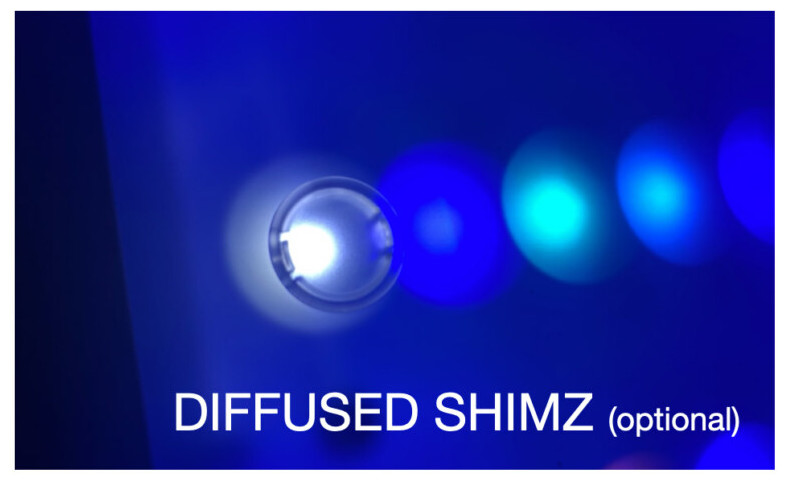 Curiously, Neptune Systems opted not to design their own mounting arms and instead will depend on Ecotech Marine's Radion Mounting System for mounting the Neptune Systems SKY LED over tanks and other displays. Neptune's new light will work with the old style Radion bracket which will obstruct some of the airflow of its two fans but it'll also work with the newer style bracket that Ecotech Marine designed specifically to accomodate top mounted fans so if you do use the RMS, you'll want to make sure it's the version compatible with the fifth generation Radion in order to enable maximum airflow to the cooling fans.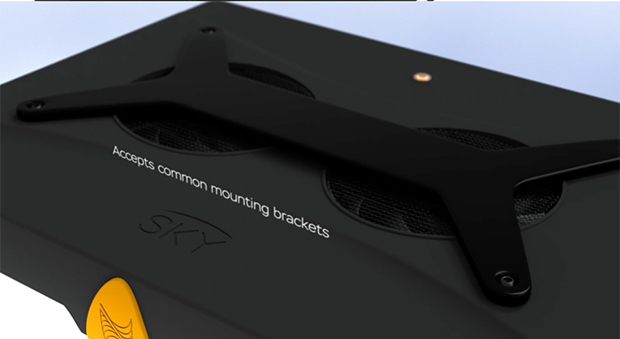 Not surprising is that you will also be able to suspend the light with mounting cables, the only mounting solution actually offered by Neptune Systems, but you will have to shell out an extra $35 for their black adjustable wire hanging kit. Now we've long known that an LED light released by Neptune Systems would work best in the Apex controller sandbox but the SKY LED will also have some user controls without requiring an Apex using a bluetooth connection for adjusting brightness, spectrum, and actual light programming. However if you are using an Apex to directly control the Neptune Systems SKY LED you will need to connect the integrated AquaBus cable to each and every SKY fixture you want to use, but we're curious about what to do with this hard wired cable if you are not using an Apex.
The official webpage of the Neptune Systems SKY LED is very comprehensive in describing nearly all aspects of the fixture itself but to our surprise there isn't any mention of PAR values. This omission of any PAR measurements, let alone any kind of PAR distribution maps is a real head scratcher for a company that prides itself on specifics and we would have thought that they would want to really demonstrate the uniformity of light spread with light intensity measurements at different depths and distances.
So how much is Neptune Systems' first flagship reef aquarium LED light going to cost? The Neptune Systems SKY LED will be priced at $869 when it starts shipping in "six to eight weeks" from this weekend's announcement, so we might expect to see this fixture in the wild around late June to early July 2021. However with the current worldwide chip shortage and Neptune Systems' notoriously small initial production runs that lead to all vendors being sold out for considerable amounts of time, definitely get your orders in early if the Neptune Systems SKY LED ticks all of your boxes.
Specs subject to change:
The Closest To The Sun You Can Get
The SKY is a 200w, LED aquarium light, with patented diffuser technology, that smoothly blends all of its 104 LEDs to create a homogeneous field of coral-health-optimized light — no hotspots, no disco-ball effect, no need to augment it with other lights or add-on diffusers — but best of all, none of the harsh shadowing and fractured spectrum found in most other popular lights.
Wire or Wireless Connectivity
Apex Integrated or Standalone
UV LED Enhanced Color Pop
Two Dedicated Moonlights (4 LED)
Diffused LIght
Adjustable Shimmer with Optional Shimmyz
Advanced Thermal Management System
Near Silent Operation
Low Profile and Lightweight
Multiple Mounting Options
UL and CE Certified
Apex Connected or Standalone Operation
The SKY easily joins your Apex ecosystem simply by connecting its integrated AquaBus cable to an available port on one of your modules or the base unit. This makes set up fast and easy. If you have more than one SKY, the included Y-cable can be used to chain them together and still only need one AquaBus connection on your Apex. Alternatively, those without an Apex can wirelessly connect to the SKY and operate it wirelessly over BT on their mobile devices.
Advanced Thermal Management
The SKY has an advanced approach to thermal management that is more than just the two fans you see.
So, why two fans? With two fans the SKY can operate them at much lower RPM while keeping the LED cooler. Cooler LEDs mean a longer lifespan for your light. Also, running the fans slower means that the SKY is quieter, in fact, its the quietest actively-cooled LED in its power-class. The SKY puts out just 33dB at one meter and set to 100%. The leading competitor clocks in at >40dB at 100% power.
Along with these fans a temperature and power monitoring algorithm manages their speed. If one fan were to fail, the other will pick up the slack and still keep the SKY running and safely cooled until a replacement is obtained. Also, if for some other reason the SKY cannot adequately cool itself, such as excessively high ambient air temperature, it will throttle the power to the LED to keep them safely cool.
Multiple Mounting Options
Many lights on the market force you into purchasing their mounting solution. Neptune decided to broaden your options by adopting a standard already widely used by one of the most popular brands on the market. So, in addition to our optional, sleek black cable hanging kit, you now have many other ways to mount your SKY over your aquarium. This also makes the SKY an even more cost effective option when considering a lighting upgrade. On top of this, we are working closely with 3rd parties to build even more mounting options for our SKY customers.
Adjustable Shimmer
As equipped, and with surface water agitation, the SKY provides a gentle shimmer that suits the tastes of most aquarists. We realized early in the SKY development that when you put a diffuser in front of LED, as many lights do, it tends to kill off nearly ALL shimmer. And that's not good. So we designed a hybrid diffuser that has clear covers, called Shimz, over four openings in the diffuser where the white LED can shine through with no diffusion. These white LED then bring back the shimmer lost by the diffuser – but in just the right amount. But because not everyone has the same taste, we created an option. If you wish to have even less shimmer, diffused Shimz can be swapped in – available as an optional purchase.
Coverage:
Maximum Spread: 30″ x 36″
Recommended Spread: 24″ x 30″
LED Details
104 LED's (including uv)
Dedicated Moonlights
4 Controllable Channels
Specifications:
Dimensions: 12.8 x 9.25
Power Input: 100-240VAC 1.8A 50/60Hz
Variable Usage (MAX): 219W
What's Included?
SKY LED Light
219w Meanwell Power Supply
Aquabus Y-Cable
Orange Logo (pre-installed)
Gray Logo
4x M4 Mounting Screws