The SKY LED from Neptune Systems is a new reef aquarium LED light that has been acknowledged by its parent company, but for which no details have yet been divulged. Fortunately, and perhaps intentionally, an image was shared online yesterday for just a few minutes before it was taken down, but not before a quick-thinking netizen could grab the first image of the Neptune Systems SKY LED.
You'd think that this top-down image showing just the upper surface of the light and the fans wouldn't reveal too much but we've used, tested, and or reviewed nearly every LED light ever made and there is a lot of information we can glean from this image. DISCLAIMER – everything here on out is pure speculation but we wouldn't be sharing them without some degree of confidence in the general details.

It's no secret that Neptune Systems' lead hype man is a big fan of the Philips CoralCare LED lights, especially of its distributed LEDs, going so far as to rewire his home aquarium with 220v circuits to use them long before the 110v version was released to the American market. We always suspected that NepSys would be inspired by the CoralCare LED light but would make a light that doesn't weigh 14 pounds because of the built-in power supplies.
The leaked image of the SKY LED supports this train thought showing a light fixture with a smaller footprint than the CoralCare but still much wider and broader than the AI Hydra and Radion fixtures. The fans pictured on the top of the SKY LED appear quite similar to those used on the EcoLamps Spectra SP-200 which are approximately four inches in diameter and have low profile fan blades.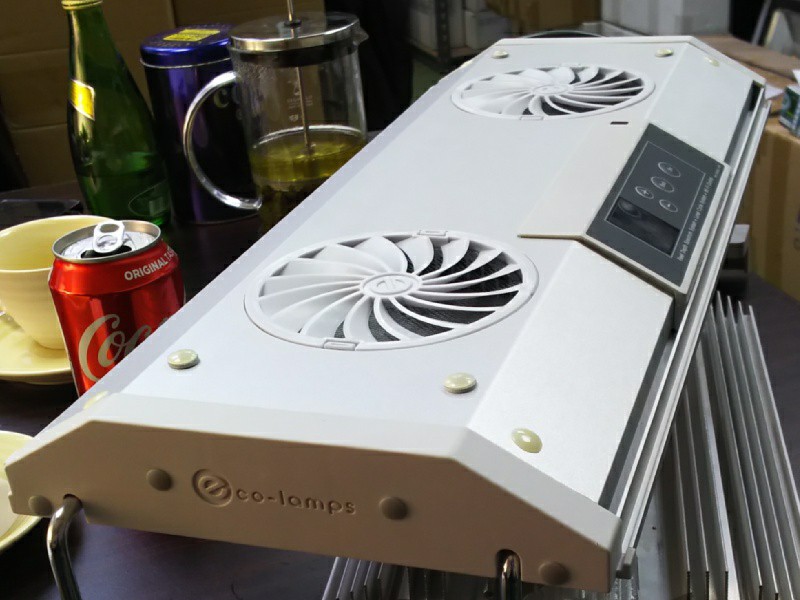 These kinds of fans are specially designed for low profile applications but they don't move as much air as a custom fan like those used in established top-end reef aquarium lights. Unfortunately for us high elevation reefers nearly all these lights are designed and tested at sea level where the air is denser, but slim blade fans can be somewhat noisy depending on how fast they need to spin, especially in the thinner drier air of higher elevations and arid regions.
If we take the four-inch fans as a reference we estimate that the Neptune Systems SKY LED probably has a footprint in the neighborhood of 12 by 16 inches, if those are three-inch fans then the light might be closer to 10 by 14 inches. With a well-designed heatsink, a light of this size would be capable of between 150 and 200 watts of thermal management, positioning it well in a market of flagship lights running between 180 and 200 watts such as the Kessil AP9X and Ecotech Marine Radion Blue and Pro models.
In either case this wider and larger area and thin profile of the light supports our original assumptions that the SKY LED wouldn't use LEDs in a cluster array but instead use widely distributed diodes. If the LEDs are not clustered and only equipped with their native primary lens optic the SKY LED will require some degree of diffusion panel to mix the colors and avoid the disco ball effect, and this is one design element which we believe will be a key detail of the Neptune Systems reef aquarium light.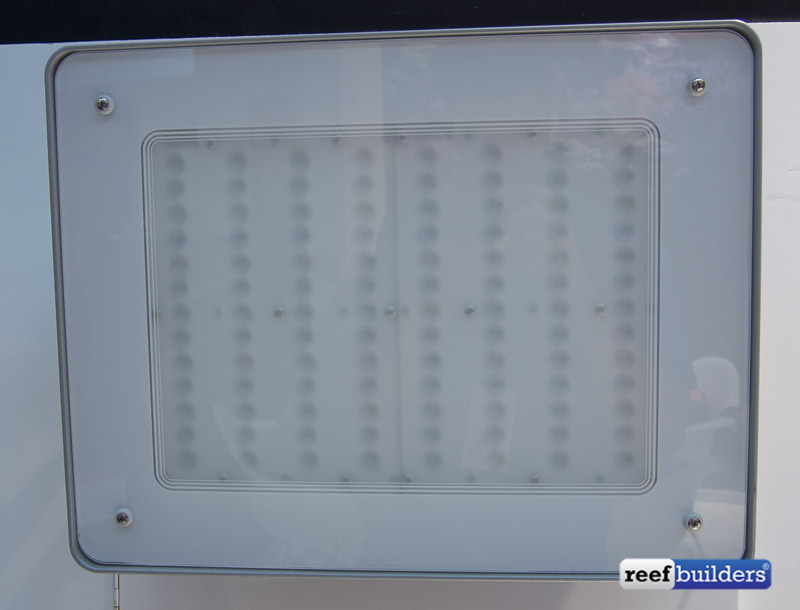 The remaining engineering details such as the distribution of LED colors and channels are straightforward to surmise, the SKY LED will probably use around 60% or more blue LEDs with the remainder being populated with various shades of white, warm white, and accessory colors like UV, red and green. The Philips CoralCare has only two color channels to simplify control settings but that doesn't jive with the 'control freak' tag line that NepSys likes to promote, and so we believe that the SKY LED will have between six and ten color channels with a happy medium of 8 channels being a happy medium.
One key engineering choice that will determine the overall efficacy of the Neptune Systems SKY LED is how much power it uses, and how that power is distributed among the LEDs. By comparison, and what we consider as a baseline for new LED powered lights, the CoralCare Gen2 has 68 LEDs and is 170 watts for an average of 2.5 watts per LED – passable but not bleeding edge compared to newer lights that produce more lumens per watt by driving more LEDs with less power. Most of the flagship LED lights now use LEDs with less than 2 watts of power each for a balance between efficiency and the upfront cost of the LEDs so if Neptune Systems wants to release a truly powerful light we're looking to see around 80 diodes for 150 watts, and at least 100 LEDs if it's closer to 200 watts.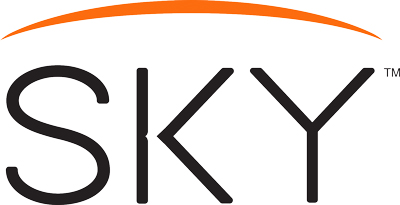 The leaked image of the SKY LED appears to show a small bump on top of the fixture which we believe could be an indicator LED to communicate the light's current connection status, and the spacing of the mounting screws would be clever if they line up with existing mounting arms on the aquarium market, but for sure it will at least some kind of hanging kit. Other design details that are completely up in the air is whether or not there will be separate channels for moonlighting such as those found in the newer Hydra and Radions, or whether there will be any kind of intelligent redistribution of power when the spectrum is shifted to opposite extremes, the 'HyperDrive' of Hydra HDs and similarly employed in the newer Maxspect Jump entry level MJ-L165 as well as other lights.
This is about the extent of what we can gather from the SKY LED's unplanned internet debut but we do expect other details to fall in line with comparable modern reef aquarium lights. There will certainly be some wireless connection either via bluetooth, wifi, or both and RFID would be a nice touch. Unlike with the Trident we don't believe Neptune Systems will try to force the SKY LED to work only in the Apex Fusion ecosystem requiring a separate controller, as they were very proud of mentioning in the announcement of the Neptune Systems GRO refugium macroalgae light. With demo samples of the SKY LED beginning to trickle out to perfunctory reviewers it's likely we'll see an official announcement from Neptune Systems sooner than we think.
We picked up the trademark listing for the Neptune Systems SKY led light back in March 2020 with several other marks in the way before any trademark has been issued.