There has never been another coral that has enjoyed such a moment of hype a popularity as the torch corals and vendors and collectors alike are constantly on the lookout for the next hottest strain, the holiest of grails as so many have been named. But with their uniformity of growth forms and only a slight variability in their tentacles and tips, aside from their coloration there's nothing truly 'rare' about the plethora of Euphyllia glabrescens currently on offer in the aquarium hobby.
However there is one faux 'torch' coral that we've only seen a couple times which isn't a Euphyllia at all, but is instead a very striking growth form of Heliofungia long tentacle plate coral. At first glance this highly unusual oddball looks more or less like a green Euphyllia glabrescens with huge polyps and unusually large ball shaped tentacle tips but careful observation reveals that there's something completely different going on with the basal skeleton.
Instead of growing as nice Y-shaped branches that are easily fragged and devoid of tissue beyond an inch or two from the polyp, the origin of the corallites of the branching Heliofungia are very closely spaced and nearly completely covered in tissue. The resulting long tentacle plate coral colony is virtually indistinguishable from classic torch coral colonies without very close inspection but it sure does make for a very unique presentation with its supernaturally large polyps.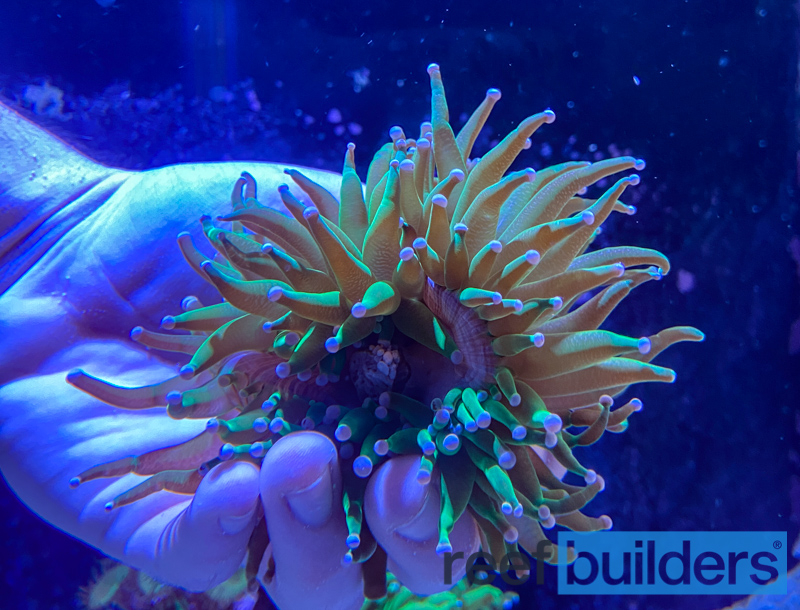 Alas, being a fungiid the branching Heliofungia doesn't grow like torch corals – the corallites and polyps don't split and keep growing as in branching Euphyllia – so the existing polyps are only going to grow larger and probably eventually fall off and become free living. The origin of these long tentacle plate coral bouquets is unknown but it's possible to be similar to the formation of the clusters of other (short tentacle) plate corals, most likely from the death or partial mortality of a large parent corallite which has since regrown multiple new polyps from the old skeleton.
We've only ever seen a couple examples of these clusters of long tentacle plate corals but we've been able to keep track of one specimen living at Neptune's Tropical Fish for several years. The polyps have grown larger and at least one corallite separated from the group but we'll have to continue to monitor its progress in their aquariums to try understand more about the nature of the branching Heliofungia.