With ReefStock Denver 2022 less than two weeks away we're starting to make sense of the deluge of raffle prizes we've received from nearly every aquarium company in the American market. The ReefStock event staff takes great pride in assembling the best companies in the industry and selecting some highly refined speakers but we know there's more than a fair amount of attendees who are gunning to win it big in the tank, light, pump and skimmer department but we also have some exciting livestock you can win.
The 'big stuff' includes a full lighting setup from Aqua Illumination, another one from Ecotech Marine, a nano light from Jump, supplemental reef lights from ReefBrite, Reef Delight, AquaticLife and count them four Kessil A360X spotlights. We'll also be giving away a calcium reactor from Geo's Reef, two protein skimmers from Nyos, a Maxspect Jump Skimmer as well as the Jump Gyre, Jump Return pump, tons of water movers from Sicce including the PSK Syncra 3.0, PSK SDC 1200 to upgrade a skimmer, and a handful of XStream propeller pumps.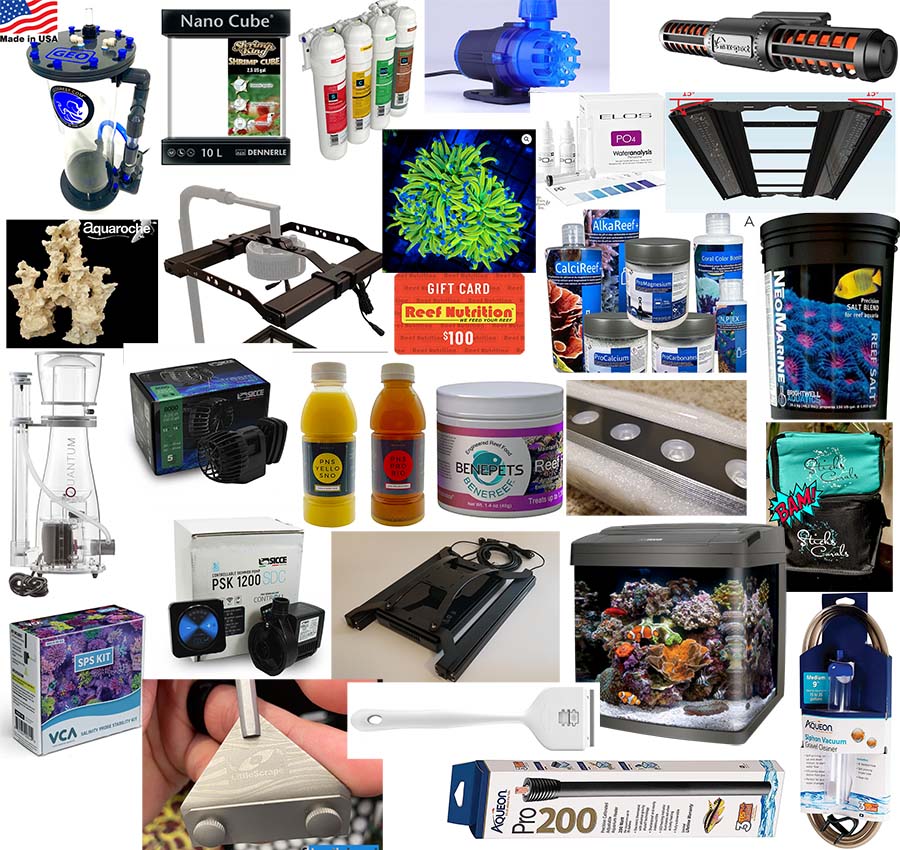 We've also got two Apex lite control and monitoring units, one Hydros controller, a 7-stage RO-DI unit from Bulk Reef Supply, a four stage unit from AquaticLife, a Seachem Tidal 55 power filter and a four channel ReefDose from Red Sea. We've got buckets of salt from Brightwell and Seachem Salinity, bacterial food from Hydrospace, substantial gift cards from Reef Nutrition, and local stores, water tests from Elos, additives from Prodibio, food from Benepets, and a little bit of everything that Polyp Lab makes. We're trying our best to list everything off but there's really too much to capture it all in one post but you'll also want to keep an eye out for that holy grail torch coral fromTwo Guys Corals, ceramic rock from Aquaroche, lots of accessories from VCA and Aqueon and several full tanks from Coralife and JBJ.
We are extremely grateful to all of our raffle contributing donors and we're sure that the list of prizes if destined to grow even larger as we get closer to the show. Make sure to head over to the ReefStock website to skip the lines by pre-purchasing your entry tickets and this year you can also buy a nice wad of raffle tickets ahead of time as well.  No matter where you are with your reef tank there's some exciting equipment, additives, foods and even some full tank set ups to spark off your next reef tank!