With such a big part of the reef aquarium hobby having become totally fixated on simply collecting coral frags instead of growing them into big beautiful colonies, it's become quite challenging to discover reef tanks that really look like a classic, miniature reefscape. From the moment we saw the thumbnail for the latest video from a Norwegian reefer named Kon we knew we were going to be in for a treat.
We were floored by the latest iteration of Kon's reef which is practically flawless in its layout with four separate bommies that are each neatly organized in the corals growing on them. A large centrally positioned bommie rests in front of the rear mounted overflow box with a continuous grove of stony corals reaching out in every direction.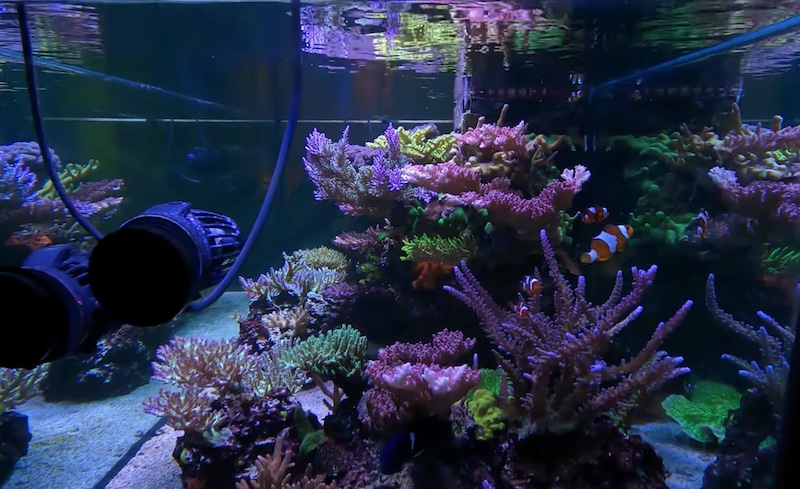 This large accent of the aquascape is surrounded by three smaller bommies which each have their own complimentary assortment of corals with great looking coral colonies of assorted colors and shapes but they all work together. We love the staircase appearance of multiple plating and pillow shaped corals on both sides of the tank which have some separation from the staghorn and tortuosa colonies in the back of the tank.
The sand bed really works in this aquascape to provide some negative space between the coral bommies and the absence of any corals on the bottom really declutters the overall appearance helping to frame each element of this layout. We don't have many details of the equipment powering this tank but we do spot pairs of propeller pumps on both ends of the aquarium and spied Radion Gen 4 LED lights in the reflection of the top down shots.
There aren't too many fish in this tank which surely helps keep the nutrients and maintenance to a manageable level and according to the title, Kon's copperband butterflyfish is going on eight years old! Other videos from Kon's Youtube channels shows him collecting water in Norway and this Scandinavian reefer clearly has a special talent in keeping and growing corals making this reef tank an exemplary reef tank to be inspired by.