Having overgrown corals is a good problem to have but it's also a rare condition in parts of the hobby that are mostly focused on collecting tiny fraglets. For the rest of us who do let our corals grow out, and have more than our share of dense, thick stony coral growth, it can be quite the predicament to trim living rocks into more manageable sizes.
For some types of corals a small hammer can be just the right tool for pruning down very strong SPS coral branches – the nearly ceramic-hard skeleton of Stylophora is a great example. When you have to make some serious demolition and cut your way through the Maxspect Coral Saw can also be a very handy tool.
For thick staghorn Acropora the Maxspect coral pruner can do the job, but you'll still have to have pretty strong hands to make that cut, that's if you can get the right angle and clearance for the toll in the first place. If you've exhausted all other options and want something more familiar to help you bush-wack your stony corals down to size the new Extended Reach Coral Cutter from Tamsco is specially designed for the job.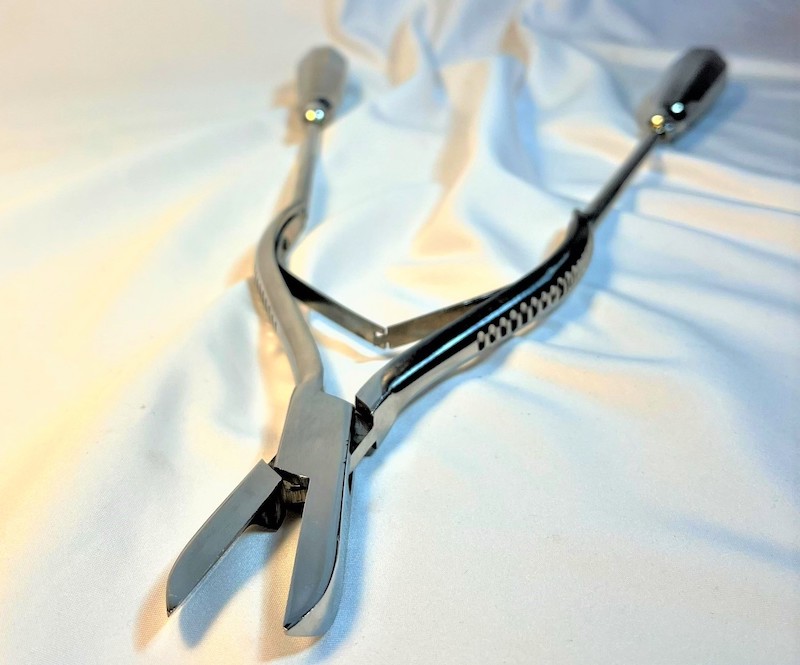 The extended reach coral cutter is exactly what it looks like – a regular large pair of coral cutters with extra long handles welded onto the ends which has two benefits. The longer handle will simply allow users to reach deeper and further into reef tanks than they would otherwise be able to, but mostly the longer handle provides more leverage to make it easier to achieve a cut of thick, dense aragonite skeleton.
Tamsco made the extended reach coral cutter out of the same surgical grade steel as all of their other tools and the new handles are actually hollow to reduce weight, and provide some buoyancy allowing it to float rather than plummet into your (presumably deep) reef tank. TAMSCO is currently making the extended reach coral cutter by hand welding 15 inch handles onto the already larger 8 inch coral cutter which will set you back a reasonable $90, which is quite reasonable if you have the kind of reef tank that needs such extreme ocean gardening tools.