Thailand is home not only to ChingChai's amazing DSPS tank and the SRC's softy tank, but also to the quaint little 30 gallon cylinder you see above that houses some pretty amazing inhabitants. This convex mini reef aquarium sits right in the Siam Reef Club's lounge, together with the 90 gallon soft coral tank. As you may already know, ChingChai is not one to trifle with when it comes to extreme reef keeping, and his extremely amazing home aquarium is a testament to that.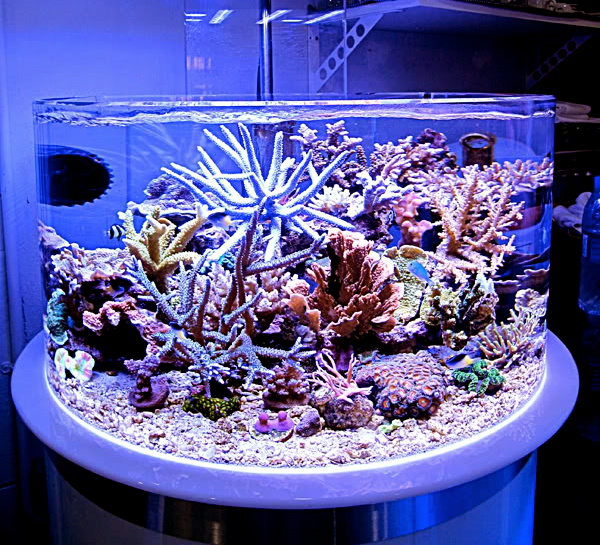 The 30 gallon acrylic tank is just a subset of wonderful tanks featured in the Siam Reef Club lounge, and has over the years, undergone some drastic transformations in terms of appearance and livestock. The tank is lit by two sets of KR92-12S Eco Lamp LEDs and water movement supplied by an MP40 Vortech wavemaker. The tank featured predominantly SPS in its earlier years around 2010 but shifted toward soft corals due to issues with the local authorities with regards to SPS corals.
The SPS were removed and relocated to ChingChai's home aquarium, and the 30 gallon was re-fitted with mainly soft corals including xenias, mushroom corals and a wide array of colorful zoanthids. This year, the tank took on a new look with more LPS corals and a few beautiful encrusting  Montipora plating near the surface of the tank. In the two years that this tank has been set up, the tank still manages to impress despite the dynamic and ever changing themes.
The limitations to any nano aquarium is size of the corals and whatever inhabits it, but there is surely no compromising the diversity that can be imbued in any aquarium regardless of size.