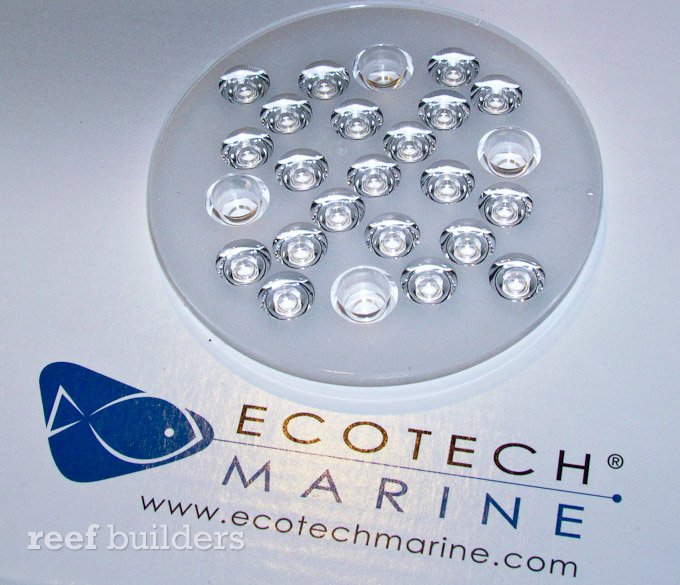 First revealed at InterZoo, the Ecotech Marine TIR lens clusters are finally available for purchase. If you've been waiting to get your tentacles on a set of Ecotech Marine's TIR (total internal reflection) cluster lens for your Radion XR30 LED light, your time has finally come. Just announced this afternoon, visitors to Ecotech Marine's retailers and parts store wil be able to boost their Radion's light output for just $30 per pair of TIR lenses. How much of a performance boost we talking about?
According to Ecotech Marine, the TIR lens boosts peak PAR output by up to 45% and the average light output of a 24 by 24 inch footprint can expect 23% more photons at a depth of 12 inches. Getting that kind of increased total light output is very impressive, especially when you consider getting 23% more photons for only 4% the cost of the entire Radion LED light. One thing which is ostensibly missing is a rating for a beam angle which Ecotech Marine omitted from the spec sheet for the Radion TIR Lens.
According to a lead engineer at Ecotech Marine who worked on the Radion TIR Lens project, "the beam angle doesn't accurately represent the quality of the light uniformity – we worked very hard to collect all the light of the LED into the Total Internal Reflection design to increase performance in light output while preserving the blending of the LED colors".
This is great news for present and future owners of Radion LED lights who can brighten up their tank and don't forget that the new Radion TIR Lens cluster includes four more spots for LEDs than there currently exists in the first generation Radion XR30w LED light. The four extra LED seats are an unmistakable sign that the Radion XR30w is going to receive a new LED cluster with more diodes, almost certainly in a few new colors – UV would be an obvious choice, but only time will tell what Ecotech Marine has in store next.
[youtube width="680″ height="400″]http://www.youtube.com/watch?v=SXghxTNF0Gc[/youtube]