We're back from the Flores Sea with loads of exciting observations and documentation on the reefs of this part of Indonesia. With support from Fluval Sea and no less than nine months of planning, we succeeded in diving and surveying and extensive swath of the Flores Sea between Sumbawa and Flores including Rinca and Komodo Islands.
The Fluval Sea Flores Expedition consisted of a team of highly experienced aquarists with a high level of diving, and most of us have some degree of scientific training. However, we don't want to suggest to be anywhere near the level of expedition experience that is undertaken by institutes like the California Academy of Sciences, the Bishop Museum, or National Geographic. Rather, our diving and reef observations were more in the spirit of citizen-science the likes of which were once commonplace in the 19th and 20th centuries.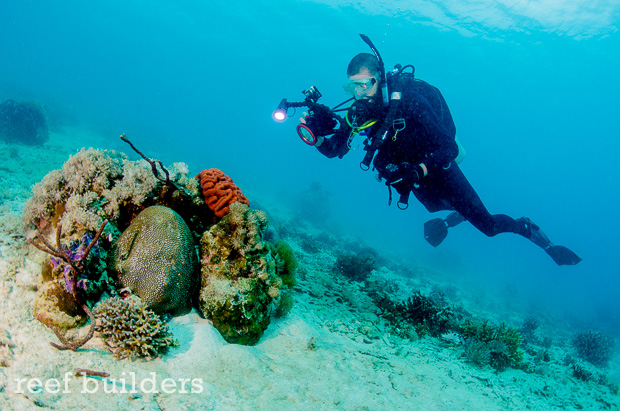 Aquarium keeping is far from a formalized science but we'd like to believe that our intimate knowledge and understanding of commonly kept aquarium animals brought a novel look at the reef environment that will have particular appeal to marine and reef aquarists. The Fluval Sea Flores Expedition was particularly focused on corals and the habitats where they live.
In addition to observing a wide range of popular corals like the deepwater Acropora of Indonesia, the brilliant Acanthophyllia and Trachyphyllia LPS, and much, much more, we also encountered no fewer than two "species" of Acropora that we can't identify with any known species – we're hopeful that they're new species! While we were aiming to see beautiful pristine coral reefs with fields of beautiful stony corals, it wasn't all "butterflies and rainbows" – we also encountered a few areas that were partially or completely damaged by dynamite fishing and we'll be bringing you some insights to the less glamorous side of human interactions with the reef environment.
By and large though, the Fluval Sea Flores Expedition was a resounding success with no injuries, no divers lost in the notoriously high current of this part of the world, and somewhere in the neighborhood of 10,000 photographs that we'll be taking most of summer to edit and share with you. We hope you're ready for a deluge of information about corals and reef life in their natural habitat because we're about to bring it!