Ehsan Dashti, MACNA speaker and founder of the Triton Method has put together a very special video inviting MACNA attendees to bring tank water to his booth. It takes a certain kind of fanatic to do what Ehsan has done with an ICP machine to singularly raise the level of precision in aquarium testing. But it takes a mad man to slave away all summer to get an ICP machine to MACNA, installed and operational!
In case you haven't heard, the Triton Method is an above-research grade method for testing water for all kinds of elements and Ehsan Dashti is about to kick off this aquarium chemistry revolution with a huge introduction during his MACNA presentation at 3pm on Friday. Triton Lab will be setting up in booth 201 right near the front of the MACNA 2014 show floor and if all goes according to plan, 4000 watts of power, 10,000F Plasma, Argon gas, mass spectrometry, and Triton's know-how will all come together to offer the first elemental level LIVE testing of aquarium water anywhere in the world.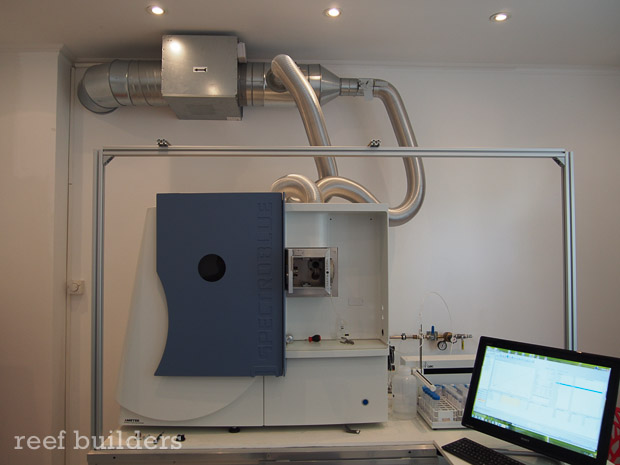 Triton will be receiving approximately 30 water samples each day of MACNA for a total of 100 tests to perform during MACNA which will give users a never before seen look at their water chemistry with a level of precision and accuracy that even scientists dream of. Testing priority will be given to MACNA attendees who have already signed up an account with Triton Lab so that the process of testing and registering your water sample can be expedited.
Seeing as there is only time to do about 100 tests over the three days of MACNA, Triton is also offering to return to Germany with your water sample to test for just $20, less than half the €35 retail cost that the Triton Lab test runs back in Europe. Keep in mind that the ICP testing of aquarium water is extremely accurate so you must take great care to collect your water sample without contamination, Ehsan explains how to collect and transport your water sample to the Triton Lab booth for best results.