The new Aqua Lung i450T dive computer is a powerhouse packed with intuitive features with a sleek sporty look. The i450T is designed for the active diver and it's the perfect wrist computer to take you to new places.
Aqua Lung has considered even the smallest but thoughtful details such as lifetime pairing, once you pair your transmitter you'll never need to pair it again. The features included in the i450T were crafted to be intuitive and easily navigated for an optimal dive experience.
The i450T computer also comes with an optional hose-less gas integration which can help de-clutters your dive, giving you a more streamlined feel. With all its meaningful engineering, the i450T hasn't forgotten aesthetics, its sporty eye-catching design is easy and attractive to wear through life's everyday adventures.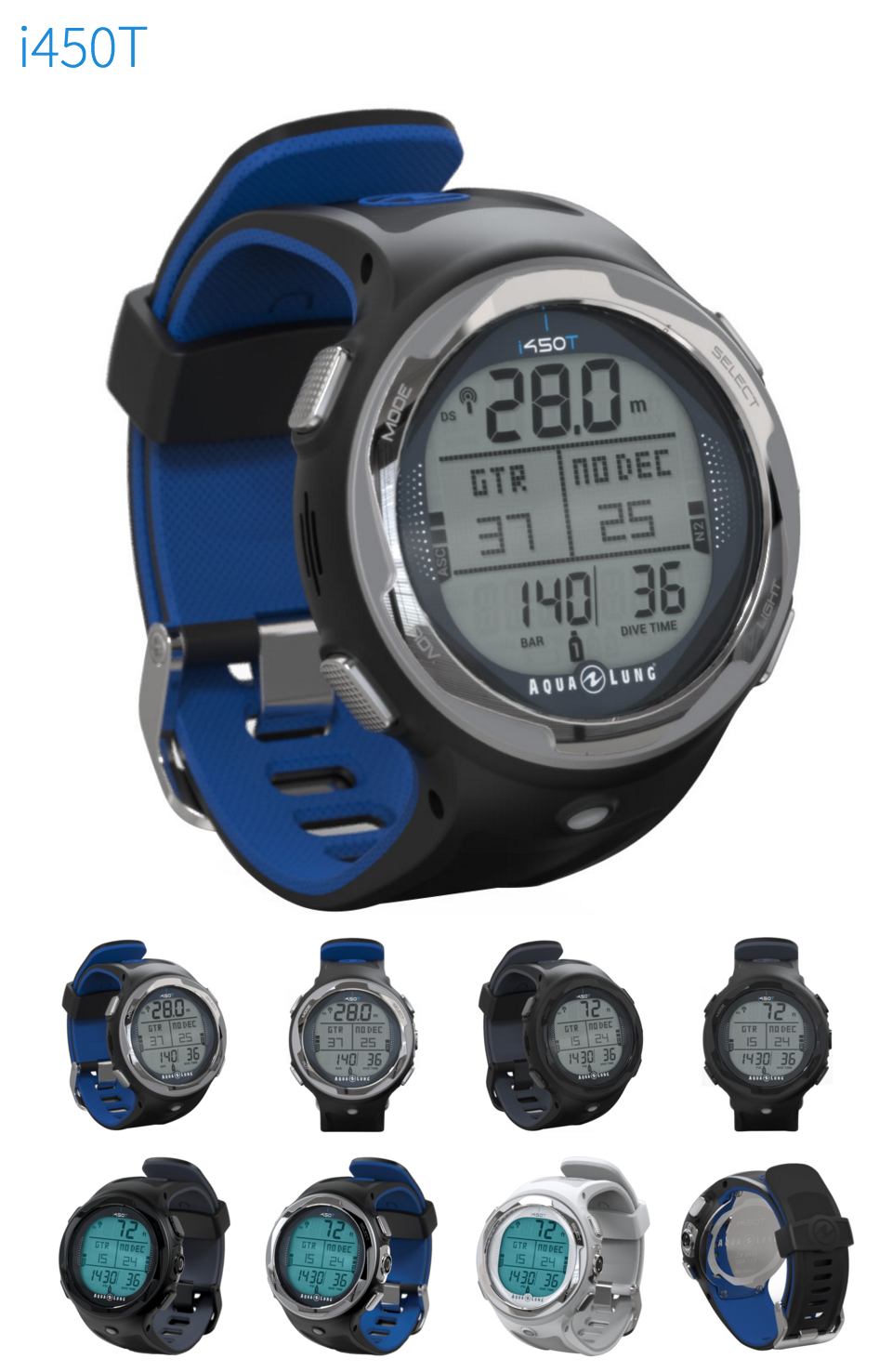 The Aqua Lung i450T features an intuitive design and menu navigation with large font size making it easier to read. The navigation menu has 4 operating modes: Air, Nitrox, Gauge and Free Dive modes, with audible alarms and a high-visibility LED warning light for additional safety. The i450T also includes a digital compass featuring a North reference and return bearing lock.
The i450T also features pre-dive planning mode which allows you to preview dives, confirm surface interval times and no decompression limits. The computer is backlit making it easy to read in low light and comes with a simple changeable battery. The i450T also comes with data retention, so when you remove your battery the data stays in the computer between changes.
For more advanced divers the i450T dive computer includes multiple gas capability up to 3 Nitrox mixes each with, individual PO2 set points, automatic altitude adjustments, and user-updatable software gives access to the latest features and upgrades.
The computer comes with a saltwater and a freshwater dive selector and comes with a durable PVD (Physical Vapour Deposition) finish and is extremely durable and resistant to wear and comes in a Black/Blue, White and Black/Grey.