The Solmar V liveaboard will be offering a unique group rate for Great White Shark diving trips to Guadalupe Island. The Six-Pax special offer extends to all DEMA show attendees who would like to reserve 6 or more spots on this exhilarating 5-day trip.
The Deal:
Only 5 paid and the 6th person is free (maximum 2 six-paks per trip)
Receive last years (2015) pricing
The Solmar V is a 112′ luxury live-aboard dive vessel based in Cabo San Lucas Mexico. Solmar V is a year round diving vessel with trips to Revillagigedo (Soccoro Islands) from November to June and Guadalupe Island from August to October.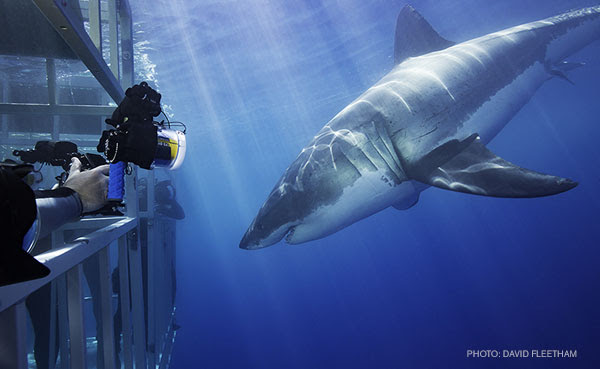 Guadalupe Island is located approximately 165 miles west of Ensenada Mexico on the northern coast of the Baja Peninsula. The DEMA special includes round trip transfer from San Diego to Ensenada (approx 2hr drive). The crossing from Ensenada to Guadalupe Island is around 16-18 hours
Guadalupe Island has become the world's best location for viewing, photography and video of great white sharks. The visibility is often more than 100 feet and the water temperature averages between 65F-70F.

Solmar V pioneered luxury live-aboard cage diving to Guadalupe Island starting in 2005, and they provide guests with a safe and secure environment to meet these apex predators. Solmar V uses two 4-person cages which have a proprietary swivel system which hooks to the swim platform making it easy and safe to get in and out even in rough seas.
Cage divers are given supplied air (hookah) instead of scuba tanks making this adventure open to both divers and non-divers alike. There is also a 3-person submersible cage for certified divers that descends to 30 feet.
Six-Pak Guadalupe DEMA Special Includes:
RT transfers from San Diego to Ensenada
All national park and port fees
Beer, wine, and Solmar V Margarita's – our secret recipe

Make sure to stop by Solmar V booth #5220 at DEMA to learn more about the Six-Pak special and other industry rates for individuals.