We're starting to see more information on the new GHL Mitras LX 7 line of LED aquarium lights we first saw back at MACNA in September. The updated LED fixture picks up where the LX 6 left off with some nice upgrades.
We noted many of the changes in the Mitras LX 7 line in our original post, but as a refresher visually, the general form factor and size of the Mitras remains mostly unchanged with most of the upgrades coming inside.
The new GHL Mitras LX 7 series features both freshwater and marine versions (Mitras LX 7000 and Mitras LX 7200 respectively) with two options under each arm. Although the company's website didn't explicitly clarify, they make reference to a six-cluster model that pumps out 195W (LX 7006 and LX 7206).
We'll take a look at the high output Mitras LX 7206 as this is the one most hobbyists would be interested in. First off, the Mitras LX 7206 is aiming to do a few things. First off its aims to deliver a "natural" spectrum of light with a CRI of 95. But more importantly they aim to deliver a bright and uniform illumination.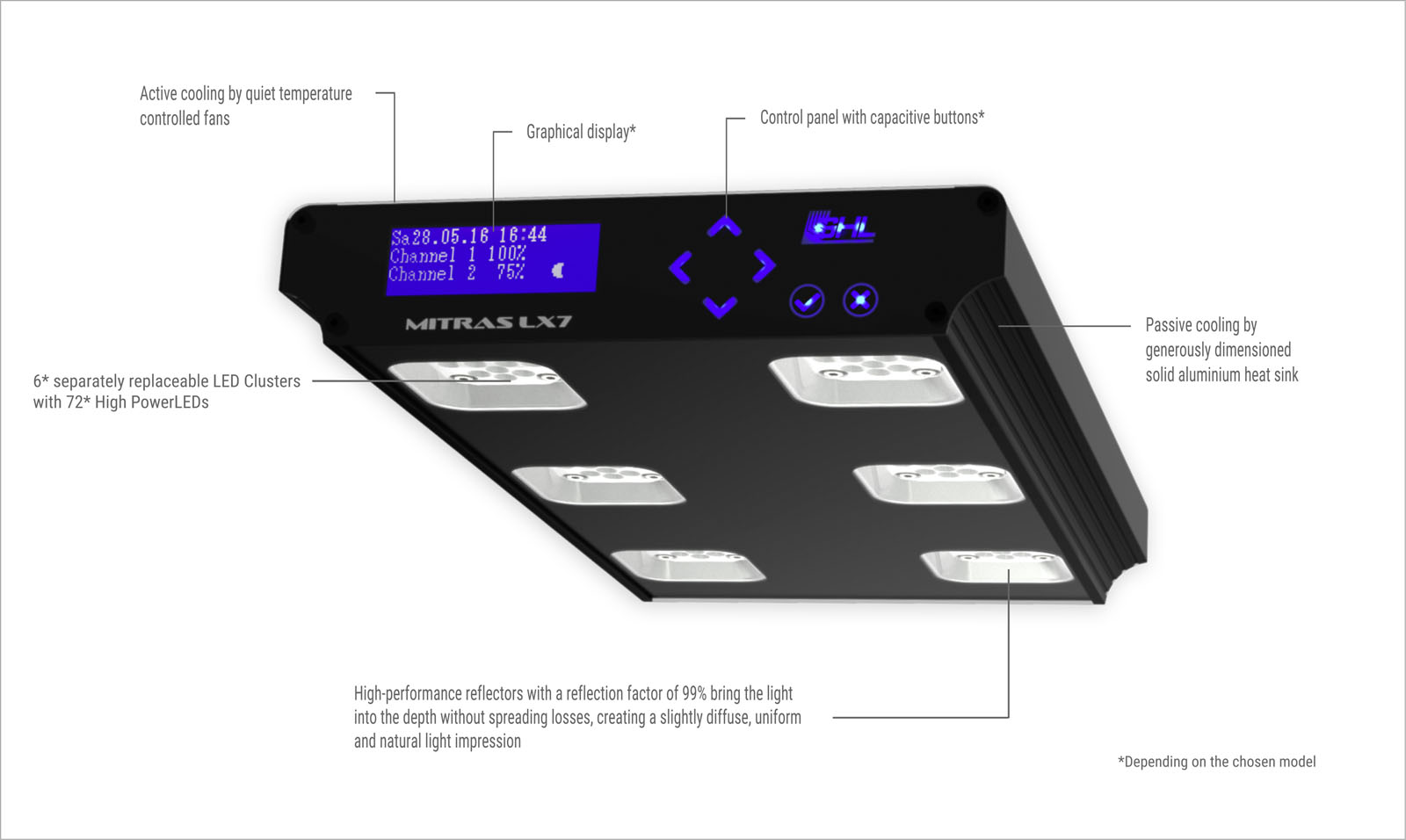 They point out with the new Mitras LX 7 you won't get that disco ball effect where you can differentiate the different color channels illuminating smaller sections on the reef. A major cause of this is a tight lens or diffuser on the LEDs that punch the light through the water. GHL skips the TIR or HEI lenses common in most lights for a highly reflective metal reflector that pushed 99% of the light back into the tank.
The new Mitras LX 7 features nine separately dimmable colors in each LED cluster that deliver a color range from 1,000K to 24,000K with a central color temperature at 9,200K. There are six of these in the LX 7206 for 72 total LEDs that feature:
2 x Cree XP-E2 blue
2 x Cree XT-E Cool White
2 x Cree XT-E Royal Blue
1 x Osram Oslon SSL true green
1 x Osram Oslon SSL Sky White
1 x Osram Oslon SSL Blue-White
1 x Osram Oslon SSL Hyper red
1 x Hyper Violet 425 nm
1 x Ultra Violet 385 nm
Another part of the secret sauce behind GHL's lighting is the Power Balancing Technology (PBT). They describe this as a way to change your colors without losing out on overall power output.  Most lights have their maximum available power only accessed when all color channels are running at 100%. If you reduce a color channel, then you're not ever going to reach the full power performance.
GHL's doesn't run all the color channels at 100% but aims for balance. By using a microcontroller, its able to run all color temperature options while maintaining top power output, managing all the currents and other parameters, and ensures safe operation and long life of all the LED color channels.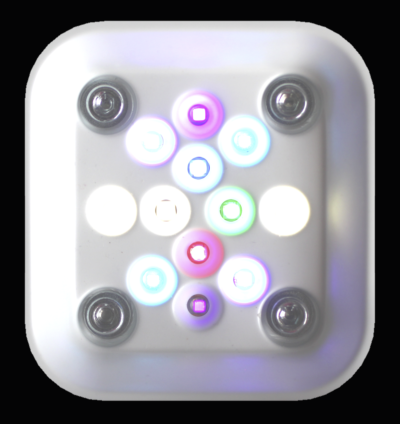 On top of this, you can swap out the lighting clusters so if you start out with the LX 7200 and want to upgrade to the LX 7206, its as easy as swapping the LED modules. This also helps with other improvements they company issues in the future. While this sounds great in theory, there are limits as owners of the previous family of GHL Mitras LX 6 lights will find as the LX 7 LED modules are not comparable.
Coming from a controller company, you know these were designed to be managed and controlled by an aquarium controller. There is on-board WiFi and a radio module for communicating with other Mitras LX lamps or ProfiLux aquarium controllers (master and slave operation). But if you're running another controller outside of the ProfiLux, you might be out of luck besides being able to simply turn them on or off.
However, there is on board control and you can access the GHL Control Center (GCC) operating software or the GLH cloud portal myGHL accessible from any browser. Downside is the GHL Control Center (GCC) only is available from a Windows machine and there here are no handy mobile apps for the Android or iOS that is a bit of a limiting factor as well.
But there other functions we expect in our fixtures like moon phase, thunderstorm, seasonal lighting, and clouds. The company also notes an eextremely fine dimming ratio of 4000 : 1 for super smooth dimming.
The GHL Mitras LX 7206 will retail for $749.90 retail but they are running a pre-order special where you can grab it for $699.90 until November 13. The LX 7206 begins shipping on November 21.
If you want a way to mount it, the new Mitras Flex Mount system has also been announced and will be available at the same time as the Mitras LX 7206 retailing for $119.90.