The Focus 1 by Focustronic is a new light from a completely new lighting company with one radical feature we've never before seen in aquarium lighting. In addition to being a fully fledged, high-powered, multicolor, multichannel LED light, the Focus 1 rotates to change the angle of lighting in your aquarium.
We've been saying it for years and commenting on every reef aquarium lighting setup we visit, that lights, and especially LEDs, need to be angled backwards to get the best view at our corals through the front pane of the aquarium glass. Well Focustronic is taking this concept a step further since the Focus 1 is designed from the ground up to change its angle throughout the day, mimicking the motion of the sun in the sky.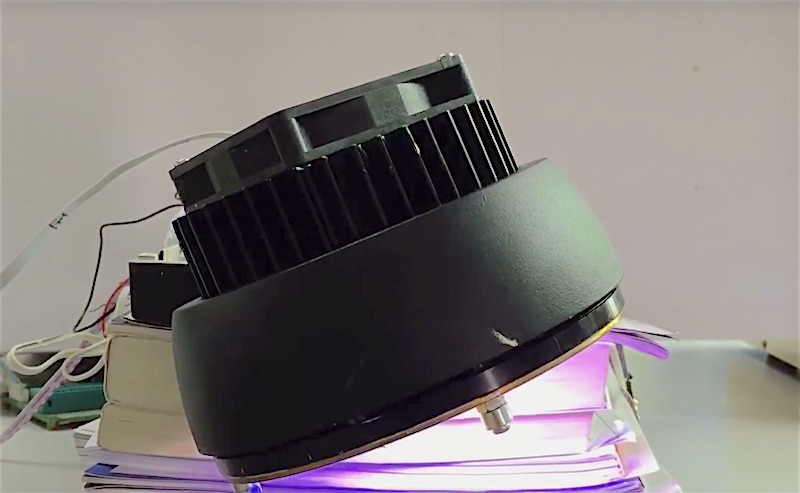 A demonstration video from Focustronic shows how the LED spotlight of the Focus 1 actually changes angle once an hour. The prototype in the video shows the spotlight as a heatsink with axially mounted fan, and the entire assembly has a range of motion of about 24 degrees in two directions, in one dimension.
The uses of a moving light like the Focus 1 is not lost on reefers, as many larger reef tanks and commercial facilities already employ moving light rails in order to cover more area with less lighting equipment. The rotating head of the Focus 1 brings this moving light effect to a smaller form factor, allowing more light coverage and less focused spotlighting, and many potential benefits to light-loving photosynthetic corals.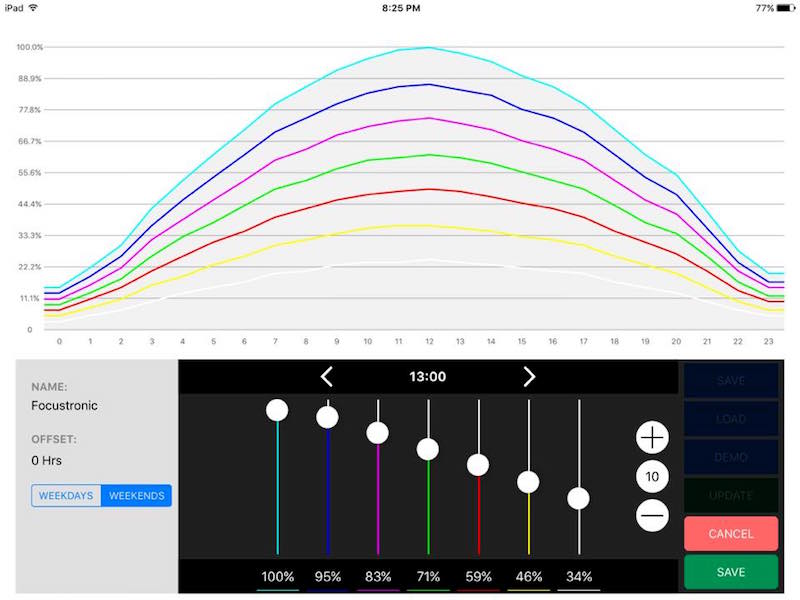 As previously mentioned, Focustronic designed the Focus 1 to be on par with our current generation of high tech LED lights. The Focus 1 is equipped with seven colors of LEDs, spread across seven control channels, all of which is wirelessly connected and fully programmable. The scant documentation for the Focus 1 describes a 24 hour tracking cycle for the rotating LED spotlight, but it is unknown whether it is possible to program the light to move back forth more often, to function more like a light mover than a sun tracker.
The announcement of the Focus 1 is extremely exciting and although you've never heard of Focustronic, their engineers are experienced at designing sophisticated architectural lighting with even more degrees of articulation. We've long admired the swiveling multicolored LED concert lights and wondered what it would take to bring that kind of feature set to aquarium lighting, and the Focus 1 is it.
The last few years has seen strong growth of motorized LED lighting mostly for indoor and architectural lighting, so it's about time this technology trickles up into the aquarium world. Focustronic is currently in the process of setting up their production and distribution, and they expect to start shipping at the end of November.
Power and pricing of the Focustronic Focus 1 is still unknown, but we're told it will be comparable to the Radion XR15 LED which has an MSRP of $399. It'll be very interesting to see a completely new feature in LED aquarium lighting, and especially how it looks over live corals, so stay tuned for future updates on the Focus 1 with its rotating LED light source.