The Illumagic Style LED is a new fixture that's been in the works quite a long time. We got our first look at the prototype Style LED from Illumagic way back in May of last year at InterZoo in Germany, but now the Style is finally ready for mainstream release.
It's easy for us in the West to regard Illumagic as just another Asian LED light maker but they've been making aquarium lights longer than anyone, save AquaIllumination and couple others. In that time this Taiwan based company has really developed an engineering and design language all their own, culminating in the new Style LED reef light.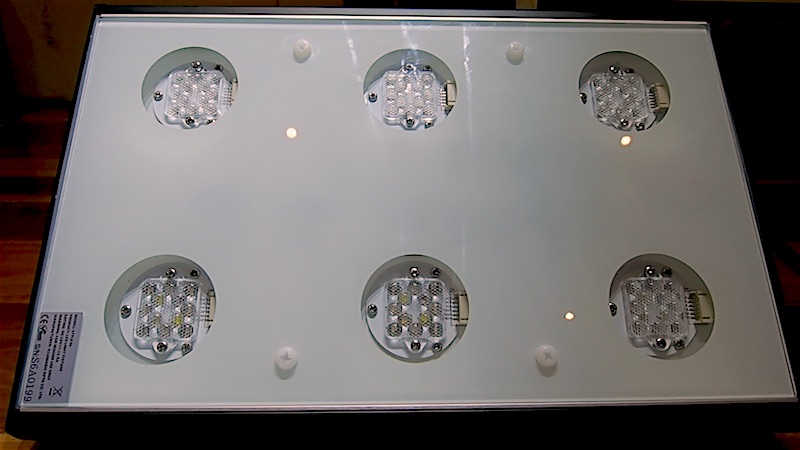 Currently, most high end LED aquarium lights use either a few clusters, or a bank of discrete diodes with their own optics. The Ilumagic Style LED splits the difference by using a six-pack of clusters, each with high-power, top of the line LEDs from Osram and Epiled.
Also unique, rather than giving users fine grained control of each LED color, they've organized their LED spectrum into three channels of similarly colored LEDs. So channel is includes both cool white and neutral white LEDs, channel B has two shades of blue and channel C has two shades of UV – because who really needs to control 400nm & 415nm separately anyway?
By simplifying the control of color channels in the Style, Illumagic has been able to engeineer independent control of each cluster, all of which is readily and easily accessed through the wifi-enabled application. All in all there's 72 LEDs in six clusters, with optional 75 degree silicone lens for each one, delivering up to 150 watts of power total.
We've seen a number of Illumagic Styles working on reef tanks in Australia and what is most impressive is how good the overall color looks with all the LEDs at full power, so no sacrifice of intensity to get a really nice colorific appearance to the corals. The Illumagic Style is coming out this month in Australia from Dalua Australia with a two year warranty and a suggested retail price of AU$949 (about $US$699).