Cirrhilabrus shutmani, the magma wrasse which was first discovered by RVS Fishworld has just been described. This completely novel wrasse species made a big splash when it first appeared as it was unmistakably new to both science and the marine aquarium world.
The solid red coloration of Cirrhilabrus shutmani is unlike virtually any other species of fairy wrasse but it clearly shows some visual affinity with the common Hawaiian flame wrasse, Cirrhilabrus jordani. But since the magma wrasse was discovered in the northern Philippines many thousands of miles away this species has developed into a beautiful fairy wrasse which is quite distinct.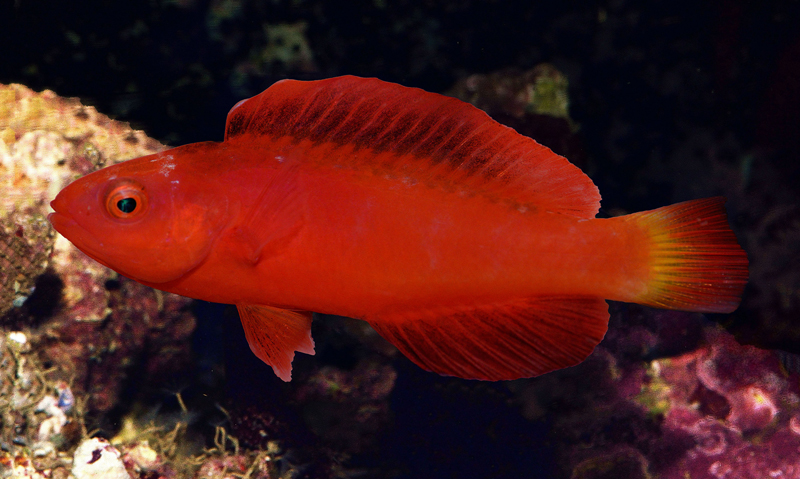 Besides its brilliant red coloration, this species is called the magma wrasse since it was found living around Didicas Volcano in the Caguyan Islands. Part of the reason this fish hadn't ever been collected is that it lives at a modest depth of between 50 to 70 meters or around 165 to 230 feet deep! Like many other fairy wrasses Cirrhilabrus shutmani likes fairly open rubble slopes where juveniles and females can find plenty of places to hide.
The Magma wrasse is part of a new wave of recently described fairy wrasse species and brings the total number of species in this group to 56. With increased ornamental fish collection in exotic regions of the world we'll likely be seeing more Cirrhilabrus in the future but it'll be tough to match the brilliance and very novel appearance of C. shutmanni. This exquisite new reef fish was enshrined by Reef Builders veteran Tea Yi Kai and Dr. Anthony Gill in the latest issue of ZooTaxa.