Chances are you've read a post or two here on Skimz Singapore and you'd recognize the clean white and orange details on the company's products, but what about looking Behind the Brand and learn a bit more about the company. Reef Builders Behind the Brand is a new series that takes a closer look at the people behind the companies we cover.
Skimz was founded in early 2003 by John Ong, who is currently the company's CEO and managing director. Like many of us, John got the bug early starting in the marine aquarium hobby when he was just 13 and this journey eventually led him to open a marine aquarium shop in Singapore.
"I started AquaMarin Aquatic Pets in 2002 and at that time it was really hard to find good protein skimmers in the market with limited budget," said John. "There are only few skimmer brands to choose from and mostly are limewood air stone skimmers."
That led him to build the company's first product, a Becket protein skimmer. Today Skimz makes skimmers for commercial and hobby applications along over 40 other products including reactors (macroalgae, biopellet, calcium, nitrate and zeolith), sumps, media (Carbon, calcium media, biopellet, Sulphur, phosphate remover), salt mixes, commercial and hobby-grade circulation pumps (AC and DC) along with various other items.
"I don't like to do just the things I like to do," he added. "I like to do things that cause the brand to succeed."
With the broad selection of products, the Skimz protein skimmer continues to be their top selling products. Not content with sitting back on their laurels, John and team have continually refined the design incorporating innovative features while offering what John refers to as "high quality products at modest prices."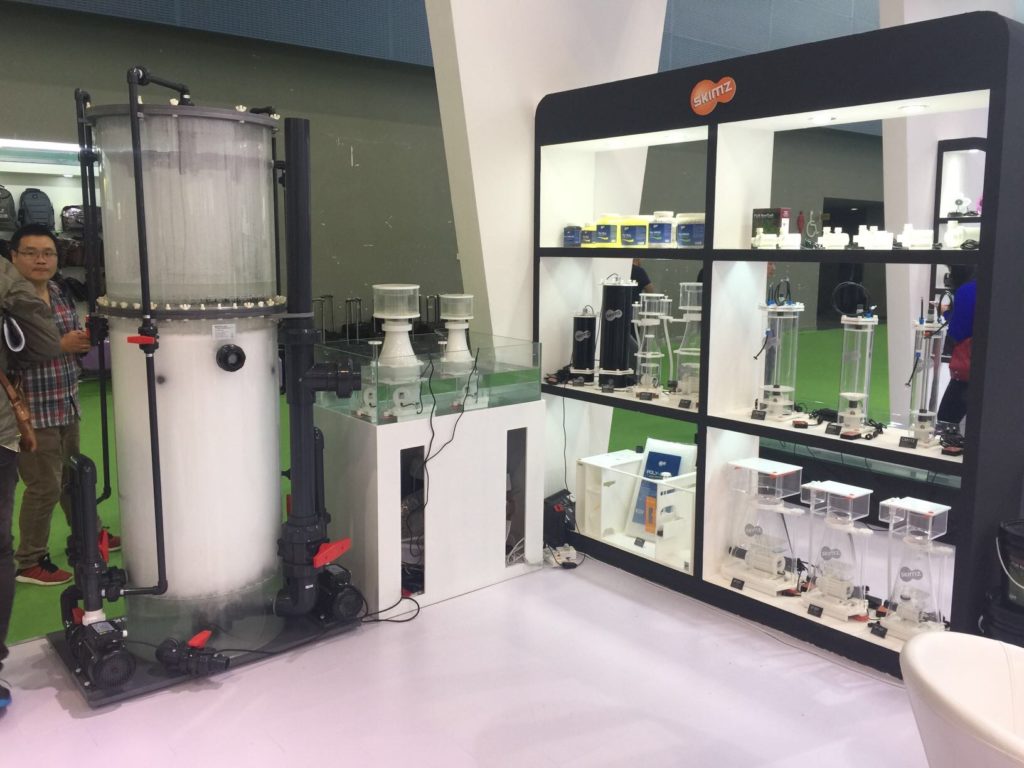 We asked John what product he was most proud of and his answer was the oval protein skimmer. The same Skimz oval protein skimmer we caught firsthand at Aquarama in 2013. This was introduced well into the cone skimmer phase, when everyone was jumping in. Skimz took this in a slightly different direction giving the same performance as a cone, but with a modified footprint that provided some space-saving attributes.
The most exciting part of the hobby for John was winning the Grand Champion Marine Tank completion at Aquarama in 2009, 2011 and 2013.
But not everything is perfect in this business and sometimes the biggest business lessons come with a steep price tag. For Skimz, it was putting trust in the wrong person to manage his factory and take care of paying bills. That person ended up stealing over $250,000 from the company.
Despite a setback like this, Skimz is going strong with 100 employees and plans to introduce more products in the aquaculture arena in the next year. Skimz doesn't manage direct sales or retail, preferring to sell through its global network of distributors.
If you are interested in buying Skimz products in the US, you can get them from Bulk Reef Supply.