Ultraviolet sterilization of water is a practice that has been around for decades, but advancements in this segment of the aquarium market have been few and far between. Sure we've seen some micro UV Sterilizers in the form of one watt LED devices but these are so weak that they are only (barely) useful for eradicating green water blooms.
But the new Pro Max UV Sterilizer from Lifegard Aquatics is the first real redesign of a high output UV sterilizer we've seen in quite some time. Sure the principle of passing water through a sleeve next to a UV bulb is still the main goal of the Pro Max but it's everything else it does around the unit that really makes it stand out.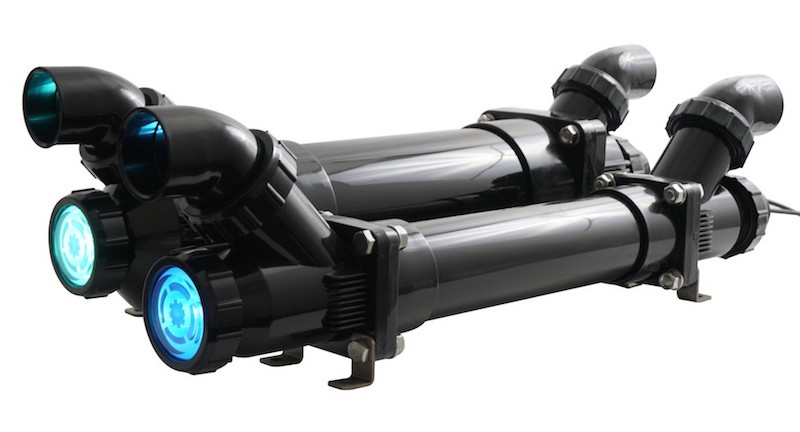 The first real big difference is the way that it is plumbed; whereas virtually all UV sterilizers to date have used right angle fittings that are positioned perpendicular to the body of the UV Sterilizer, the Pro Max is the first that we know of with 45 degree inlet and outlets. This might seem like a minor feature but this makes it much easier to fit inline with existing plumbing, saving both on fittings, space, and time needed to install it.
Another interesting feature of the Pro max is a specially designed ballast that counts down the days until the lamp needs replacing with a little build in numeric LCD display so you know exactly how many hours you've used it. The Lifegard Aquatics Pro Max UV comes in eight models with either three or five inch diameter models from 25 to 120 watts and should be a top choice for large aquariums and commercial systems that require a quality, hard-plumbed UV sterilizer. [Lifegard]