Unlike the celebrated and chromatically gifted angelfish, the world of butterflyfish is colored mostly in shades of white, yellow, black and occasionally a touch of red or orange. This is what makes the hawaiian endemic blue stripe butterflyfish, Chaetodon fremblii, such a unique species, and its uber rare hybrid even more so.
Due to the less bombastic colors and patterns of butterflyfish, Chaetodon hybrids end up looking neat but not altogether remarkable, as is the case for the lemonseed and multistripe butterflyfish that LiveAquaria had in the Diver's Den a few years back. Occasionally we see great potential in the cross of disparate looking parents such as the Klein butterflyfish hybrid from several years back but the blueline butterflyfish hybrid is still one of the wildest ever.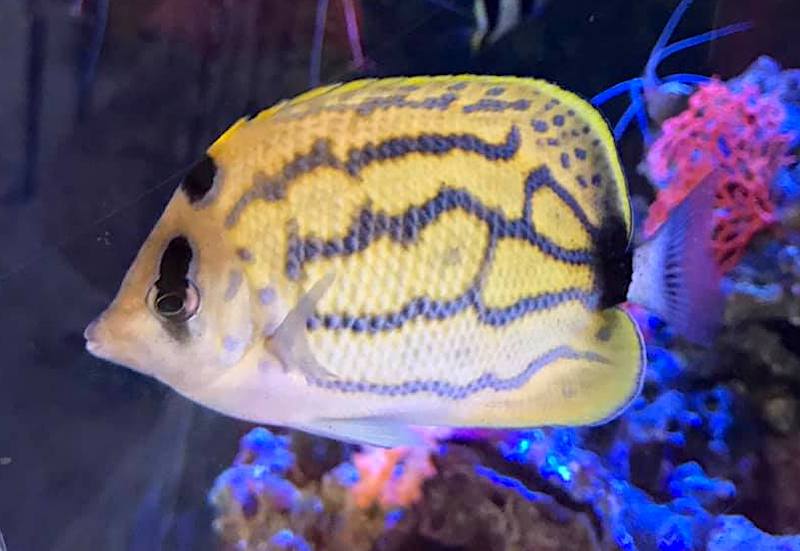 This fish has been in the aquarium of Japanese aquarist Mr. Hirosaki for over four years and while it has gotten larger, its pattern hasn't changed all that much. It's actually quite notable how nearly unchanged this fish is because the angelfish equivalent would certainly have developed differently over so much time. We are impressed by the aquarium skill Mr. Hirosaki has demonstrated in keeping this fish alive and healthy for almost half a decade and we hope to report back on this very special fish in another four years.