Pteropsaron indicum is a newly minted species of signalfish which has us really wishing this group of fish had any presence in the hobbyist or public aquarium world. The reason that signalfish are pretty much nonexistent on our collective radar is because they aren't really a 'reef' fish, preferring to live in open sandy zones where they strike a balance between being completely invisible and very noticeable.
Besides their very noticeable fins, often times adorned with extra long filaments, what makes signalfish so unique is their unusual behavior of flicking their dorsal fin in a very specific, signaling type pattern. This very striking behavior is something which cannot exactly be inferred by simply seeing photos or type specimens of signalfish, which is why the video below is so helpful in understanding this group.
If their long fin filaments and unmistakeable signaling behavior wasn't enough to grab our attention. the new Pteropsaron indicum has bold markings that further add to this fish's flashy factor. Trawled up from 70 meters deep or around 230 feet, the two male type specimens of Pteropsaron indicum sport bright and bold yellow stripes on the flanks which look amazing in pictures and we can only imagine how striking they are in real life when the fish is alive and signaling.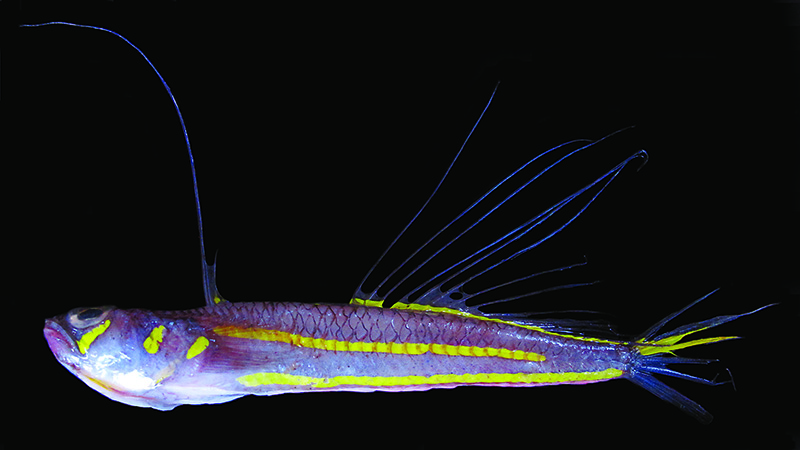 We're not sure if anyone has worked out why these fish have specialized in 'signaling' to so much degree, besides the obvious communication with each other and finding a mate. Unlike many of the very cool, colorful nano gobies that get described to the tune of a handful every year, the new species of Indian Signalfish might be thin, but it's over three inches long, so it would be readily visible in a species display tank. [JOSF]