The Immortal Tort is a unique strain of Acropora that is part of one of the most interesting origin stories of perhaps any coral in the reef aquarium hobby. As far as we know the image above is one of the only documented cases of the collection of an established aquarium coral strain in the reefing hobby, because we collected it ourselves.
In June of 2015 we travelled to the Solomon Islands together with Tim Kelley of UCSI to do some coral exploration and see if we could discover some memorable corals. In addition to rediscovering the location of the original Purple Monster Acro and paying some respect to purple Montipora digitata, at 4:51pm on June 21st near the Sandfly Passage of the Buena Vista Islands we discovered a very beautiful Acropora.
This coral was growing on a steep reef slope at a depth of around 35 feet and showed a striking coloration of green main branches, with beautiful blue branchlets, lighter blue tip and a semi bottlebrush growth form reminiscent of a thin branching Acropora gomezi or a thick branching A. echinata. The interesting coral was growing alongside some branching Porites, Australogyra, some dark sponge, Pavona varians, and we know all of the details thanks to several in-situ images we made that included the geotag with time stamp etc.
It's been nearly six years since we first collected what we thought was a lime green bottle brush Acropora with blue tips but as with so many corals under aquarium conditions, especially SPS, this Acro had something completely different in mind when it settled into our reef aquarium displays. Under blue-heavy reef aquarium lights the colonies of the Immortal Tort are deep blue to deep purple with lighter growing tips and very slightly greenish axial polyps.
But one of the more surprising things about the Immortal Tort is that the frags look almost unrecognizable from the larger colonies with a gradient of coloration relative to size. When they are smallest the frags are almost completely teal green inside with blue tubular corallites and polyps.
The coloration of the Immortal Tort becomes bluer, deeper and richer with size until our largest colonies become almost completely blue purple with an enticing thick branching structure. The difference between the frags and the colonies is so striking that experienced SPS growers who see it in person almost can't believe that they are from the same colony.
So by now you might be wondering why this coral is named the 'Immortal Tort' and that's because we have almost never lost a piece of this coral. We've kept and grown the Immortal Tort in over a dozen reef tanks over the last half decade and through thick and thin, when other corals have struggled or suffered the Immortal Tort has never skipped a beat, growing steadily even when the conditions were less than ideal.
When we first collected the coral we initially thought it was an Acropora gomezi (which is no longer recognized as a species) but over time it's behaved more like the A. tortuosa and A. austera group of SPS corals in captivity. The Immortal Tort is highly reminiscent of the Oregon, Myiagi, or California 'Torts' in its growth form but its origin story and the dual 'life stages' between the frags and the colonies, coupled with its very hardy track record makes this one of our favorite corals, and certainly one of the best we've ever collected.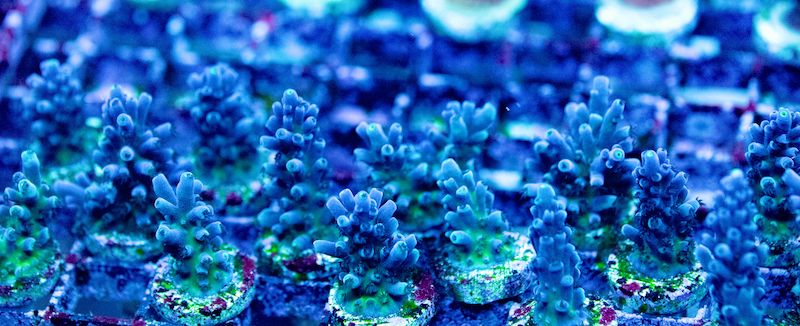 Due to its great, solid growth rate we've been fortunate enough to share the Immortal Tort with many different reefers over the years, including ACI Aquaculture who will soon have their first batch of frags ready for wholesale. The Tortuosa Acros have been well represented in the reef aquarium hobby for many years but if you're interested in the story of the coral and especially where it came from and how it got here, definitely lookout for the very hardy and colorful Immortal Tort spreading through the hobby in the future.