The AquaMaxx Prism II is the third generation of affordable strip lights from Bulk Reef Supply which offer a respectable amount of light and rich colorful spectrum at a price that will leave plenty in your budget to afford some fancy corals. It's easy to pass over these affordable lights for high powered wirelessly controlled LED lights but we've been using nearly every size and model of NemoLights and Prism LEDs since 2016 and we've been anxiously awaiting the upgrades that the Prism II fixtures are offering.
We've had a keen interest in the AquaMaxx Prism LED lights product line for use over a wide range of aquarium applications ever since we got our hands on the first generation called the NemoLight. Despite their entry level price point and modest feature set we absolutely fell in love with these AquaMaxx LED lights for the value they represent and covered the line in a full unboxing and follow up impression and review.

One thing we've always appreciated about the AquaMaxx Prism lights is that they are entirely passively cooled so they run completely silent but the biggest noticeable improvement to the Prism II is the much more capable central controller. The new controller for the AquaMaxx Prism II is now able to program six different lighting set points covering four color channels and there's even a new 2.4G broadcaster and expansion plug to connect to and control multiple devices – the expansion plug also allows the controller to regulate the ON/OFF times for multiple 24V devices, including cooling fans, pumps, valves, skimmers etc.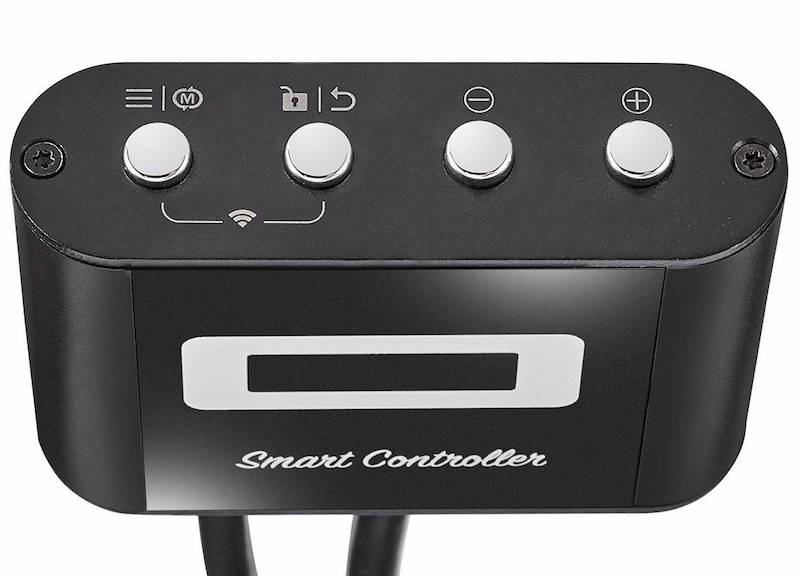 A diversity of LED colors is usually the biggest compromise manufacturers make when bringing a budget-friendly light to market but no one told AquaMaxx because the Prism II is sporting seven different LED colors including UV, blue, deep blue and royal blue which are complimented by red, green and cool white LED in the Marine version, but there's also a Planted version with a more standard issue RGBW spectrum.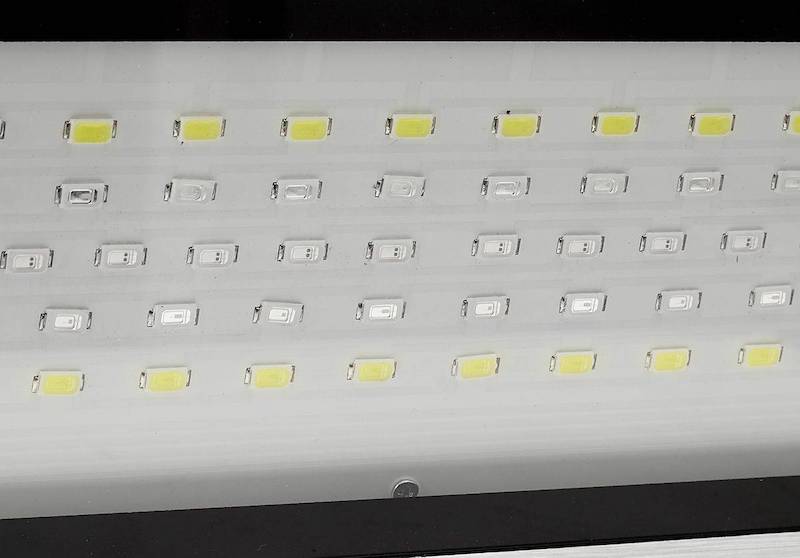 The Prism II fixtures are available in four sizes including a small side mounted 30 watt model and three flat metal strip-fixtures ranging from 60, 90 and 120 watts which are made of all recycled aluminum with a brushed metal finish. Each fixture comes with side mounting arms but a larger rear mounting 'Pro' stand is also available separately with matching finished aluminum construction.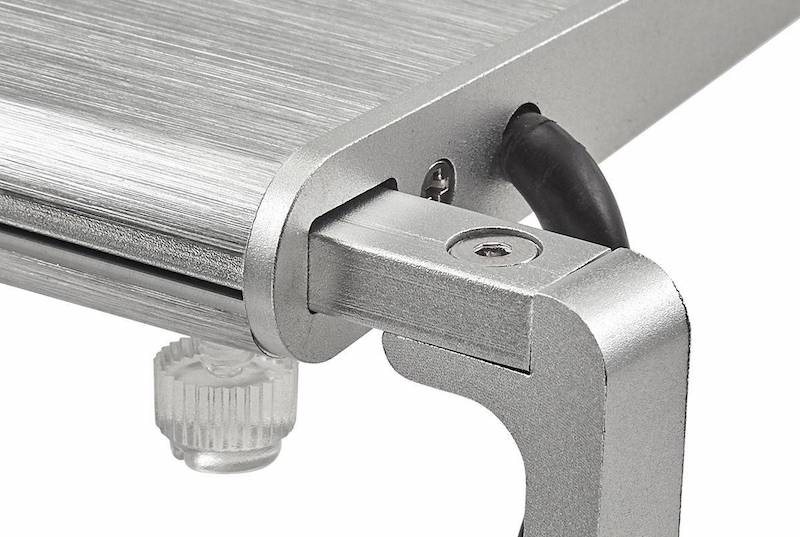 What really crystallizes the AquaMaxx Prism II as an amazing light is not the feature set but how little you'll have to shell out for even the largest 48 light. The Prism II fixtures start at $89 for the 30 watt model but only goes up to $209 for the 120 watt version. It's been a long time since we've averaged out the price per watt of any LED light fixture but the largest Prism II clocks in at less than $2 per watt – you'll easily pay almost as much simply for the mounting gear required to install some of the larger flagship LED light fixtures!
You may not be able to make the AquaMaxx Prism II dance with your phone from the comfort of your couch but aside from that these fixtures more than make up for it with an attractive appearance and no fan to make noise or break down causing premature failure. The largest reef tanks will still require a little more punch than the Prism II offers but for small and medium size tanks and especially shallower aquariums you'll get more than enough PAR mileage from the third generation not to mention that nice even light spread that many reefers are aiming for these days. [Bulk Reef Supply]